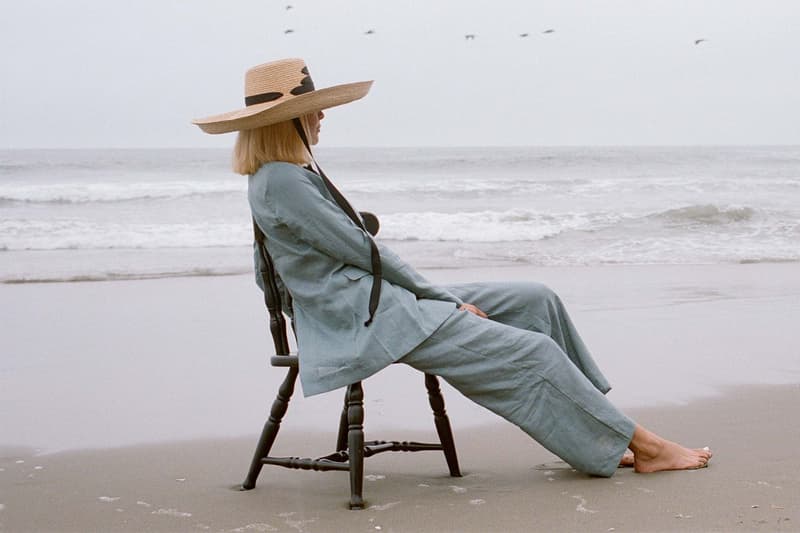 Fashion
Keep Your Shopping Sustainable and Ethical With New Platform, Status Gaea
The website is all about being transparent about brands' supply chains, fair trade practices and more.
Keep Your Shopping Sustainable and Ethical With New Platform, Status Gaea
The website is all about being transparent about brands' supply chains, fair trade practices and more.
As a consumer, staying sustainable isn't the easiest with the overwhelming amount of information available on the web. Oftentimes, it's difficult to pinpoint where to start as a beginner to research eco-friendly and ethical fashion and beauty brands. Enter Status Gaea, a newly-launched e-commerce platform that features a carefully-curated selection of products from conscious labels.
Founded by Mandy Rivas and Toni Lessler Mills based on their 20 years of industry experience, the website aims to serve as an accessible outlet not only for consumers, but also small businesses. "We were noticing friends struggle to make informed purchases and felt very passionate about bridging the gap by curating a selection of items that we love, from brands that are truly making impactful changes in their supply chain," the entrepreneurs share in a press release, as Rivas continues: "Being Latina myself, it's extremely important for me to bring visibility to not only women-owned brands but also BIPOC-owned brands, providing equality and showing my daughters that gender and or the color of their skin does not hinder their future."
The website boasts a user-friendly design, with visitors being able to view which sustainable or ethical components a product tackles by referring to the icons appearing on the right side of the product listing. Kicking off with roughly 1,000 items and 300 brands, Status Gaea plans to add new products weekly from small businesses including Vanina and Bevza, to cult-favorites like GANNI and Veja. Each brand is required to meet one sustainable and one ethical value from those listed out by the platform, which tackle issues like animal cruelty, systemic racism and sexism. Operating through affiliate and independent partnerships, the shopping destination allows customers to complete their transactions via the original product page, removing any carbon emissions caused by additional shipping.
To further understand the platform, we caught up with Status Gaea's founders on their inspirations and future plans. Read the full interview below.
What motivated you to start Status Gaea? When and how did you come together to create a platform for sustainable fashion and beauty goods?
We have 20 years of combined industry expertise working at brands including Burberry, Gap, Swarovski, and The RealReal. We found ourselves at pivotal points in our career during the pandemic and felt compelled to create positive change that is desperately needed in the fashion and beauty industries.
A lot of our friends struggled to find cool brands that were also sustainable. The "big" green brands that were on their radar were too generic for their style, so we wanted to help curate a selection of edgy and empowering pieces from brands that we know are truly making impactful changes in their supply chain.
There is a lot of waste throughout the whole production process in the fashion and beauty industries. The fashion market alone is responsible for 10 percent of global carbon emissions and is projected to increase to 26 percent by 2026, according to a 2017 report from the Ellen MacArthur Foundation. We wanted to highlight the brands that are minimizing this risk. We also believe consumers should be able to make a purchase without worrying about the detrimental impact it has on the Earth and the people who made it, so we created a single platform that could help consumers make the right choice while looking good.
Both being women of color and having first-hand experiences with marginalization and discrimination, we additionally wanted to highlight women and BIPOC-owned brands as they've beaten the odds against them. It's their time to shine.
Although consumers are becoming increasingly aware of sustainable practices, there is still a lot to learn when it comes to understanding what truly makes a product eco-friendly or ethical. How do you plan on providing consumers with more knowledge in this area?
We believe that shopping does not need to come at the cost of the Earth or our people, which is why we value brands that protect and restore our planet, and put people before profit. All of the products carried on Status Gaea are required to meet at least one sustainable and one ethical value, which are determined through research and collaboration. We've worked with a sustainable expert to create our list of sustainable and ethical values that are each defined in our ethos. We encourage our customers to look for the icon values attached to each product image so that they can understand the product's DNA before they purchase.
Our site is all about educating our customers to make conscious decisions. As a result, we created a page where we will be highlighting different topics on environmentalism, cultural awareness, wellness and fashion brands. Some of these spotlights will also be highlighted on our homepage in a dedicated section. Our social media platforms are also being utilized as a way to directly hit our customers with facts and sustainability tips along with inspirational imagery.
In addition to sustainable practices, you also aim to combat systemic racism and sexism in the industry through your list of brand requirements. What are some additional issues you plan to combat to create a more circular, eco-conscious and fair industry?
Outside of the values that we created for our own platform, we've also signed the 15 Percent Pledge, committing at least 15 percent of the brands we showcase to Black-owned businesses. From February to April this year, 40 percent of Black-owned businesses went bust due to COVID-19 and 21 percent said they didn't think they could make it as opposed to five-percent white. We can help change that by signing this pledge and helping our customers buy from Black-owned businesses.
Our platform aims to give visibility to unique brands that are sustainable and ethical, no matter their size or following. We understand that some of the smaller sustainable brands don't have as much capital behind them to invest in marketing, so we felt compelled to provide them with our expertise in storytelling and additional content production.
In terms of future planning, we are constantly educating ourselves through sustainable forums, collaborations with experts and affiliate brands. As the industry evolves, we also will be developing our values to include the most eco-conscious and fair trade practices. For example, we are currently learning about regenerative farming in the fashion industry and researching brands that are implementing this into their business model. This could be a potential added value.
Share this article