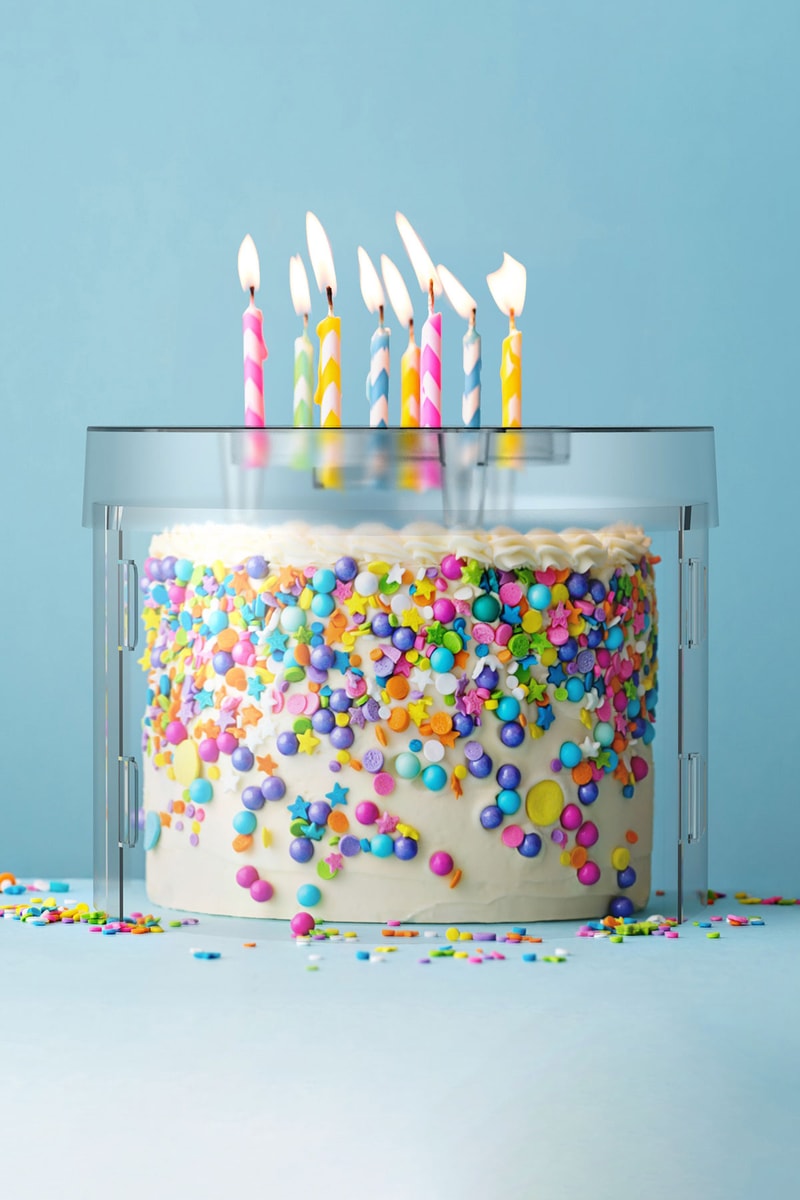 Weird COVID-Fighting Products You Didn't Know You Needed
We rounded up some of the most random — and handy — products across the internet.
Culture
Weird COVID-Fighting Products You Didn't Know You Needed
We rounded up some of the most random — and handy — products across the internet.
The coronavirus pandemic has precipitated a host of developments, from an increased need for mental health care to soaring profits for gaming companies. Most ubiquitous, though, is the pandemic's necessitation of personal protective equipment — in response, brands have developed creative twists on standard face masks and sanitizing products, resulting in a bevy of unique yet useful items.
If you like the idea of drinking outdoors but don't want to remove your mask, the TasteMask by Cook & Marker is an inventive solution — a straw flap allows wearers to stay protected and imbibe at the same time. Another protective solution, the Top It Cake Shield allows birthday revelers to blow out their candles without spraying the cake with virus-carrying droplets. For fans of Starbucks' seasonal Pumpkin Spice Latte, NCLA Beauty extends the fall-time drink to its range of hand sanitizers, fragranced with PSL and other festive scents.
Keep reading for our roundup of the most random COVID-fighting products you didn't know you needed.
Using six built-in UV lamps, Casetify's compact phone sanitizer kills germs living on the surface of your smartphone. Considering most people carry their devices everywhere, the device is a flu season must-have. Even better, the UV Sanitizer can fit a range of items beyond your phone such as watches, earphones and sunglasses.
Avoid touching dirty door handles or contaminated key pads with the Clean Touch Tool, a hook and pointer made of antimicrobial brass. Designed to open doors and press buttons, the essential is small enough to carry in your back pocket and easily loops onto a keychain. (Of course, you should make sure to sanitize the tool regularly.)
For outdoor drinkers who err on side of caution, Crook & Marker's TasteMask allows wearers to keep their face mask on while sipping a cocktail. Available in a variety of colorways, the reusable covering features an integrated straw flap and even comes with its own metal straw.
If you're tired of your makeup rubbing off onto your face mask, try Daily Habit's inner mask liners, which help prevent annoying color transfer. The liners, which can loop onto your ears or the straps of a pre-existing mask, are also handy protection against skin irritation arising from regular face mask use.
Developed by aerosol physicist Dr. David Edwards, FEND is a nasal hygiene system that purports to clear potentially contaminated aerosol droplets from the body's air passages. To use, simply inhale the FEND saline wash via a handheld mister up to three times a day.
To combat "maskne" (face mask acne), try MasqueBAR's hydrogel sheet mask, designed to fit on the mouth and chin area. Formulated with soothing aloe and moisturizing hyaluronic acid, the product provides a mini facial and even fits under your regular face mask — so you can run errands and treat your skin at the same time.
A purse essential, NCLA Beauty's Hands Clean Moisturizing Hand Sanitizer now arrives in "Pumpkin Spice." Recalling Starbucks' signature Pumpkin Spice Latte, the scented sanitizer leaves your hands clean and smelling like fall.
Blowing out your birthday candles, once a yearly tradition, now poses health risks as it spreads spit and germs. Luckily, Florida dentist Billy Kay created the Top It Cake Shield, a clear protector that features candle-shaped notches at the top. Suited for rectangular and circular cakes, as well as slices, the shield is food-safe and protects your birthday treat from contamination.
Adapting to hair styling in the time of COVID, Japanese salon Earch developed the stick-on salone de mask. A strapless, semi-transparent style, the mask allows stylists to get a better sense of customers' facial features and therefore deliver a more flattering haircut.
---
Share this article