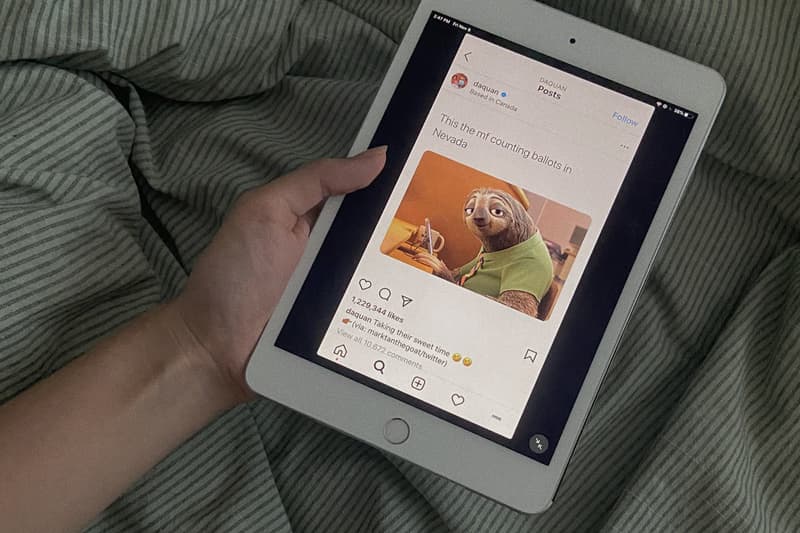 Culture
When Election Anxiety Is at an All-Time High, Memes Are Keeping Us Sane
Are memes becoming the ultimate stress relief?
When Election Anxiety Is at an All-Time High, Memes Are Keeping Us Sane
Are memes becoming the ultimate stress relief?
When the future of democracy is threatened, we're finding comfort in memes and social media. Since the U.S. Presidential election took place on November 3rd, the whole world has been holding its breath. Because of the coronavirus, many voters decided to cast their vote through mail-in ballots prior to the election date, and the final votes are still being counted.
Initially, the world was tense. This election wasn't something to joke about, and as the votes were being counted and states were turning red in favor of Donald Trump, it seemed like the beginning of the end. But, slowly but surely, votes came in for Joe Biden and most of us hung on to the small bit of hope that was left. Now, three days later, votes are still being counted and Joe Biden is only one state away from victory.
As we've waited patiently, anxiously and stressed, many of us have found an escape through social media. No, I'm not talking about doom scrolling on Twitter, I'm referring to the many memes being shared across platforms like TikTok and Instagram. We all spent the first 48 hours with our eyes glued to the TV, waiting for updates and good news, but your brain can only handle so much stress and uncertainty at once.
Enter: the memes. Slowly but surely, we collectively began to realize how absurd the world is right now, and took a break from the seriousness and real-life implications of the election to laugh at pictures and videos on the internet. Consuming memes and funny posts has become a coping mechanism for many of us during trying times, and now that we've spent three days waiting for Michigan, Georgia and Nevada to finish counting their votes, the game is on. Videos, posts and funny tweets are being shared countless of times while we wait for the fate of the United States to be signed, sealed and delivered, and we're desperately in need of laughs.
Throughout the year, we've seen countless memes being made following the presidential debates, most recently the many that revolved around the fly that sat on Mike Pence's head during live TV. The joke became so widespread that it reached the entire world in a matter of minutes, and even gave Lizzo the idea to dress up as said fly for Halloween this year. Similarly, countless of videos of both Trump and Biden have been created, giving meme accounts like Instagram's Sainthoax a field day when it comes to creating content.
Memes have allowed us to get through what is perhaps the most insane year of all time, giving us something to laugh at when things seem the darkest. With COVID-19 sweeping the world, Europe entering a second lockdown, the U.S. Presidential Election stretching over three days and two more months left of the year, we all need to see the light at the end of the tunnel somehow. If you need a break, turn away from the news for a few minutes and scroll through TikTok, where the election memes are scattered all over the platform's "For You" page. Scroll through Twitter, Instagram and other social media and I guarantee you're in for a laugh. Once we hit the switch from serious doomsday predictions, to making fun of the situation, things have been easier to deal with. Things may still be absolutely horrible, but at least we can all collectively have a little chuckle as stress-relief now and then.
We're all in this together, which is why we're also leaving you with a handful of videos to watch as we await the final results from the 2020 election. To learn more about how to follow the election, see our resources here.
#Elections2020
Nevada, Wisconsin and Michigan: pic.twitter.com/sT2EM1eUd3

— Byron (@babyby_22) November 4, 2020
Share this article