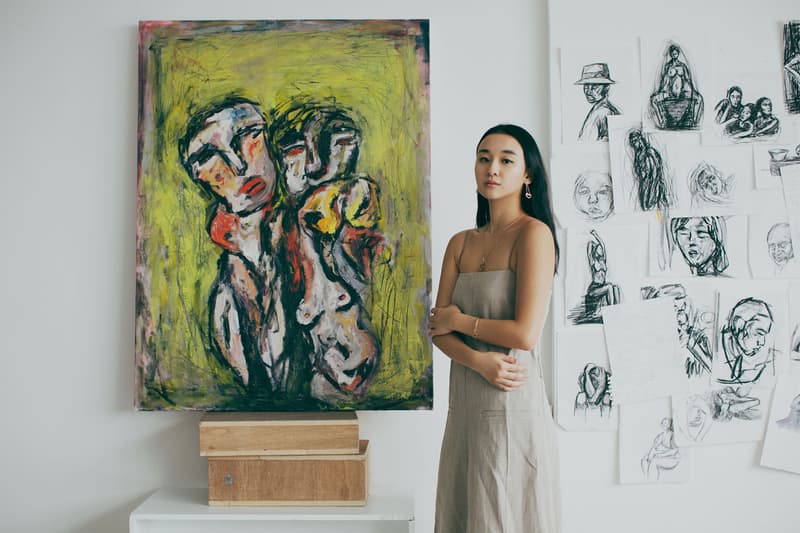 1 of 3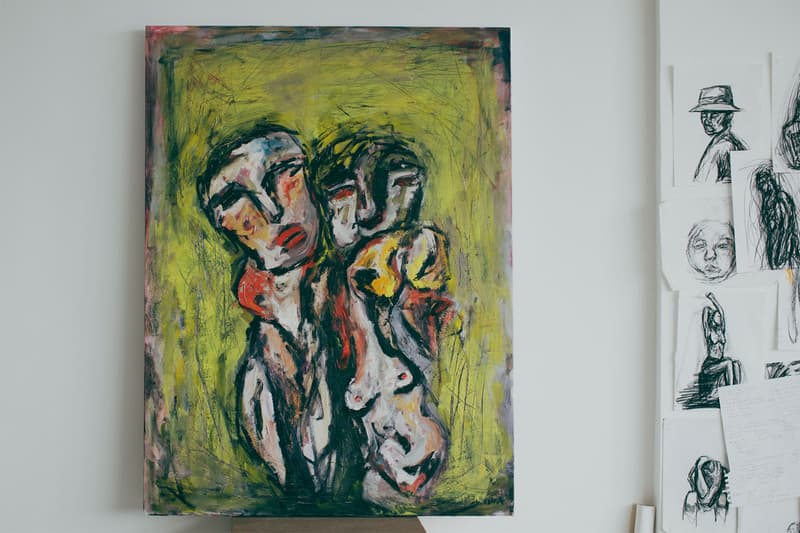 2 of 3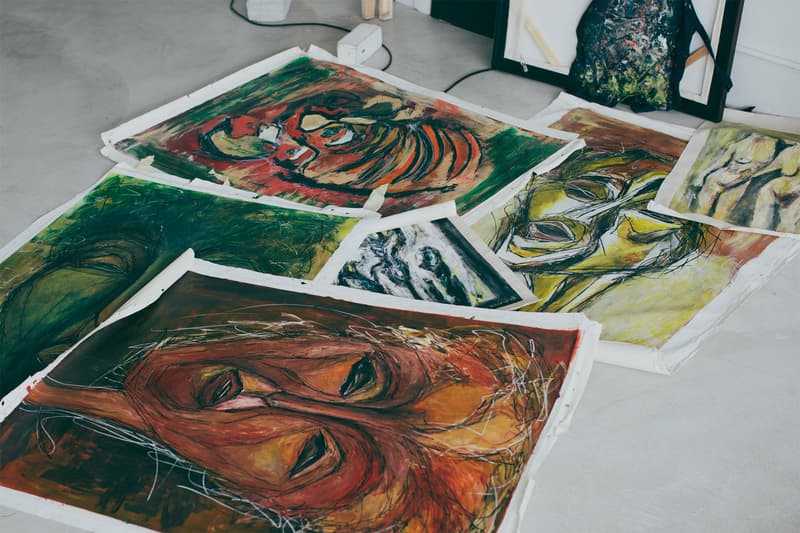 3 of 3
Art
Artist Mizuki Nishiyama on Exploring Human Fragility and Intimacy in Her Paintings
From lust to vulnerability, her art shows a raw depiction of human nature.
Artist Mizuki Nishiyama on Exploring Human Fragility and Intimacy in Her Paintings
From lust to vulnerability, her art shows a raw depiction of human nature.
A fresh art school graduate and lifetime artist, Mizuki Nishiyama is one of many creatives that have been navigating this pandemic in their own way. Despite the current global climate, Nishiyama, who comes from a multicultural background with Hong Kong, Japanese and Italian heritage, is optimistic about the opportunities ahead of her.
Coming from a family of artists, Nishiyama takes inspiration from her upbringing as well as her various interests spanning writing, poetry, flamenco and ballet. Translating her creative vision into two-dimensional paintings, she appropriately fuses her personal experiences with her favorite works such as Dante Alighieri's Inferno of Divine Comedy, simultaneously touching on topics like anxiety, trauma and human fragility. The resulting collection of works are raw, vivid and conceptual all at the same time. Her recent pieces in particular, depict erotic human figures in abstract, bold color schemes.
"I like dissecting my mind and building higher self-awareness to others and the environment. I believe that in order to do so, there must be a humbling and vulnerable approach to life that must be made," Nishiyama talks about the central theme of her paintings. The artist values the time she spends outside of her studio too, treating everything she comes across as an opportunity to live, and ultimately turning these experiences into art.
Continue reading for our full conversation with Nishiyama, where she talks about her inspirations, future plans and more.
How did you kickstart your career?
I don't think I can pinpoint a certain moment. Painting is a craft that I simply fell in love with while observing my grandmother, granduncle and mother, who have all dedicated their lives to painting. Painting is a way of responding to life, emotions, experiences and ultimately make sense of my reality.
Have you always known that you would become an artist?
I really enjoyed growing up being immersed in various forms of art. Writing, poetry, violin, flamenco, ballet and painting consume most of my time. I wanted to become a poet when I was little and I still have a soft spot for literature. Over time, I've realized that painting has a certain dynamism that makes me feel complete.
How has COVID-19 impacted you as an artist, in terms of future plans or inspirations?
I was in my last semester at Parsons School of Design, as well as preparing for an exhibition at the Tenri Cultural Institute of New York before the peak. Due to the pandemic, I decided to leave New York and stay put in Hong Kong temporarily since that was where my parents were situated at the time.
I completed the last few months of schooling online and held the exhibition virtually as well. The virus has been extremely devastating for so many, and I consider myself lucky to have been able to find an escape and comfort in Hong Kong. I didn't quite imagine myself exploring my work in this city, but I've realized that I found a light in this tunnel of uncertainty. I'm practicing right now how to make the best out of a situation, especially since life is so unforeseen.
How does your diverse cultural background inform your work?
As a mixed individual, I've never been able to conform to one existing culture. I still struggle with my identity. I tend to introduce myself as "mixed Japanese." Japan, Hong Kong and Italy are my homes, but I identify most strongly with my Japanese side.
Residing in New York in the last few years, I would consider the city to have also impacted me greatly in terms of my identity. I would say that the people, energy and cultural makeup from every place has a flavor that is visually apparent within my works – whether it's the sense of home in Hong Kong, the bustling underground creative energy in New York, the traditionalism in Japan or the richness of Italy I've personally experienced.
Could you briefly walk us through your development process? How long does it typically take for you to conceptualize a new collection and execute it?
Regurgitating on a piece of canvas is how I would describe my process. I take experiences, emotions, concepts, literature, music or any other mediums of work that sparks my interest, and attempt to craft somewhat of a structured chaos. A big part of the process is what I like to call "negative time." Just like negative space, there is the "off time" when one is not creating, but simply living and experiencing. That is probably the most important part of this process. The work is not something that can be formulated but simply lived and hopefully documented.
At first glance, a lot of your recent pieces are centered around the human body. What was the inspiration behind the Love and Lust and Shunga collections?
The Love and Lust collection was partly inspired by Dante Alighieri's Inferno of Divine Comedy. I'm a huge fan of the macabre, works contemplative of life and death, philosophy and so on. My father studied French literature and philosophy, essentially raising me on these fascinating and dark stories regarding the human experience.
I believe that my upbringing jumpstarted my fascination with the human condition, the human body and mind. Love and Lust blurs the boundaries between reality and fantasy. I pondered what Dante might have visualized the different depths of hell to have looked like. I also took it as an opportunity to study the human body, such as contortions, overlaps, embrace and touch.
Shunga was inspired by ancient Japanese woodblock print erotica. I was also influenced by Edward Said's Orientalism and the thin veneer behind intimacy. Shunga is a series that explores my identity as a mixed Japanese woman, my desire to understand how intimacy and fragility affect our humanity, as well as the vulnerability within sexual energy.
Your works are focused on the main theme of human fragility. What drew you to this topic?
I like dissecting my mind and building higher self-awareness to others and the environment. I believe that in order to do so, there must be a humbling and vulnerable approach to life that must be made.
How has your experience with anxiety and trauma influenced your style?
I'm naturally a very anxious person. I have contradictory personalities too, which affect my work. My experience with more distressing and sensitive aspects of life have put in perspective that everything is just part of the process.
I studied fine arts at an atelier since I was little, and in addition to attending art school, creating art seemed to have been boxed in a certain way for me. I am thankful for the academics I have been led through, but it was refreshing for me to reject expectations and just create what is authentic to me. I applied the same approach to handling anxiety and trauma.
What other topics do you hope to explore in the future?
I definitely have a common theme of human fragility and vulnerability throughout all my works, which I'd like to continue exploring further in the future. Other topics I plan to look into include: death, Japanese theatre, folklores, my Hong Kong heritage and socio-political issues.
Photographer

Koon Chi Chung/Hypebae
Stylist

Vivian Choi/@vivianxchoi
Clothing

Cos, Qeelin