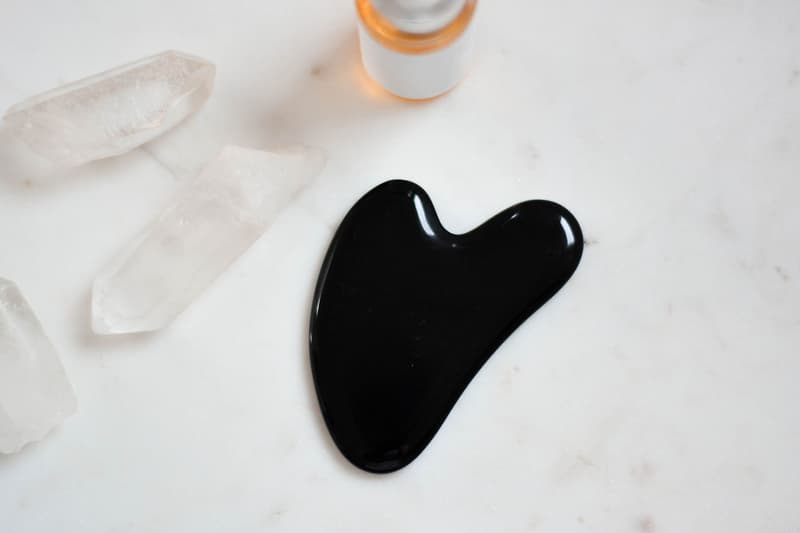 Beauty
5 Tips to Know for the Ultimate At-Home Gua Sha Facial
Improving circulation and removing toxins.
5 Tips to Know for the Ultimate At-Home Gua Sha Facial
Improving circulation and removing toxins.
Much like jade rollers, gua sha massaging tools are on the rise in the world of skincare. Although this self-care method may seem like a new trend, gua sha actually originates from traditional Chinese medicine, dating thousands of years back in history.
Before being adopted as a beauty practice, gua sha was known more as a back massage that leave deep, red scraping marks. Gua sha is known as 刮痧 in Chinese, and the literal translation of the word is "scraping toxin." The traditional Chinese treatment is used to scrape or push any internal toxins out to the external skin. The tool involved in the process can come in different forms, ranging from jade to a spoon, or even a coin.
In recent years, gua sha has gained popularity thanks to celebrities that tried out the massage, including Gwyneth Paltrow, Miranda Kerr, Karlie Kloss and Selena Gomez. When used on the face, gua sha essentially has a firming, lifting and soothing effect, while promoting lymphatic drainage when pressure is applied to the right points. This helps with depuffing the face in the morning or before applying makeup.
Although it may seem daunting at first, gua sha is probably one of the easiest ways to perform a safe and simple at-home facial. All you need to do is to gently scrape your face, neck and décolletage using a gua sha blade of your choice. Read on for some tips on how to enjoy a gua sha facial at home.
For more on skincare, check out our editor's review of the infamous vampire facial.
Tips for Gua Sha Beginners
1. Place your gua sha blade in the freezer for a cooling effect.
While gua sha tools are usually made of naturally cool materials like jade, for an extra soothing and depuffing effect, leave your massager in the freezer or refrigerator for a few minutes before you begin your at-home facial.
2. Make sure to cleanse your face, hands and the gua sha tool before and after use.
Cleansing is one of the most important steps in essentially any type of beauty routine. Since many gua sha blades are made of materials that are semi-porous, leaving them unwashed may cause bacterial growth. Make sure to wash your face, hands and massager thoroughly with a gentle cleanser before you start your skincare routine.
3. Apply face oil or a rich cream before use.
Any type of face oil, serum or cream with a rich consistency will allow the gua sha tool to glide over the skin more easily without damaging or pulling it. Apply just enough so that the scraping process will be smoother, but not to a point where your complexion is covered in thick, oily formula.
4. If you're lost, just remember to work in an outwards, upwards motion.
While there are various ways to massage your face using different parts of a gua sha blade, if you ever get confused, the simple formula to remember is to always work your way outwards and upwards. Doing this along your brows, cheekbones and jawline will give the skin a lifting effect.
5. You can use gua sha tools on any part of your body.
If you're fatigued from a day filled with physical activities, you can always use your gua sha tool on other parts of your body, including your calves, shoulders, feet, hands and more. Massaging pressure points on areas other than your face and neck may help relieve stress.
Gua Sha Tools You Can Shop Online
Share this article