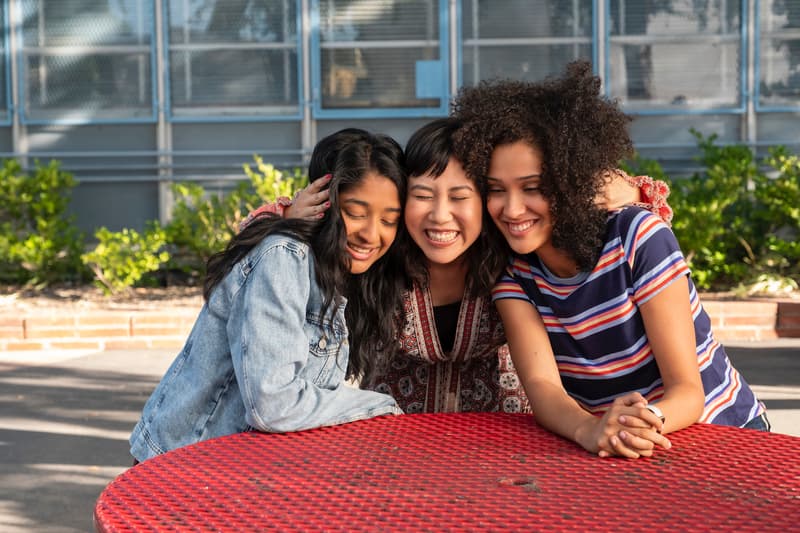 Culture
Why Netflix's 'Never Have I Ever' Is a Sign of Things to Come
Making a difference in the diversity-lacking realm of TV.
Why Netflix's 'Never Have I Ever' Is a Sign of Things to Come
Making a difference in the diversity-lacking realm of TV.
It's not often a young Indian actress makes the homepage of Netflix. It's even less often that it's because of an entire show dedicated to exploring Indian culture alongside the perils of navigating teenage life, something many first-generationers can wholly identify with. Cue Maitreyi Ramakrishnan, the star of Never Have I Ever, a 10-part series produced by Mindy Kaling that follows the life of 15 year old Devi Vishwakumar.
Whilst the show does an undeniable duty in injecting some colour into an otherwise diversity-lacking realm of TV, there are a couple of themes in the show that lead us to believe there's still more work to be done.
Devi lives in Los Angeles with her family; mother Nalini, who still manages to fit into the "Indians are doctors, scientists or engineers" stereotype and cousin Kamala, unsurprisingly also finishing a PHD at Caltech University. Her father Mohan makes brief appearances, though early on in the show we're made aware of his premature death caused by a heart attack during a recital at Devi's school.
The main premise of the show comes in the form of Devi attempting to catch the attention of high-school heartthrob Paxton Hall-Yoshida. The show does well to diversify representation through a not-completely-white love interest and somewhat racially diverse friendship group and even extends its mission to subtly explore themes of sexuality, grief and loss throughout.
The most redeeming arc however, takes the shape of an episode entitled 'Never Have I Ever… Felt Super Indian' which explores the Hindu ritual of Ganesh Puja. This isn't the first time we've seen a religious Indian ceremony outside of a wedding, openly explored on our TV screens, take The US Office's dissection of Diwali for example, however Never Have I Ever does this through a remarkably different lens. It explores the struggle that many British and American Indians genuinely do face: a constant inability to successfully bridge the gap between their two cultures. For most, it manifests in either feeling 'too Indian' to fit in with Western ideals or alternatively, being told that an ability to adapt to Western culture has led them to forget their roots entirely – neither of which are actually true of course.
Whilst this refreshing exploration of culture paints a progressive picture for the audience, the show still seems afraid to let the arranged marriage stereotype go, much like many that came before. Despite secretly dating Steve from Caltech, Devi's cousin Kamala is found to be undergoing a marriage proposal from Prashant, an MIT graduate that she's never met. The arranged marriage storyline is not one the audience is unfamiliar with, having seen it with Cece Parekh in New Girl and Mindy Lahiri in The Mindy Project, however this adaptation does at least showcase an opportunity for Kamala to explore other options.
The show itself feels authentically Kaling through its, at times, unrealistic and dramatic nature. Though Devi's mum laughing at her joke about virginity at the dinner table may not be hugely relatable for most audiences, it's hard to argue with the fact that Never Have I Ever is a step that's been the most in the right direction in a long time. Compared to its predecessors – the likes of New Girl and The Mindy Project – the show doesn't shy away from truly exploring its Indian roots, even down to having authentic Indian names for its core cast members. The penultimate episode even alludes to the potential of a brown love interest being a positive thing – possibly for the first time in any American sitcom.
Essentially, Never Have I Ever is the closest depiction of growing up as an Indian teenager with immigrant parents we've ever had, and it's likely paving the way for what's yet to come. Rumours are set for Season 2, so here's hoping the next instalment of the show kills the stereotypes dead and makes way for an even more contemporary representation.
Editor

Tora Northman/Hypebae
---
Share this article