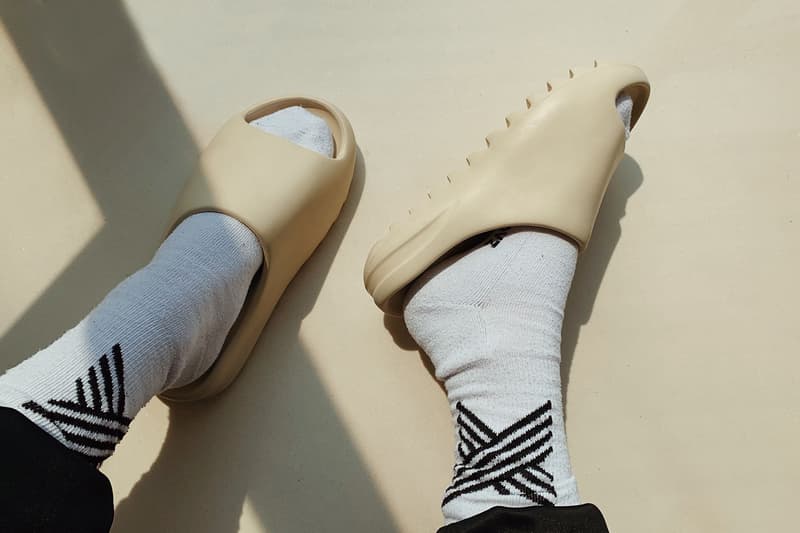 Footwear
The YEEZY SLIDE Is the Best Thing I've Copped This Year
These sandals are for the ultimate at-home 'fit.
The YEEZY SLIDE Is the Best Thing I've Copped This Year
These sandals are for the ultimate at-home 'fit.
When I got a first look at Kanye West's new slides for YEEZY, I honestly wasn't the biggest fan. Just like many others who describe the shoes as bathroom slides, I didn't find them to be useful or aesthetically pleasing. However, being in self-isolation and aimlessly scrolling through outfit photos on Instagram, I stumbled upon a series of on-foot shots of the YEEZY SLIDE and fell in love.
The second drop, which introduced the "Earth Brown" and "Desert Sand" colorways, came at the perfect time as I'm sure that, like myself, many have been on the lookout for stylish and comfortable slides to wear at home. A pair of tie-dyed or fuzzy socks along with sweats are all these slides need to be styled perfectly. With the situation here in Hong Kong slowly alleviating with no new confirmed cases this past week, I also plan on sporting these slippers outdoors this summer, if circumstances allow.
Scroll down below to find out more about why the YEEZY SLIDE is the best thing I've copped so far this year.
WHAT IS IT: YEEZY SLIDE "Bone"
WHY IT'S WORTH THE HYPE: Crafted with lightweight EVA foam for durability, the YEEZY SLIDE arrives in four earthy, Instagram-friendly hues: "Bone," "Resin," "Earth Brown" and "Desert Sand." Just as its name suggests, the "Bone" colorway is a toned-down color in between off-white and beige.
What I appreciate about these chunky slippers is how it hugs the feet. The lightweight material goes hand-in-hand with the snug fit of the slides — if they were designed similar to more common silhouettes that usually arrive with a flatter sole, the shoes may not have been as wearable as they would slip off easily. I would, however, suggest those looking to cop the slides to go half or a full size up as they could be slightly tight if you're wearing socks with them. In addition to the fit, the YEEZY SLIDE provides great cushioning thanks to the thick, airy outsole that also arrives in a toothy pattern for traction. Although I haven't tried it yet, I am sure these slides will be a go-to if I ever have to spend the entire day walking outdoors.
WHERE YOU CAN FIND IT: While the adult versions for the YEEZY SLIDE are sold out, you can get your hands on grade school and toddler's sizing over at YEEZY Supply. You can also head over to resale platforms like StockX where the slippers are available with prices starting at $75 USD.
---
Share this article