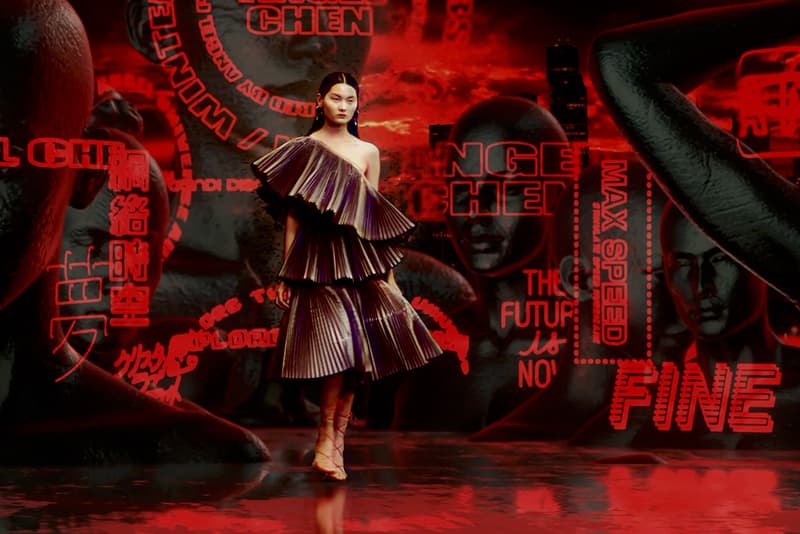 Fashion
Are Digital Runway Shows the Future of Fashion?
Due to COVID-19, fashion weeks across the globe are going virtual.
Are Digital Runway Shows the Future of Fashion?
Due to COVID-19, fashion weeks across the globe are going virtual.
The "disruptor," a fairly recent entry into the zeitgeist's lexicon, is a term frequently used in the fashion industry to describe a person or a brand whose innovative and usually unorthodox ideas have had an irrevocable impact on the industry's landscape — whether that means shifting our perceptions on what fashion can be, building new, cutting-edge business models or breaking down boundaries. We know the names. There's Vetements' former creative Demna Gvasalia at Balenciaga and Off-White™'s Virgil Abloh now at Louis Vuitton, who elevated streetwear to the realm of luxury. There's Everlane, who have paved the way for mainstream sustainable clothing, with a radically transparent model. And then, there's COVID-19.
The coronavirus health pandemic has disrupted the fashion industry in a manner that is completely unprecedented in recent history. The virus brought along with it international lockdowns, social distancing orders and a global economy in peril. It also brought the fashion industry — from garment production to garment consumption — to a screeching halt. Well, almost. The fashion cycle already spins at such a frenetic pace that the industry has become pretty good at adapting to novelty — whether it be to the season's latest trends or some of the aforementioned disruptors. So, with Men's Fashion Week fast approaching, how does the industry adapt to the current pandemic?
From Tokyo and Shanghai Fashion Weeks, both held earlier this spring, to the upcoming London Fashion Week Men's, runway shows across the globe are going virtual in response to the coronavirus outbreak. With digital presentations poised to become the next big industry trend, we spoke to some of the most innovative new fashion brands about their experience with this new means of presenting collections. How does one stage a fashion show in the age of social distancing? And, is this the future of fashion?
Chinese designer Angel Chen had conceptualized the entirety of her Fall/Winter 2020 collection before the coronavirus hit. She had only finished sewing around 70 percent of her show pieces when all the factories closed. "I explored Akira, the animated movie [which] is set in a futuristic 2020," says Chen, about the inspiration behind the collection. "Our show being in the same year, it was a super cool coincidence and idea to go forward with." The designer recalls that the quarantine orders were so strict she was not permitted to enter her studio: she had to secretly send out fabrics and samples to her home, and had to hand-drape and sew the remainder of her collection at her friend's studio. "The process and production [of the FW20] collection took much longer than what was expected and than how the process usually develops," Chen recalls.
After the delays in producing her runway pieces, Chen, who usually shows in Milan, was forced to call off her seasonal runway due to quarantine orders in her native China. The idea of a virtual show happened almost by happenstance: Chen had just finished creating a CG poster for the Milan show before it was canceled. "I was thinking, then, I could bring the concept into a virtual show. And from that starting point, it fit the whole Akira concept well." With only one month left until Shanghai Fashion Week — where Chen ended up showing — she assembled her director and CG team to turn her virtual idea into a virtual reality.
Chen's vision was nothing short of epic, featuring models strutting through a completely CG background — in a modern-day gladiator arena, an apocalyptic cityscape and a desertscape. This was all achieved through green screen and computer renderings. "I always love to try new technology no matter if it's VR or CG, or different kinds of digital platforms. I think it's inspiring and it gives me energy and an idea of how my brand can be presented not only in 2D but also through multimedia."
Danish brand HELIOT EMIL, co-founded by brothers Julius and Victor Juul, are veterans to the digital runway experience. Back in July 2019, the label presented its Spring/Summer 2020 collection as what Julius describes as a "digital customizable experience." Their FW20 presentation — which took place in the midst of the COVID-19 crisis but had been fully conceptualized way beforehand — was par for the course. "It was never really part of the planning process that people would eventually not be able to or not want to participate in physical runway shows due to the situation," explains Julius.
Their FW20 showing was a spiritual continuation of their digital SS20 presentation: to engage the viewer through a medium different from the physical runway show and for the viewer to have an autonomous experience of the show. "The concept for the [FW20] show was to place the viewer at the center of the show in a 360 degree space, being able to physically maneuver the universe themselves," Julius elucidates. To achieve the desired effect, the label worked with a 360 degree camera. The show was recorded over the duration of an entire day, using fewer models than required for a regular runway, but with several takes. The clips were then stitched together to create what Julius calls "small surprises" for the viewer when watching the final product.
For HELIOT EMIL, their FW20 show was just a natural development of the label's already-innovative ethos. "With our previous shows, we have been on a trajectory to question the fashion show as a medium in relation to the innovative nature of our label," explains Julius. "We are constantly trying to push the status quo of the way that we work. So it was always the plan to do a show that was innovative and different from the traditional show format."
Up-and-coming Vienna-based designer Christina Seewald had to cancel her FW20 presentation at the last minute due to lockdown circumstances, which were initiated "quite early in Austria," according to the designer. Not wanting to miss out on the chance to create a show, the designer began to assemble a motley team of collaborators — stylist Karo Rose, videographer Paul Herman, DJ JJ and makeup artist Naomi Gugler. Then came to casting the models — all from Instagram. "By the beginning of April, we had our fixed cast, and a lot of sweet DM's," says Seewald. Casting fittings and other organization tasks were all done through Zoom meetings and FaceTime, and "a lot, a lot of emails."
Seewald conceived of the FW20 presentation as a series of short videos of the models wearing the collection. To ensure this all came together — from the models' respective houses — Seewald and her team created Dropbox files for each model, which included guidelines for styling, makeup and set design. "We had to find new ways to communicate and create, and that's how the show came together," notes the designer, on how the show — which will be be available to watch on her Instagram as of May 1 — was made possible.
So how does a digital runway differ from its IRL counterpart? Japanese label HYKE, which showed through livestream during this past season's Tokyo Fashion Week, notes that the digital experience is no substitute for the real thing. "The air and ambience you experience in person at the show venue play a large part in our shows," say the label's designers, Hideaki Yoshihara and Yukiko Ode. "Unfortunately, at the moment at least, that aspect cannot be replicated through live streaming."
Chen corroborates: "The audience has to be able to feel the fabrics and watch the clothes through their own eyes. We can't rely completely on digital technology." For Seewald, it's all in the logistics: "You have less human contact, so you have to think of every small detail on a bigger scale," she explains, "What goes where, and when. There are more deadlines and a lot of writing and miscommunications. Facial expressions and human reactions are different when you are talking over social media or Zoom. It's all a new experience for everyone."
So, is the digital presentation the future of fashion? The consensus is somewhat divided, but one thread finds its way through all the designers' insights: a one-size-fits-all fashion calendar no longer serves the needs of both creators and consumers — we need something new. Also, the digital fashion show will pave the way towards a more democratic fashion industry.
For Angel Chen, her digital show has changed the way she thinks about the current fashion calendar. The designer believes that a combination of a physical show, live streaming, and CG technology and VR will create a more holistic, completed outcome for all audiences. "I think fashion shows nowadays aren't only for the big media [companies], VIPs and buyers, but also for the general audience to share and love. A good show deserves more exposure and more people being able to see it. Live streaming and the format of a digital show perfectly connects the brand with our community in a more personal way," she remarks.
"The fashion industry has been on a trajectory towards innovation and digitalization, and due to [COVID-19], this movement will speed up drastically."
HELIOT EMIL points to larger brands, like Saint Laurent, who announced this week that it will not be following the traditional fashion calendar for the rest of 2020, to indicate larger shifts that are already taking place in the industry — shifts that designers like Julius and Victor Juul have been prescient of, for seasons already. "The fashion industry has been on a trajectory towards innovation and digitalization, and due to [COVID-19], this movement will speed up drastically," Julius explains, "There will be a dramatic push of the direct-to-consumer market on all fronts." The push is imminent.
Even Yoshihara and Ode of HYKE, who are huge arbiters of the physical runway experience, note that digital fashion shows are, possibly, the way of the future. "We had a much wider audience [for our FW20 show] than we usually would at an invitation-only runway show with a [physical] audience," the duo note. "It was a good eye-opener to re-think about how a runway show could be presented in the future."
"Smaller brands might now have a chance to be recognized. They will be as equally exposed as any other brand, because everyone will be sharing this virtual space."
Seewald calls for a healthy balance between IRL and digital, but notes the benefits — in terms of inclusivity — of going digital. "I definitely think smaller brands might now have a chance to be recognized. They will be equally as exposed as any other brand, because everyone will be sharing this virtual space. There won't be any restrictions. The fashion calendar will be open to any person, worldwide, to see any show. Anyone will be able to educate themselves and learn more about fashion."
Speaking about the concept of her FW20 digital outing, Angel Chen perhaps best describes how the fashion industry might emerge from the ashes of COVID-19. "At the end of my virtual show, there is a huge explosion. For me, this is not the end of the world. After the explosion, everything becomes very pure, under a beautiful blue sky. Everything is in soft tones. It is just like being reborn. For me, this concept is also what we've been going through during the situation surrounding coronavirus. I believe everything is going to be better and better, so we want to encourage everyone to think about something positive, like hope and peace."