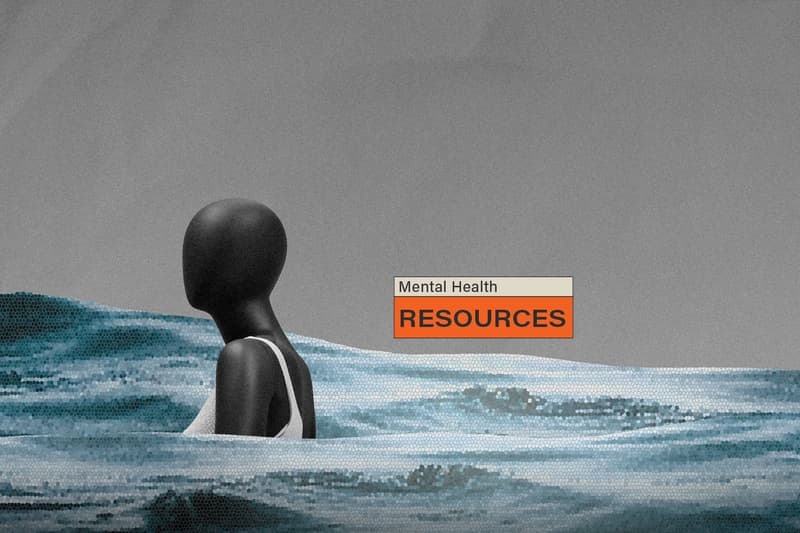 Health
10 Mental Health Resources for POC Struggling Right Now
The death of Daunte Wright is a triggering, painful instance of injustice—here's where to find support.
10 Mental Health Resources for POC Struggling Right Now
The death of Daunte Wright is a triggering, painful instance of injustice—here's where to find support.
On Sunday, a Minnesota police officer shot and killed Daunte Wright, a 20-year-old-Black man, during a traffic stop. Wright's mother said he was pulled over for hanging air freshener tags on his rearview mirror, an offense that, according to the ACLU, is often used as an excuse to target Black drivers. Wright died in Brooklyn Center, a suburb just 10 miles from Minneapolis, where ex-officer Derek Chauvin is currently trial for the murder of George Floyd. Wright's death is a painful reminder of the institutionalized racism that law enforcement continues to perpetuate, as well as the violence Black folks must witness and endure every day.
For people of color (POC), especially the Black community, racism is an everyday reality that exists far beyond instances of police brutality. Micro-aggressions and confrontations, from being followed in a store to being profiled by the police, are routine occurrences that are enormously detrimental to mental health. In addition, images and videos of brutalized Black men — like Wright, Floyd, Alton Sterling, Philando Castile and countless other victims of racially motivated attacks — broadcast across media can trigger PTSD-like symptoms for Black viewers.
However, POC who need mental health support most are often inhibited by language and income barriers, as well as disparities in access to mental health services. In addition, it can be difficult for POC to find care providers who understand and empathize with the racial trauma they experience. For Black folks specifically, mistrust of authorities due to decades of poor governmental treatment — and present-day systemic barriers — further blocks acceptance of and access to mental healthcare.
Melody Li, founder of Inclusive Therapists, an organization helping marginalized communities find counseling and therapy, explains the importance of intersectionality in mental health care. "European colonization brought forth a heavily Eurocentric leaning in our modern understanding and approach to mental health," she says, citing the impact of economic inequity, war and diaspora on the mental wellness of POC. Cultural variables, such as gender roles and indigenous practices, further call for a departure from the modern "one-size-fits-all" approach to psychology.
Li, who saw a five-fold increase in mental health-related inquiries in the wake of Floyd's murder last May, adds that "affirming and responsive therapists honor cultural strengths and tend to the intergenerational impact of injustice and trauma." The expert, who also co-founded the Austin Counseling Collective, encourages POC to call on their white allies during this emotionally charged time. "Instead of investing time into correcting and debating white or white-adjacent folks who don't get it, which can be so draining, call on white allies to step in to shoulder that weight," she suggests.
Keep reading for a list of mental health organizations and resources serving the Black community, as well as the wider POC community, at this time. If you're looking to donate, Wright's aunt launched a GoFundMe to pay for funeral and burial costs.
Created by Dr. Candice Nicole, this 17-minute guided meditation uses mindfulness and affirmation to help alleviate the despair and anger that incidents of racially motivated violence can often trigger. Dr. Nicole, who founded the Center For Healing Racial Trauma, developed the meditation as a counter message to the racial gaslighting that POC are frequently subjected to.
Founded by Tomina Ward, Black Therapy Love is an app making it easier for users to find Black mental health providers including therapists, counselors and coaches. "These professionals look like you, understand you and can help you," the app's website states. Essentially a directory of Black mental health professionals, the app is free to download and access.
Inclusive Therapists matches POC and minorities to mental health providers that fit specific criteria regarding race, gender identity, sexual orientation and cost. The platform's directory spans professionals including psychologists, psychiatrists, relationship therapists and social workers and serves 20 states as well as parts of Canada.
Melanin & Mental Health connects patients with Black and Latinx mental health providers. The platform also hosts Between Sessions, a podcast in which founders Eliza Boquin and Eboni Harris discuss various topics related to mental wellness, self-care and relationships.
Working at the intersection of mental health and social justice, the NQTTCN helps the LGBTQ+ POC community find fellow queer, POC mental health providers through its online directory. "We recognize that systemic oppression and degradation (colonization, white supremacy, ableism, patriarchy, queerphobia, transphobia, xenophobia, capitalism, etc.) lead to our experiences of suffering, trauma, and mental health issues," the organization writes in its Statement of Care.
Merging mental health education, resource connection and community support, Sista Afya is an organization championing the mental wellbeing of Black women. The initiative offers reduced cost online therapy appointments, priced on a sliding scale ranging from $50 to $125 USD per session. Currently, the service is only available to Illinois residents.
Founded by Dr. Joy Harden Bradford, Therapy For Black Girls is an organization and weekly podcast striving to make mental health discussion and care more accessible to Black women. Offering a location-based search engine to help connect patients with Black therapists in their area, the platform also runs a blog focused on Black mental health.Those looking for further support can also join the Therapy for Black Girls Facebook group.
Therapy for Black Men helps combat the unique challenges and stigma Black boys and men face when when it comes to seeking mental health support. Currently, the organization is offering financial assistance for individual therapy and counseling sessions.
Taraji P. Henson founded The Boris Lawrence Henson Foundation in honor of her late grandfather, who suffered from mental health issues after serving in the Vietnam War. The organization has compiled a directory of mental health providers and programs serving the Black community, and helps connect teens and young adults in need with free local support groups.
Created by suicide survivor Jasmin Pierre, The Safe Place is a mental health app specifically developed for the Black community. The initiative is currently offering educational resources including statistics on Black mental health, self-assessments for depression and anxiety and tips on self care amidst instances of police brutality.
Composite Imagery

Yuri Hong/Hypebae
Share this article