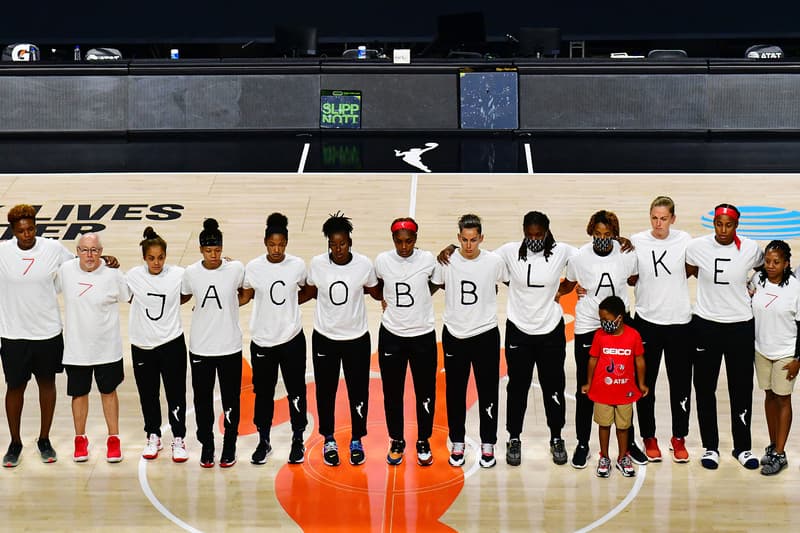 Culture
WNBA and NBA Delay Games to Protest Jacob Blake Shooting
Baseball organization MLB and soccer league MLS have also joined the movement.
WNBA and NBA Delay Games to Protest Jacob Blake Shooting
Baseball organization MLB and soccer league MLS have also joined the movement.
On August 26, the NBA, MLB and MLS reportedly voted to boycott their games after the Milwaukee Bucks refused to participate in the playoffs against Orlando Magic to protest the recent police shooting of Jacob Blake in Wisconsin. According to The Washington Post, shortly after the NBA made the decision to delay the playoffs, the WNBA also announced the postponement of "three scheduled games across the state in Bradenton, and by teams and players in numerous other professional sports."
"After speaking with representatives from teams playing tonight, as well as our WNBPA leadership, the consensus is to not play in tonight's slate of games, and to kneel, lock arms and raise fists during the National Anthem," Atlanta Dream's Elizabeth Williams said. Back in June, the WNBA made it their mission to dedicate their 2020 season to the Black Lives Matter movement by establishing The Justice Movement platform and the WNBA/WNBPA Social Justice Council.
"What we have seen over the last few months, and most recently with the brutal police shooting of Jacob Blake, is overwhelming. And while we hurt for Jacob and his community, we also have an opportunity to keep the focus on the issues and demand change. These moments are why it's important for our fans to stay focused, hear our voices, know our hearts and connect the dots from what we say to what we do," Williams continued.
The rescheduled dates of the games have yet to be announced. In the meantime, here's how you can help demand justice for Jacob Blake.
Share this article