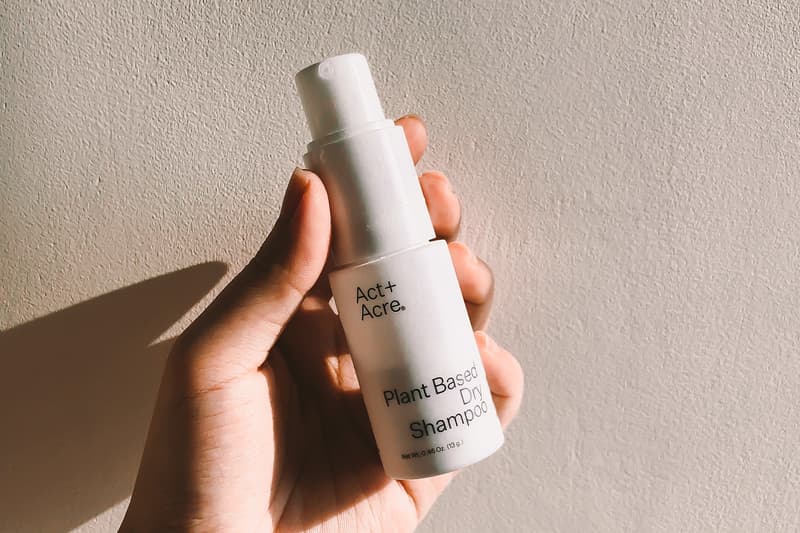 Beauty
Act+Acre's Plant Based Dry Shampoo Gives My Thin, Fine Hair Volume and Texture
Our editor gives her honest review of this six-ingredient vegan product.
Act+Acre's Plant Based Dry Shampoo Gives My Thin, Fine Hair Volume and Texture
Our editor gives her honest review of this six-ingredient vegan product.
I, unfortunately, was not blessed with thick and voluminous hair. As a result, my scalp can get really greasy the day after I use shampoo – especially when living in a humid city like Hong Kong.
Fully aware that it wasn't the healthiest habit, I used to wash my hair every day before heading out to the office. However, when COVID-19 hit earlier this year and work-from-home arrangements were implemented, I had more time to invest in my haircare regimen. To ease into my new routine, I would go on for two days max without washing my hair, but it felt uncomfortable and my head started to itch.
You may be wondering why I didn't initially look into using dry shampoo as an alternative. Trust me, I've gone through a number of different ones in the past but certain brands didn't leave a very good impression on me. For those who aren't familiar, some are infused with chalky powders that clog hair follicles, while others contain drying alcohols that irritate the scalp even more.
Although, when I came across Act+Acre's Plant Based Dry Shampoo last month claiming it could get rid of the oiliness of my scalp with its six-ingredient vegan formula, I decided to try it out for myself. To find out what I think of the sustainable brand's latest best-selling product, read on for my honest review.
When I used this dry shampoo for the first time, I thought there was something stuck in the tube because not a lot of product was being discharged – so trust me when I say that you have to shake this well before use. As instructed on the back of the box, I typically apply this on my roots and massage the powder in well for it to absorb into my scalp. If there's any leftover product, I usually brush it through my ends.
My first impression of Act+Acre's formula is that it does what it claims to do. It completely absorbs the residue and odor my scalp produces and gives my hair more volume and texture. Using its Cold Processed® method (ensuring that each ingredient retains 97 percent of its nutrients), the two hero ingredients found in the brand's dry shampoo are fulvic acid and rice and tapioca powders. According to the label, fulvic acid "provides minerals to the hair follicle and stimulates keratin production." The rice and tapioca absorb oil and odor, which turn transparent upon application and blend with all types of hair colors.
I usually have my hair up in a bun all day, so a little goes a long way with this dry shampoo if I just want to get rid of the grease. After a month of using it, I think it's safe to say that I've found my holy grail and will be restocking as soon as I'm done with my first bottle. When I return to the office, I'll definitely be sticking to my new haircare routine for a healthier scalp.
Priced at $22 USD, you can now purchase the Plant Based Dry Shampoo via Act+Acre's web store.
Share this article