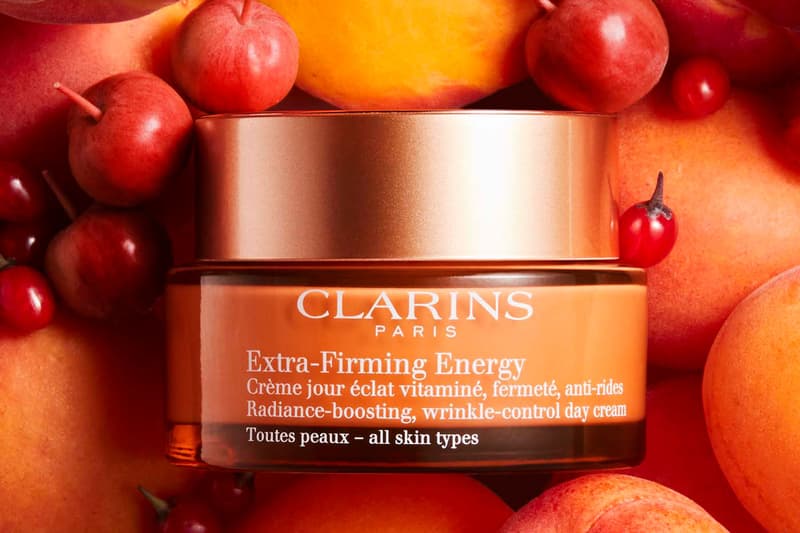 Beauty
Amp up Your Glow Factor With Clarins' Plant-Enriched Skincare Essentials
Radiance-boosting products to keep you glowing all season long.
Amp up Your Glow Factor With Clarins' Plant-Enriched Skincare Essentials
Radiance-boosting products to keep you glowing all season long.
One of the key steps to achieving luminous, healthy-looking skin is to incorporate skin-loving ingredients into your everyday lineup. To take the guesswork out of developing a proper skincare regimen at the start of a new season, Clarins has outlined an innovative offering of radiance-boosting products that are perfect for fall. 
In an effort to develop a skincare routine that places emphasis on hard-working ingredients, the newest advancement in skincare comes in the form of plant-enriched essentials that include the beauty brand's Double Serum, Extra-Firming Energy Moisturizer, Total Eye Lift, Super Restorative Day Cream and Anti-Pollution Sunscreen. 
Double Serum
Enriched with 21 potent plant extracts, the Clarins Double Serum is the equivalent of a facial in a bottle. Harnessing age-defying ingredients like turmeric, organic banana, teasel and organic oat, the two-phase formula visibly firms, smooths and boosts skin radiance in a week. Suited for all skin types and ages, the Double Serum is ideal for reviving and replenishing skin's natural radiance all season long.
Extra-Firming Energy Moisturizer
The Extra-Firming Energy Moisturizer is the latest anti-aging skincare innovation from Clarins. Powered by the revered beauty brand's proprietary Glow Plus Complex, the ultra-hydrating moisturizer uses energizing, skin-nourishing superfruits to target skin concerns like loss of firmness, wrinkles and dullness in order to promote a more radiant complexion. Best suited for use in the morning, the silky smooth day cream instantly melts into skin, and provides skin with optimal hydration and nourishment that instantly amps up the glow factor.
Total Eye Lift
In a mere 60 seconds upon application, the beauty brand's new Total Eye Lift delivers visible results by targeting wrinkles, crow's feet, dark circles and puffiness to reveal visible lifting along with providing a wrinkle-smoothing effect. With unparalleled performance, the all-in-one eye concentrate is breaking all barriers with the coveted essential's sensorial, lightweight balm that melts into the skin, prepping eyes for flawless makeup application and long-lasting wear.
Super Restorative Day Cream
For skin that may be weakened due to hormonal changes, Clarins' Super Restorative Day Cream is a must-have to help replenish, revitalize and restore skin's natural radiance. Formulated with Clarins' Anti-Pollution Complex to help fight the effects of pollution and free radicals, the product is suited for a variety of skin types and those looking to deeply nourish and hydrate their skin.
Anti-Pollution Sunscreen
No matter your age or your skin type, sunscreen is a vital part of any skincare routine. The Anti-Pollution Sunscreen from Clarins is a silky, oil-free screen that locks out skin-damaging UVA and UVB rays, pollution and free radicals, ensuring your skin is always protected from the sun and harsh environmental aggressors. 
To shop the beauty essentials featured here, head to the Clarins website. As part of an ongoing commitment, for every FEED pouch that is purchased, Clarins will donate seven school meals to children in need through the World Food Programme. 
Share this article