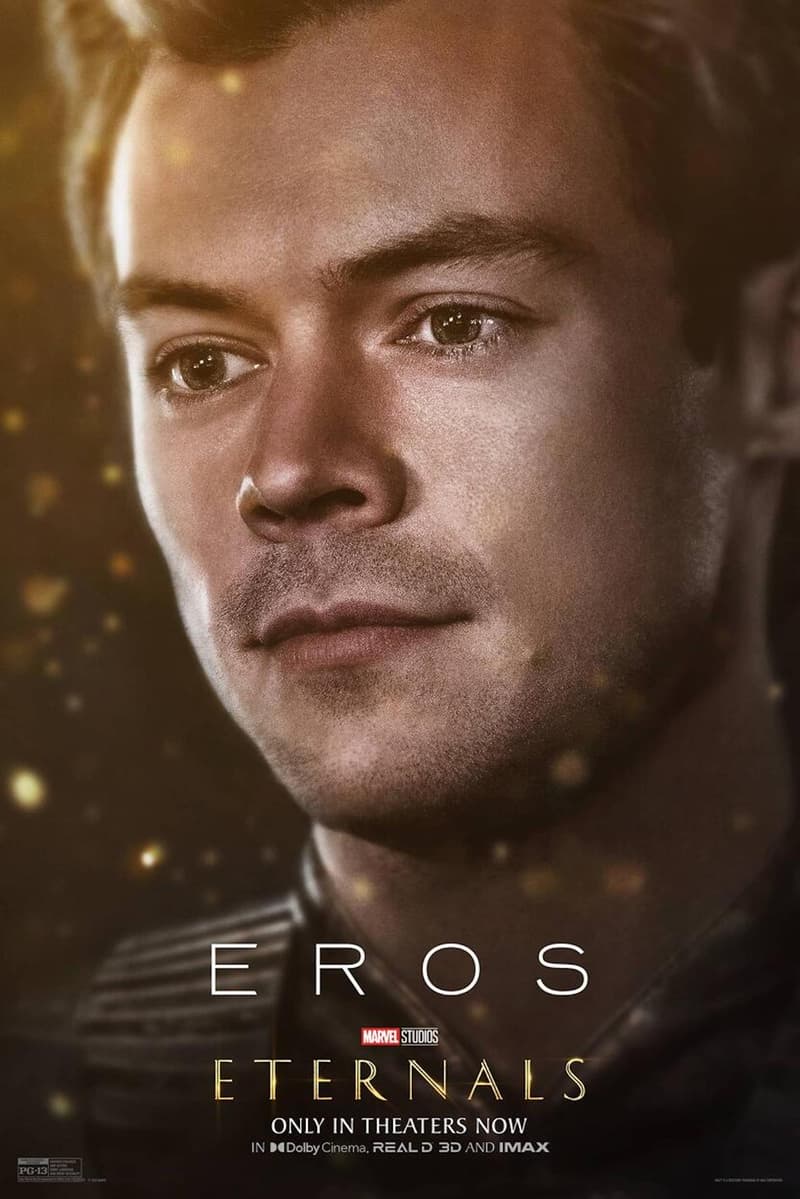 See Harry Styles' First Marvel Character Poster for Eros
Making his first MCU appearance in 'Eternals.'
Film & TV
See Harry Styles' First Marvel Character Poster for Eros
Making his first MCU appearance in 'Eternals.'
UPDATE (November 17, 2021): Harry Styles has officially been welcomed to the Marvel Cinematic Universe. Marvel formally introduced Styles' role when it unveiled a character poster for Eros, aka the "Royal Prince of Titan, brother of Thanos, the Knave of Hearts, defeater of Black Roger, the great adventurer, Starfox."
You can catch the first glimpse of Styles portraying Eros during the end credits of Eternals, which is currently in theaters. See more details below.
Meet the Royal Prince of Titan, brother of Thanos, the Knave of Hearts, defeater of Black Roger, the great adventurer, Starfox ?

Check out Eros' brand new character poster and see @Harry_Styles in Marvel Studios' #Eternals only in theaters NOW! ⭐️?https://t.co/RilTsyHqQJ pic.twitter.com/LiXnXKjGeS

— Marvel Studios (@MarvelStudios) November 18, 2021
---
ORIGINAL STORY (October 19, 2021): Harry Styles is reportedly a part of the Marvel Cinematic Universe. Two Variety reporters who attended the premiere of Eternals at the El Capitan Theatre in Hollywood, California took to Twitter to share the news.
"Big reveal from #TheEternals premiere — Harry Styles has joined the MCU as Eros, brother of Thanos," Variety's senior film writer Matt Donnelly tweeted. You read that right, the pop star and actor is set to play the role of Thanos' (played by Josh Brolin) brother, Eros, whose main power is emotional manipulation.
"Created by Jim Starlin and Mike Friedrich in 1973, Eros, like his brother, was born on Titan and is a being of immense strength, but with the added power to manipulate the emotions of others," as per Polygon's description. "He doesn't always use this power altruistically — like his name implies, Eros is extremely invested in being a horndog, sometimes to a troubling degree."
No further details about Styles' role have been disclosed, so stay tuned while we wait for more information to surface. Premiering on November 5, Eternals' post-credits scene will feature Styles in character.
Image Credit

Theo Wargo/Wireimage
Share this article