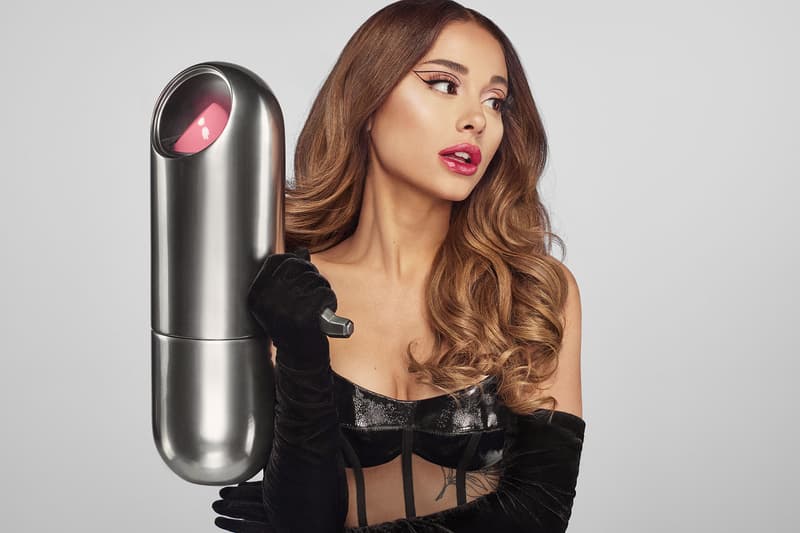 1 of 2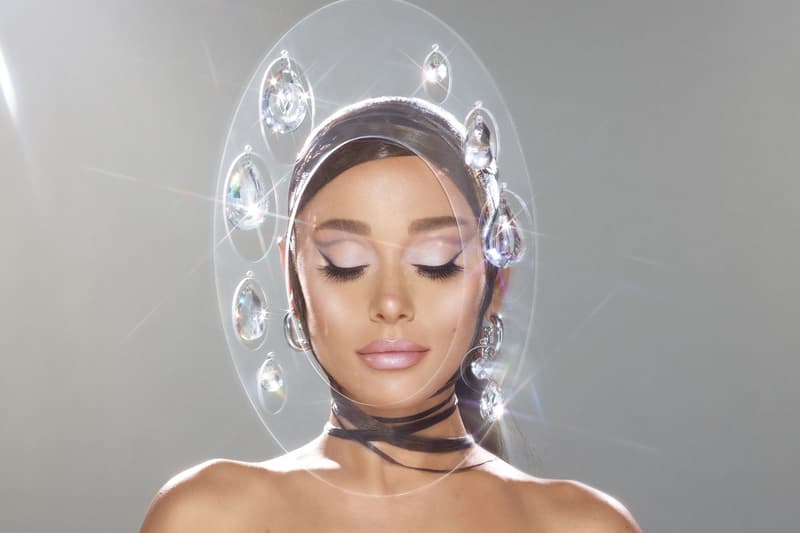 2 of 2
Beauty
A HYPEBAE Editor Tries Ariana Grande's r.e.m. beauty
Explore and read our review of the anticipated makeup collection.
A HYPEBAE Editor Tries Ariana Grande's r.e.m. beauty
Explore and read our review of the anticipated makeup collection.
Arianators, or Ariana Grande stans, will know that the musician is all about '60s sci-fi, Barbarella and Star Trek when it comes to visual inspiration. So, it doesn't come as a surprise that the singer looked to space for her much-anticipated makeup line, r.e.m. beauty.
"Am I wearing makeup, or am I calling Mars?" Ari playfully holds her highlighter topper to her face like a phone, while explaining her inaugural "chapter" at an intimate press event. "I've been wearing and testing the products on camera for shows like The Voice," she reveals, adding that her second drop — featuring a foundation and concealer — is already in the works. Over the last two years, keeping r.e.m. beauty a secret was one of the biggest challenges for Ari, in addition to perfecting the formulas so that they would be vegan and cruelty-free, smell good and last long.
The first r.e.m. beauty collection consists of the following products:
eyeliner marker in black ($19 USD)
kohl eyeliner pencil in 3 shades ($17 USD)
volumizing mascara in black ($15 USD)
lengthening mascara in black ($15 USD)
eyeshadow palette in 3 shades ($24 USD)
dream lashes in 2 styles ($16 USD)
liquid eyeshadow in 10 matte and 11 lustrous shades ($16 USD)
plumping lip gloss in 9 colors and 1 clear version ($17 USD)
matte lipstick in 6 shades ($19 USD)
lip stain marker in 4 shades ($16 USD)
highlighter topper in 10 shades ($22 USD)
Each item comes in metallic silver packaging, one of the main elements Grande paid attention to during the development process. She shares that her main goal was to create makeup that doesn't look like makeup. In this collection, you'll find lipsticks in astronaut helmet and suit-like containers, eyeshadow palettes shaped like a UFO from the future, and mascara that can double as a sci-fi prop. The same theme is found throughout product names — the highlighter topper is named after planets, while the liquid eyeshadow arrives in shades such as "milky way," "science fair" and "asteroid."
The "ultraviolet" range will launch November 12 on the r.e.m. beauty website. Ahead of the release, we got a chance to sample some of the products. Read our review below.
eyeliner marker
WHAT IS IT: A bold liquid eyeliner with a sharp tip for precision. The waterproof and smudge-proof formula promises to last up to 48 hours.
VERDICT: Unlike some other eyeliners I've used in the past, this formula offers a black pigment so strong that you won't have to worry about reapplication. The brush tip is soft and extra pointy, making the product ideal for creating a precise, winged cat-eye.
kohl eyeliner pencil "so mod"
WHAT IS IT: A smooth, creamy eyeliner pencil. The product can be used anywhere on the face and comes with a built-in sharpener. Ari used the white "mod" shade for her recent Allure cover shoot.
VERDICT: The smooth texture of this pencil makes it extra easy to work with. Just like the eyeliner marker, the formula is pigmented enough so that you don't have to apply multiple layers of it. The white "mod" shade in particular works perfectly for filling in the lower lash line, or even for a graphic eyeliner look. It's a snowy white hue ideal for fun holiday makeup looks.
volumizing mascara
WHAT IS IT: A nourishing formula that gives the lashes a fuller look without clumping. Featuring ingredients like bamboo powder, Tahitian microalgae and fruit extracts, the product offers a rich, voluminous finish.
VERDICT: This mascara is what made me realize that Grande is really serious about her makeup launch. It works just as advertised — the formula is lightweight, yet gives a dramatic flair to the eyes. The applicator makes it easy for precisely coating each and every eyelash.
eyeshadow palette "babydoll"
WHAT IS IT: A six-pan eyeshadow palette that features an equal balance between matte and shimmery finishes. "babydoll" is comprised of neutral browns that are ideal for daily wear.
VERDICT: "babydoll," named after the nickname Grande's grandmother calls her by, is probably one of the most wearable eyeshadow palettes I've come across. The set includes everything from a light beige to a dark brown, as well as a shimmery gold hue. You can play around with these versatile colors for both day and nighttime looks.
liquid eyeshadow "comet" and "nvm"
WHAT IS IT: A powerfully pigmented liquid eyeshadow that comes in matte and shimmery finishes. Arriving in a gel formula, the product can be applied with fingertips or the built-in teardrop applicator.
VERDICT: This liquid eyeshadow does not budge. Upon application, the creamy texture quickly dries, forming a long-lasting layer of makeup.
matte lipstick "drive-in movie"
WHAT IS IT: An ultra-smooth matte lipstick with a lightweight feel. The formula is packaged in an astronaut helmet-like shape that lets you peep at the color before opening.
VERDICT: Boasting a chocolatey scent, this lipstick glides smoothly onto the skin. "drive-in movie" is a deep, rich burgundy hue that you can dab onto the lips for a subtle look, or layer two or three times for bold lips.
highlighter topper "miss neptune" and "miss mercury"
WHAT IS IT: A pressed powder highlighter with a creamy, silky texture. The product is offered in 10 shades, including an iridescent lavender "miss neptune," warm champagne "miss mercury" and frosted pink "miss uranus."
VERDICT: Probably one of the most versatile products out of the entire collection, this highlighter can be used on the cheek, brow bones, nose bridge or even on the eyelids as eyeshadow. Although colors like "miss neptune" are a little less wearable compared to warm tones such as "miss mercury," the powder is perfect for experimenting with different color tones.
dream lashes "eternally meowing" and "grow n show"
WHAT IS IT: Faux mink lashes that are offered in wispy "eternally meowing" and feathery "grow n show" styles.
VERDICT: Grande created these lashes after years of cutting and customizing her own falsies. I don't wear fake lashes often, but these are extremely soft and lightweight, making it easy and pleasant to wear them.
Share this article