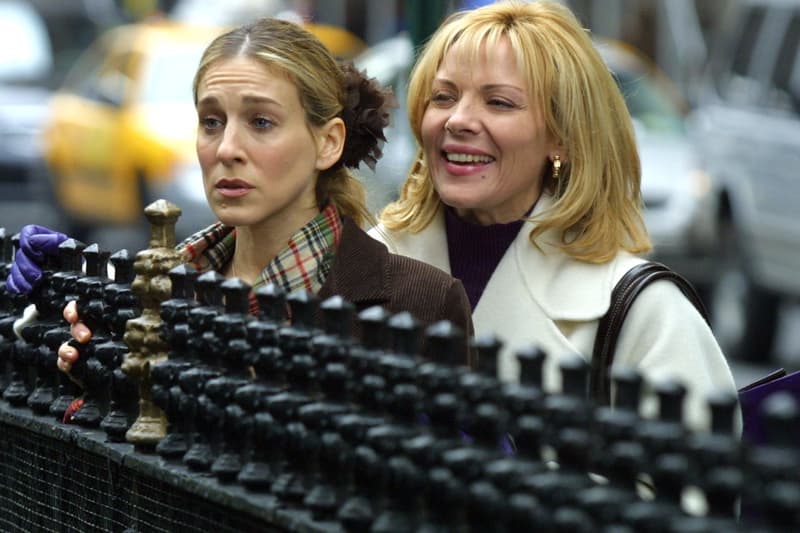 Film & TV
Here's Why Samantha From 'Sex and the City' Won't Be On the Reboot, 'And Just Like That...'
Kim Cattrall and Sarah Jessica Parker have been feuding for years.
Here's Why Samantha From 'Sex and the City' Won't Be On the Reboot, 'And Just Like That...'
Kim Cattrall and Sarah Jessica Parker have been feuding for years.
With three out of the four main characters from Sex and the City reprising their respective roles in the new spin-off series, And Just Like That…, it's only natural for fans to wonder why Samantha Jones won't be present. It turns out, it's mainly due to a personal feud between Kim Cattrall and Sarah Jessica Parker.
Cattrall, who played Samantha, has made it very clear over the years that she does not get along with Parker, who plays protagonist Carrie Bradshaw. In February 2018, Cattrall's younger brother died, which the actor posted about on her personal Instagram. Parker left a comment to send her condolences, which Cattrall wasn't thrilled about and made sure it was known.
"My mom asked me today, 'When will that @sarahjessicaparker, that hypocrite, leave you alone?' Your continuous reaching out is a painful reminder of how cruel you really were then and now," Cattrall captioned an Instagram post directed towards her former co-star. "Let me make this VERY clear (if I haven't already), you are not my family. You are not my friend. So I'm writing to tell you one last time to stop exploiting our tragedy in order to restore your 'nice girl' persona."
While it's still unclear how the show will deal with Samantha's absence in the reboot, we do know one thing for sure — the character hasn't been killed off. "Nobody's dead," showrunner and executive producer Michael Patrick King recently confirmed to The New York Times. "Nobody."
Fans aren't the only ones upset about Samantha not being part of this new chapter. Chris Noth, AKA Mr. Big, feels the same way. "I have to tell you, I have absolutely no idea what her thinking is, or her emotions," Noth recently told The Guardian when speaking about Cattrall. "I do know that I'm very close with SJ and [Cattrall's] descriptions of her don't even come close."
"I liked her, I thought she was marvelous in the show and some people move on for their own reasons," he added. "I don't know what hers were. I just wish that whole thing had never happened because it was sad and uncomfortable."
And Just Like That... premieres on HBO Max on December 9.
Share this article