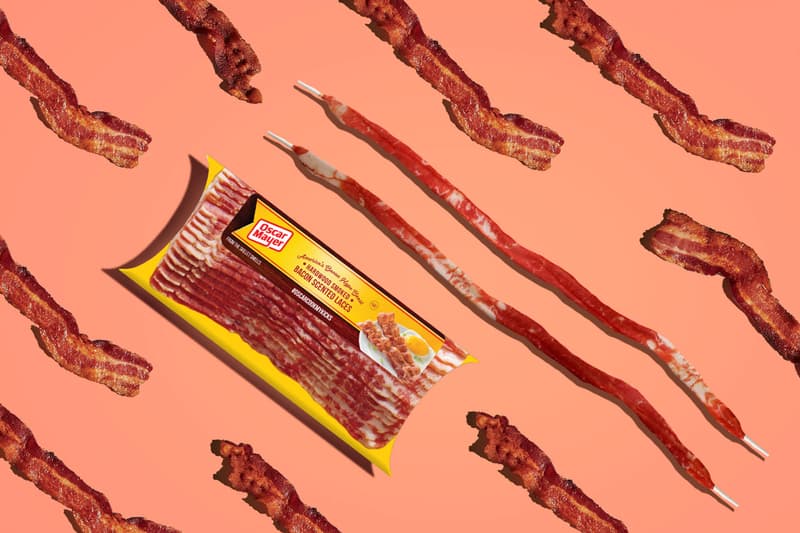 Footwear
These Shoelaces Will Make Your Sneakers Smell Like Bacon
Created by processed meat purveyor Oscar Mayer.
These Shoelaces Will Make Your Sneakers Smell Like Bacon
Created by processed meat purveyor Oscar Mayer.
Processed meat company Oscar Mayer has unveiled its very own bacon-scented shoelaces for all the sneakerheads and bacon lovers out there. This limited-edition product goes well with a classic white pair of kicks, or you can even replace the lacing system on the upcoming Nike Air Max "Bacon." The laces themselves are inspired by Oscar Mayer's Hardwood Smoked Bacon, giving it a fresh-off-the-skillet look and scent.
"There are few things better than the delicious smell of freshly cooked Oscar Mayer Bacon, but you shouldn't have to turn on the stove to fill your nostrils with the heavenly scent," said Oscar Mayer's associate director Megan Lang in a statement. "We know bacon lovers can't get enough of it, so we've created these bacon-scented laces to give fans the chance to carry their bacon love everywhere, whether they're styling the hottest new sneakers or sizzling up an old pair of shoes."
Starting from now until April 1, fans can enter the brand's lucky draw for a chance to win the laces. All you have to do is go on Twitter and tweet the hashtags #OscarCookMyKicks and #Sweepstakes.
Once the competition ends, Oscar Mayer will select 1,500 winners and will announce them after April 2.
Share this article