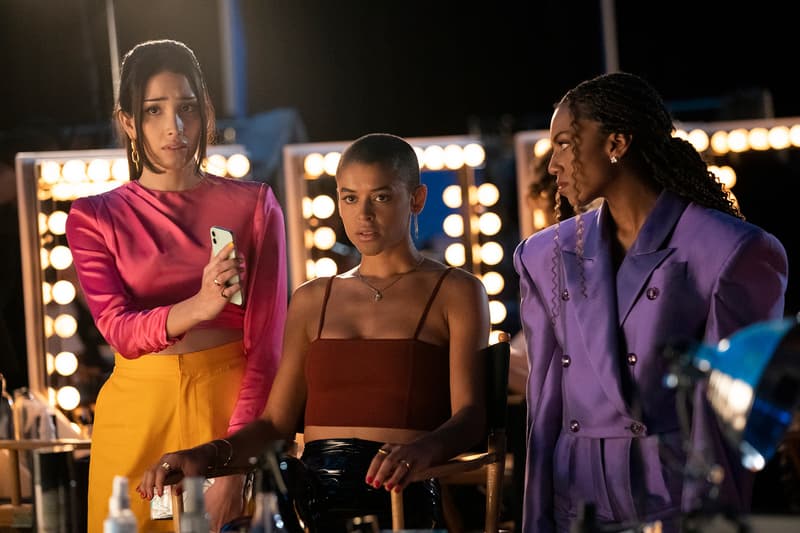 Film & TV
The Best Fashion Moments in the 'Gossip Girl' Reboot
Manhattan's new Queen B, Julien Calloway, is the most stylish of them all.
The Best Fashion Moments in the 'Gossip Girl' Reboot
Manhattan's new Queen B, Julien Calloway, is the most stylish of them all.
There's a new Queen B running the halls of Constance Billard in HBO Max's Gossip Girl reboot, and you better believe she is going to make an impact on fashion alongside her stylish crew.
Played by Jordan Alexander, Manhattan's new It girl Julien Calloway is the daughter of a famous star and is one of the most followed social media influencers. Julien has a half-sister named Zoya Lott (Whitney Peak), who comes from a middle-class family. Keeping their promise to their late mother, Zoya moves to New York City to get to know Julien better by attending the same school as her.
Upon Zoya's arrival, Julien invites her to her elite clique comprised of some of the richest teens in town: Audrey Lind (Emily Alyn Lind), Akeno "Aki" Menzies (Evan Mock), Max Wolfe (Thomas Doherty), Otto "Obie" Bergmann IV (Eli Brown), Luna La (Zión Moreno) and Monet de Haan (Savannah Smith). However, in order for Zoya to fit in, she has to look the part and attend her circle's exclusive social gatherings in designer pieces that Julien gifts her.
Below, take a look at some of the best fashion moments we've seen in episode one and on set so far.
Gossip Girl is now on HBO Max.
Zoya in a sparkling sequin orange cocktail dress by Alex Perry.
Julien in a red A.L.C. crop top paired with faux leather leggings by Commando. A maroon Gucci tote and Christian Louboutin stiletto boots complete her look. 
Zoya in a white crop top under a boxy blazer, styled with straight-leg pants and white sneakers. 
Zoya in alice + olivia's metallic silver long-sleeved dress and black sandal heels.
Audrey in a preppy fit featuring a Stella McCartney shirt, a knitted vest, navy blue tights and chunky loafer pumps. 
Julien wearing an oversized navy blue jacket, kitten-heel boots and a Fendi Baguette bag.
Zoya pairs her school uniform with a plaid jacket and Vans kicks.
Audrey wearing a blue Valentino coat and Giorgio Armani's La Prima bag. 
Julien in a sailor-inspired jacket styled with a white Louis Vuitton New Wave Bumbag.
Monet wears a David Koma houndstooth bodysuit and alice + olivia wrap skirt, while Luna is styled in a white one-shoulder dress by Rococo Sand.
Max in a yellow and blue striped suit.
Julien in a white, red and blue look paired with a beige trench coat. A gray Dior Saddle bag and FILA sneakers complete her outfit.
Julien in a sparkly, V-neck dress and a matching black veil headband.
Zoya in another statement orange piece featuring a layered bottom.
Share this article