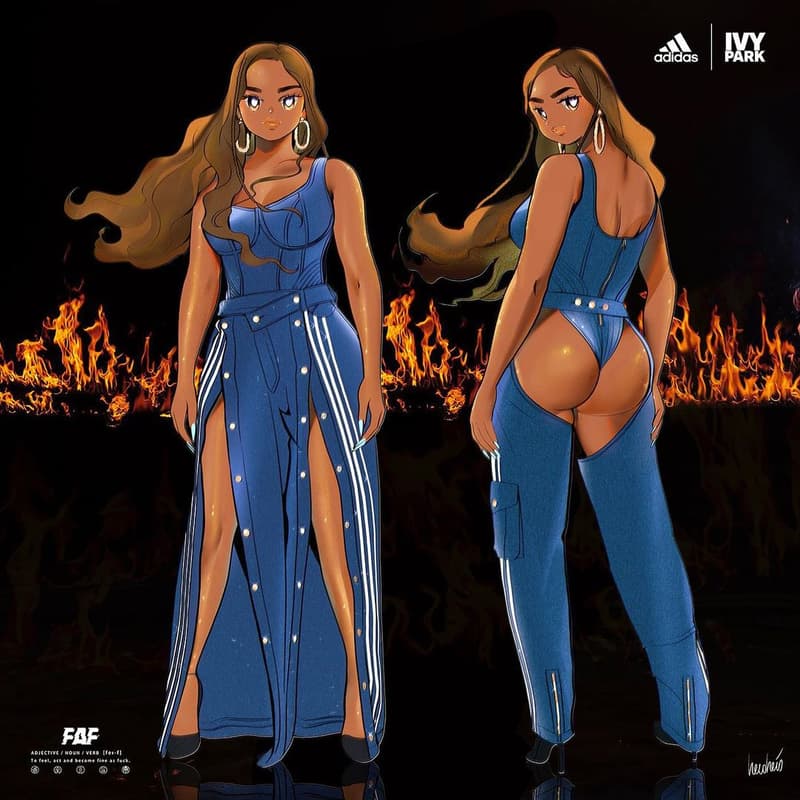 Art
Meet Two Beyoncé Stans Creating the Coolest Anime-Inspired Fan Art
Hong Kong duo FAF is responsible for designs of the 'Black Is King' first anniversary merch.
Meet Two Beyoncé Stans Creating the Coolest Anime-Inspired Fan Art
Hong Kong duo FAF is responsible for designs of the 'Black Is King' first anniversary merch.
If Beyoncé had her own comic series, her character would probably look as good as she is depicted in the illustrations by Hong Kong creative duo FAF.
Formed by Heco and Jum, who majored in visual arts and fashion styling in university respectively, FAF (short for Finger and Fish) is a multidisciplinary group whose work spans design, illustration, merch production and art direction. The duo's Instagram feed is filled with artwork featuring manga-style renditions of music's favorite pop divas and rappers, from Beyoncé to Cardi B to members of BLACKPINK. And while they started out creating fan art of musicians they admire, the two were recently tapped by none other than Queen Bey to produce illustrations for a T-shirt and a hoodie commemorating one year of Black Is King, the groundbreaking visual album that celebrates African culture. The merch features drawings of Bey — wearing a Loza Maléombho ensemble in the "ALREADY" music video, and a bespoke Mugler dress in "MY POWER" — in FAF's signature anime style, of course.
In their hometown of Hong Kong, the duo has worked closely with singer-songwriter Serrini, the indie darling of Cantopop, on developing her album and single artwork, merch and concert visuals. Beyond that, Heco and Jum said they are open to opportunities and new challenges, but their goal remains the same: to spark joy for themselves and those who encounter their art.
Below, HYPEBAE chatted to the duo about their work, what inspires them and more.
View this post on Instagram
What made you decide to form FAF? How did you get into design and eventually begin doing merch production? 
Both of us grew up studying art and design-related subjects in school. When we first formed FAF, we focused on doing fan art and would attend different conventions. We have been making all sorts of goods and merch inspired by anime and video games ever since, so merch production has always been something we do on a regular basis. The two of us bonded a lot during our travels and when we used to set up booths together.
What does the name FAF stand for?
The name is short for Finger and Fish — or 氣球魚屋, our name in Chinese. When the pandemic started, we decided to pause and rethink our position as we were not able to travel or attend any shows at all. We started focusing on putting our original concepts out into the world, having a mindset of staying "fine" [despite the situation]. "We are fine no matter what you think of us. We are fine with who we are at any stage of development. We are fine with any comments and critics." So the name FAF could also mean "Fine as F**k."
View this post on Instagram
A lot of your illustrations feature women in music, and seem to be heavily influenced by manga or anime. What inspired you to bring the worlds of music — or more specifically female artists — and comics together in your work?
The style of manga and anime are like our roots. Growing up in the '90s, we were definitely hooked on cartoons like Sailor Moon. They were glamorous, soft but also strong and empowering at the same time. Women in pop culture especially embody all that and so much more. Seeing what artists do with their creativity and crafts — from their album concepts to video visuals to stage designs — inspires us. They are almost like Sailor Soldiers in real life. Gender doesn't limit our love towards any magical art. We embrace and want to be inspired by that energy.
View this post on Instagram
View this post on Instagram
The women in your illustrations are often depicted wearing very stylish outfits. How does fashion play a role in your art? 
As mentioned, we both have a bit of experience in fashion, and [we consider] fashionable garments and collections forms of art. For some of the earlier illustrations we made, we reimagined how the Sailor Senshi would look like in today's fashion, and we would pick out some current runway looks for them.
To us, fashion is not just about chic and good-looking garments, it's a lifestyle. In our new art series Tattsumi, the character wears a swimsuit all the time — perhaps her way of expressing a mood. The way she poses also evokes a sense of fashion. Fashion is in the spirit [of our work].
You recently created two illustrations for Beyoncé's Black Is King one-year anniversary merch. What can you tell us about this experience of working with one of your favorite artists?
We have signed deals and can't disclose too many details, but this is definitely one of the highlights of our careers. We are very humbled and grateful for the opportunity. We created two illustrations inspired by Beyoncé's songs "ALREADY" and "MY POWER," both from her album The Lion King: The Gift. We have seen Bey on stage so closely when we attended her shows, and this right here makes us feel even closer to her than what we have experienced. Her work ethic and art will always inspire us.
View this post on Instagram
View this post on Instagram
You're also a frequent collaborator of Hong Kong singer-songwriter Serrini. How did you start collaborating, and what are some of your favorite projects together?
We met Serrini through a good friend of ours, Tommy, and we had an instant connection. We then started to explore possibilities for us to collaborate and have fun together. We started off by designing the cover art for her singles "~Spin with me*" (~旋轉with me*) and "Try My Worst" (要做更壞的事) last year. Our love for her grew more and more through the many collaborations that followed, such as merch production for both of her concerts this year.
We were honored to be appointed to design for her latest album, GWENDOLYN. It's definitely challenging, as it was our first time being in charge of the physical design and layout of an album. To be involved in a project like this one was super fun. It was also a good opportunity for us to learn and grow. We have gained so many insights and we could find room for improvement constantly.
View this post on Instagram
View this post on Instagram
What do you dream of achieving, and what's your ultimate mission as a creative duo?
We'll definitely keep collaborating with Serrini in the future and also focus on developing our character, Tattsumi. An art exhibition would be nice when the time is right, or whenever we are ready. We'd want to try doing some fun collaborations with fashion brands and creating different kinds of products, too.
Ultimately, we want ourselves to be totally flexible. We know we can do so much more, and we shall see what we'll be capable of when the time comes. For now, we just want to do things that make us — and perhaps somebody out there in the world — happy and feel fine.
Share this article