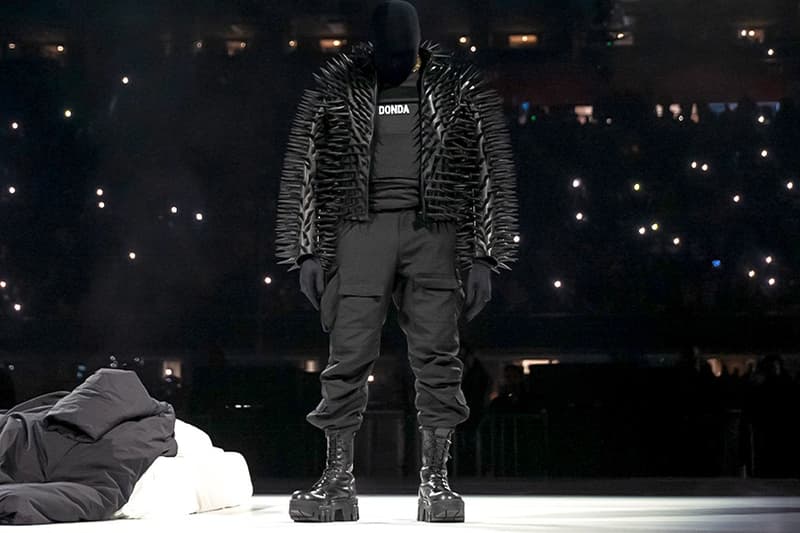 Kanye West Drops Album 'DONDA' With Merch by Balenciaga
Finally.
After multiple publicity stunts — including his soon-to-be-ex-wife Kim Kardashian wearing a wedding dress at his listening event in Chicago — Kanye West has finally dropped his long-awaited album, DONDA. Along with the 27-track record, the musician (who has legally filed to change his name to "Ye") has released a collection of merch created in partnership with Balenciaga.
Simply titled "Engineered by Balenciaga," the range features the 2024 Layer Longsleeve T-shirt, DONDA 2 Layer Longsleeve T-shirt, a Black Hat and Black Mask. On top of their purchase, which will ship in 12 to 16 weeks, fans can pay an extra $10 USD for a digital download of the album.
While the Internet has been flooded with reactions to 'Ye's anticipated release, the rapper took to Instagram to reveal that DONDA actually dropped without his green light. "Universal [Music Group] put my album out without my approval and they blocked 'Jail 2' from being on the album," he wrote. The aforementioned track, officially titled "Jail Pt.2," was originally absent from the tracklist but later joined the album. The song faced backlash for featuring Marilyn Manson and DaBaby, who have been accused of sexual assault and homophobic comments, respectively.
Peep the "Engineered by Balenciaga" merch and stream the anticipated album below. You can head to the official website now to shop the DONDA offerings priced from $60 to $200 USD.
Share this article