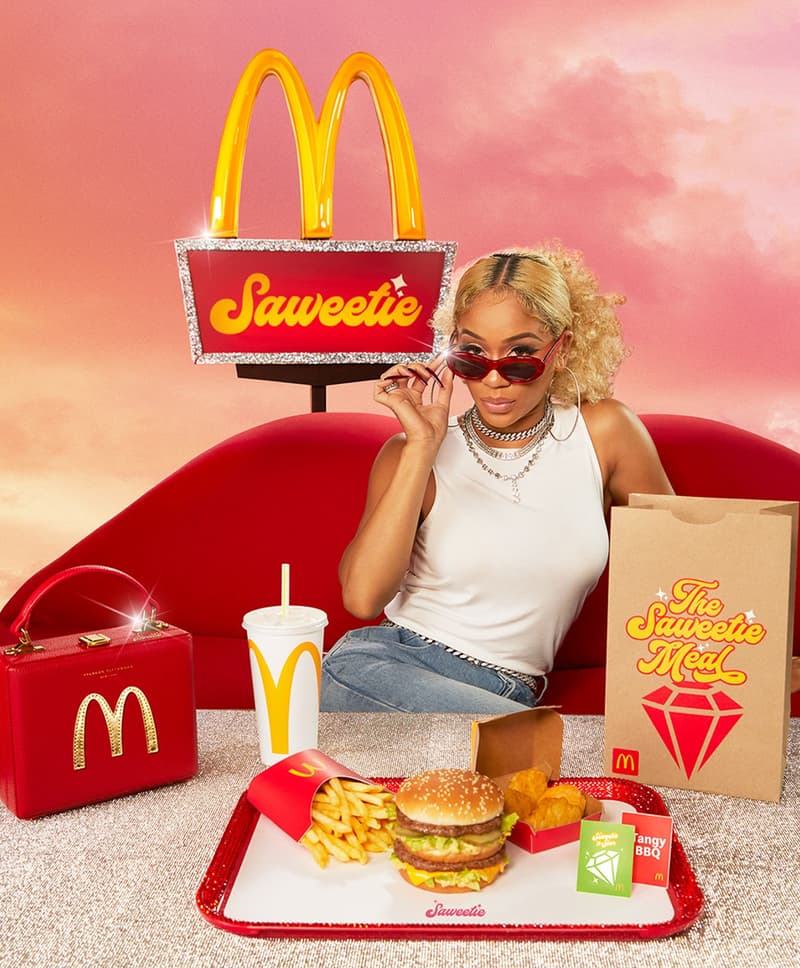 Food
Saweetie Calls Her McDonald's Collaboration a Dream Come True
The Icy Girl says she's loved the fast food chain since she was "in the womb."
Saweetie Calls Her McDonald's Collaboration a Dream Come True
The Icy Girl says she's loved the fast food chain since she was "in the womb."
Earlier this month, McDonald's tapped Saweetie for its latest collaboration, releasing a special-edition meal and a collection of merch.
Dubbed "The Saweetie Meal," the set is comprised of a Big Mac, four-piece Chicken McNuggets, medium World Famous Fries, medium Sprite, Tangy BBQ Sauce and the "Saweetie'N Sour" sauce. Additionally, the partnership features a limited-edition handbag designed by Brandon Blackwood, available through a raffle that also gives away a free five-day trip to Las Vegas. On top of that, the Icy Girl and McDonald's have launched a range of co-branded tees, hoodies, sweats and trucker hats.
We chat with Saweetie about her favorite McDonald's order, as well as her reaction when she first heard about the project. Describing herself as someone who has eaten McDonald's "since [she] was in the womb," the musician discusses her love for the fast food chain and getting that "McDonald's money."
Continue reading for our conversation with the Icy Girl. You can head to the official Saweetie x McDonald's website now to shop the collection, priced from $18.50 to $128 USD.
How did your collaboration with McDonald's come to be? What was your initial reaction when you found out about it?
Now y'all know I'm a huge McDonald's fan, and I feel like McDonald's saw my genuine love for their food and remixing their menu. When I got the call, I was so hyped. I'm honored to have an opportunity to work with such an iconic brand that I really enjoy.
You've recommended your fans get creative with their McDonald's orders with different combinations. If you had to choose just one order, what would it be?
"The Saweetie Meal," of course. It has all of my McDonald's favorites. The fries, Chicken McNuggets and Big Mac — they all go great with my "Saweetie 'N Sour" Sauce. I know das right!
How did you end up working with Brandon Blackwood on the limited-edition handbag? What's the inspiration behind the design?
I wore his bag in my "Fast Motion" video and have been in love with his work ever since. He's now one of my favorite handbag designers and I'm so glad he's involved in this collaboration with me. The inspiration behind the limited-edition McDonald's handbag for the giveaway was simply bringing my love for McDonald's together with my love for fashion. And guess what — a lucky winner will win a limited-edition bag — plus one for their best friend!
View this post on Instagram
What about your merch collection with McDonald's? Which item do you like the most and why?
Girl, I love them all. We created a collection with some of my favorite things — a volleyball, palm trees (because you know I'm a Cali girl) and of course my signature "Saweetie 'N Sour" Sauce. I love the airbrushed look on some of the oversized sweatshirts. They're great to lounge in.
Can you share any fond memories you have of McDonald's growing up?
I have been eating McDonald's since I was in the womb. Every time I would drive by McDonald's with my family, I would always ask if we could stop and grab food, and they would ask me if I had McDonald's money. Fast forward to years later, I am now getting that McDonald's money, honey!
If you were to collaborate with the fast-food chain on a specific drink instead of a full meal, what would you want to create and why?
I'd collaborate on Sweet Tea because people like to troll me and call me that as a joke. So it would be hilarious to flip it and make it my own, "Saweet Tea."
Share this article