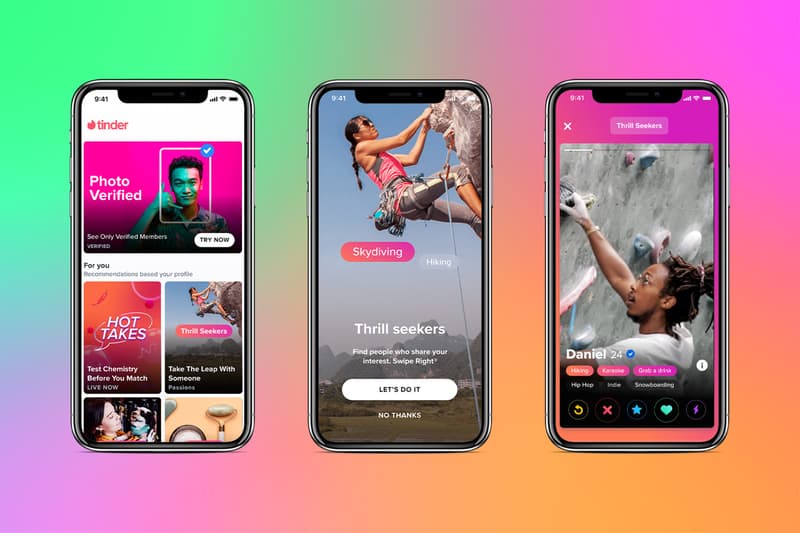 Sex & Dating
Tinder Gets an Upgrade With New Explore Page
Discover potential matches based on your interests.
Tinder Gets an Upgrade With New Explore Page
Discover potential matches based on your interests.
Tinder has undergone a brand new makeover, changing the online dating game since COVID-19 hit. The app's new feature, Explore, gives users more control over their options compared to the traditional swipe right or left method.
"A new generation of daters is asking for more from us in the post-COVID world: more ways to have fun and interact with others virtually and more control over who they meet on Tinder," said Jim Lanzone, Tinder's CEO. "Today's launch of Explore is a major step in creating a deeper, multi-dimensional, interactive experience for our members that expands the possibilities of Tinder as a platform."
Explore allows members to find potential matches by specific interest, including Foodies, Gamers, Music Lovers, Thrill Seekers and more. The platform will update the interests on a regular basis in order to provide a more diverse selection for its users.
In addition to Explore, Photo Verification has now been activated. The Trust and Safety feature will ask you to self-authenticate by taking real-time selfies, which will verify your profile with a blue checkmark and land you on the Photo Verified Profiles section in Explore.
Other new features on the app include exclusive social experiences such as Vibes, Hot Takes and Swipe Night. Vibes is a weekly event that gives users a chance to express their opinions on any topic. Meanwhile, Hot Takes allows you to converse with anyone for a limited time only. As the timer counts down, either party will choose if they want to match with that person or move on to another individual. Finally, Swipe Night is a gamified experience that brings members closer together.
All major English-speaking countries now have access to Explore. The rest of the world will see a later launch in mid-October.
Share this article