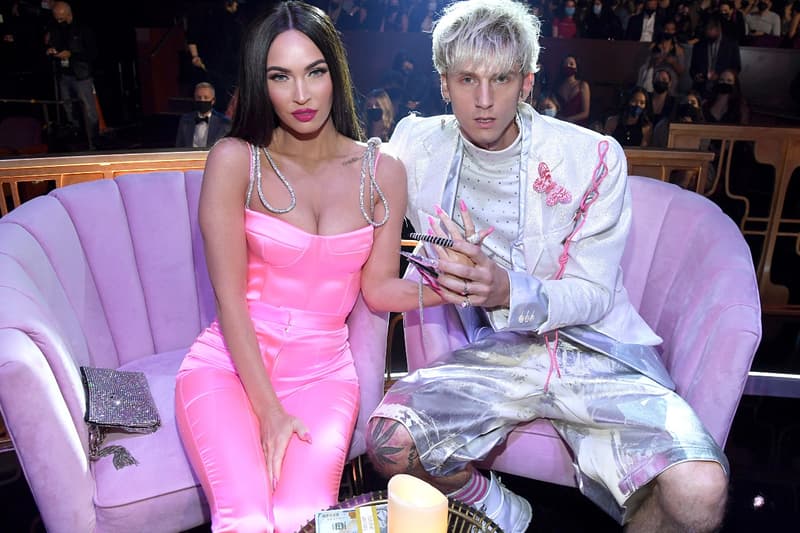 Entertainment
Machine Gun Kelly's Engagement Ring to Megan Fox Has Painful Thorns on Purpose
"Love is pain!" says the musician.
Machine Gun Kelly's Engagement Ring to Megan Fox Has Painful Thorns on Purpose
"Love is pain!" says the musician.
Machine Gun Kelly has unveiled new details about the stunning ring he proposed to Megan Fox with, including the fact it contains thorns.
During a recent interview with Vogue, MGK shared the reason behind implementing thorns. "So if she tries to take it off, it hurts …" he said. "Love is pain!"
The gorgeous Toi et Moi style ring is made up of a pear-shaped diamond and a pear-shaped emerald, representing each of their birthstones. "It's a thoroughbred Colombian emerald, with no treatment," he explained. "It was just carved into the teardrop, straight out of the mine … The concept is that the ring can come apart to make two rings. When it's together, it's held in place by a magnet … And then it forms an obscure heart."
The "Bloody Valentine" singer also revealed the reason he shared the intimate proposal with the rest of the world. "We released [the video] to control the narrative," he said of the clip, which Fox posted on Instagram. "As opposed to someone just catching a weird cell phone picture of a ring on our hand and being like, whoa!"
He continued, "But yeah, I didn't expect it. I just recorded it on my cell phone. And it wasn't like we had photographers or anything. It was just like me setting my phone against a cup."
Revisit the proposal video and check out the stunning engagement ring below.
View this post on Instagram
View this post on Instagram
---
Share this article