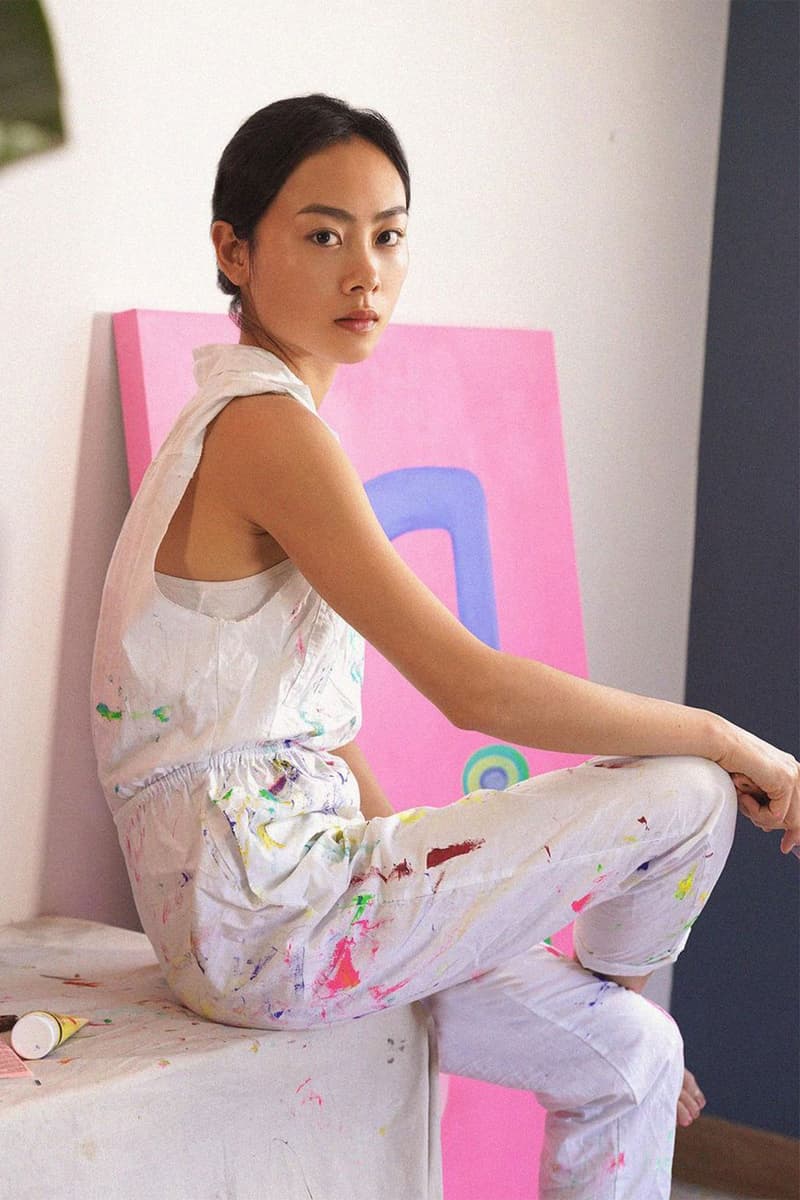 Artist Xin Yu on Minting NFTs, Creating Art During the Pandemic and More
The creative walks Hypebae China through her career thus far.
Art & Design
Artist Xin Yu on Minting NFTs, Creating Art During the Pandemic and More
The creative walks Hypebae China through her career thus far.
Bright colors, potted plants and lucky cats are just a few ways to describe artist Xin Yu's works. Born in China and raised in the United States, the 26-year-old creative started off as an architect, later discovering her love for painting, which she initially considered a hobby. Building on her works filled with geometric shapes and vibrant hues with surrealist influences, the artist joined forces earlier this year with 2426C, creating a collection of 8,888 NFTs with names like Dr. Woo and Edison Chen.
Hypebae China recently sat down with the creative to talk about her artistry and career, as well as what it's been like creating art throughout the pandemic, her inspirations, favorite artists and more. Scroll down below to read our interview with Xin Yu.
View this post on Instagram
How did you get started in painting?
I am currently in China, and immigrated to San Francisco at 12 years old. I studied architecture at UC Berkeley and then went on to pursue a career in tech at first, because I wanted a respectable well-paying career and never thought I'd paint more seriously than just playing around. I picked up painting while working full-time in tech, and I've continued to work in both tech and art for the last few years.
What are your art movements or artists and how do they inspire your work?
David Hockney, René Magritte and Andy Warhol. I think I am influenced by the combination of them. I admire these artists not only because their work is beautiful, but also because they are experimentative and bold in their work.
View this post on Instagram
You use high-contrast color palettes in a lof your work. How did you end up with this particular style and how does it impact your work overall?
I love colors. I have so much fun playing around with color theory. Using colors is also a way for me to uplift my mood. I hope my work conveys a positive vibe to others.
In your "Still Life" series, you use pots and plants as some of the main subjects. Why do you like to draw plants in different shapes and colors?
I want to capture a moment in time when no one is watching and when still objects have a quiet life of their own. I painted a lot of plants because I have a lot of them at home. I started painting figures as well. My work evolves as I evolve as I try to experiment as much as I can.
View this post on Instagram
How did you come up with the cats in your pieces "Hype Cat," "Heartbreak Cat" and "Crypto Cat?" What inspired these works?
I started this series for fun because I was working on bigger pieces, which take longer. One day I decided to try to start and finish one small painting in a day. I randomly picked the money cat to make a bunch of variations of it.
How do you express yourself through your paintings?
I'm continuously experimenting with different styles. Sometimes I am more obsessed with bringing out a certain visual in my head, and at other times I want to explore storytelling. I haven't shared much of my new works, but they have become more figurative and lean more towards storytelling.
View this post on Instagram
You've released your works as NFTs as well. How has jumping into this space impacted your work in terms of finding the balance between creativity and sales?
I've always been interested in Web3, so when NFTs emerged I was immediately interested. I love that it empowers creatives and it's worth experimenting around like minting your art as NFTs. I think NFT art and fine art are two different categories — NFT art has its own criteria and its own functionality. I see it as a way for people to collectively and openly invest in an artist.
Earlier this year, you released digital art through studio 2426C by Edison Chen. How has it been working with names like Dr. Woo and KB Lee?
It was a really fun experience and a wild ride. I feel honored to be a part of the project. I also loved learning about creating a Web3 community and am grateful for the support I've received. I am excited to see what the 2426C team will bring in the future.
What have you been working on recently? How has the pandemic impacted you as an artist?
I am a lot more contemplative about life and art now than ever. I constantly ask myself, what role does art play in my life? I only want to make work that speaks from my heart. Maybe when the new work comes out I will fully understand how COVID-19 has influenced my life and my work.
Whether people come across your art in a gallery, a museum, on the internet or through NFTs, what impact do you hope to have on viewers through your work?
I hope my work can send people positivity and help them feel a little happier.
View this post on Instagram
---
Share this article