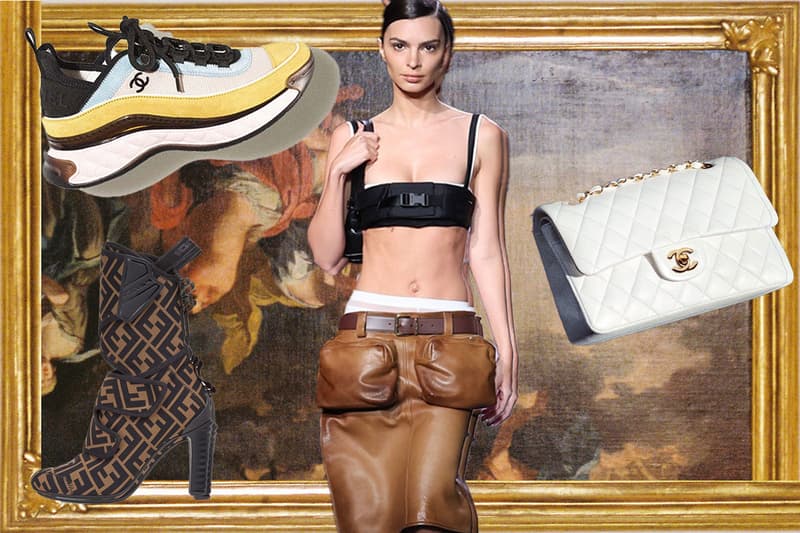 Fashion
The Best Places to Shop Vintage Fashion in London
From charity shops to vintage boutiques, this list has got it all.
The Best Places to Shop Vintage Fashion in London
From charity shops to vintage boutiques, this list has got it all.
Fashion resale, vintage fashion and charity shopping are once again on the rise, as more and more consumers begin to examine their contributions to the industry's overconsumption problem and feel the desire to own more sustainable, better-quality clothing. However, finding good quality garments at an accessible price point, particularly for luxury fashion and designer items, can be a difficult task.
Thanks to fashion resale platforms like Depop, Vinted and Vestiaire Collective alongside eBay and Amazon increasing their luxury offering, online shopping is easier than ever — there's no doubt about that. But for fans of designer items, shopping for heavily-priced items online can feel a little less desirable and run the risk of scams or purchasing items that haven't been authenticated properly. Plus, there's always the danger that something won't fit properly or suit you as you'd hoped, and you won't be able to return it, which only adds to the waste problem.
For that reason, opting for expertly-curated vintage stores and charity shops can be a good way to kickstart your secondhand fashion journey with minimal risks, allowing you to speak to sellers, see items in the flesh and have the opportunity to try things on for yourself. With that in mind, we've rounded up some of our favorite vintage sellers and charity shops in London so you can begin your foray into pre-loved fashion with ease.
Take a look at our top picks below.
Royal Trinity Hospice
View this post on Instagram
A charity shop chain that can be found all over London, Royal Trinity Hospice shops feature a range of high-end and high-street fashion, with the majority of its stores including a "Luxury Edit" featuring bigger ticket items and well-known designers. The best stores are undoubtedly located in West London, with standout locations being Notting Hill, Kensington and Earls Court.
True Store
View this post on Instagram
Originally named True Vintage, the store recently opened its first physical location in Covent Garden, after operating with a solely virtual presence for a number of years. True Store mostly holds items from sportswear brands like Nike, Champion and Parlez, but occasionally features products from Stussy, Burberry and more.
Archive Six Vintage
View this post on Instagram
Currently located in Not Just Another Store in Shoreditch, Archive Six Vintage is a treasure trove of fashion's most interesting pieces. From Jean Paul Gautier to Gucci, the store comprises vintage denim, footwear and jackets, alongside archive pieces from pivotal parts of fashion history.
Nordic Poetry
View this post on Instagram
Located on Bethnal Green Road in Shoreditch, Nordic Poetry is home to some of the most exciting vintage pieces around. From Vivienne Westwood corsets and Dior saddle bags to Fendi heels and Prada gilets, this little boutique has got it all. One of the more high-end boutiques, Nordic Poetry's price point is higher than your average, but it means that the store's selection of designers is nothing to be sniffed at.
Beyond Retro
View this post on Instagram
Leading vintage retailer Beyond Retro has a number of locations dotted all around London, with Kings Cross' Coal Drop Yards being its newest spot. Offering a much more accessible price point, the stores feature countless rails of vintage garms from shell jackets and sports gear to suede skirts and silk shirts. As a result of its cheaper price point, the majority of Beyond Retro's items are unbranded, however, every now and then there are a couple of pieces that may surprise you.
Zoot
View this post on Instagram
Located in the heart of West London in Notting Hill, Zoot is a pop-up boutique run by archive collector Claire Howells, selling both vintage and contemporary high-end fashion. Designers like Balenciaga, Gucci and Fendi plaster the walls, alongside Burberry bags, Louis Vuitton wallets and Chanel sandals, plus rare collaboration pieces.
Traid
View this post on Instagram
Probably one of the most experimental charity shop chains in the U.K., Traid features a visually arresting array of vintage and pre-loved items across its 12 stores. In locations from Peckham and Hammersmith to Camden and Wood Green, there's likely to be a local store near you no matter where in London you are. Selling a mix of designer and unbranded items, Traid also recently launched its eBay store, selling brands like Balenciaga and Armani.
Goldsmith Vintage
View this post on Instagram
With three locations across Central and West London, Goldsmith Vintage is your new go-to. Located in Charing Cross, Portobello Road and Covent Garden, the stores feature an array of deadstock garments, retro tees and archive designer pieces and accessories.
Past Trash
View this post on Instagram
Past Trash just relaunched its Covent Garden pop-up store, offering a curated selection of pre-loved and archive pieces. Featuring designers like Jean Paul Gautier and Moschino, the location is one of few that sells vintage fashion alongside homeware. Expect leather boots, retro glassware and corsets galore.
Lampoo
View this post on Instagram
With stores in both London and Milan, Lampoo is a platform for both buying and selling pre-owned luxury clothing and accessories. Offering brands like Chanel, Louis Vuitton and Hermès, the store enables its customers to bring in unwanted items for selling, alongside offering a pick-up delivery option.
---
Share this article