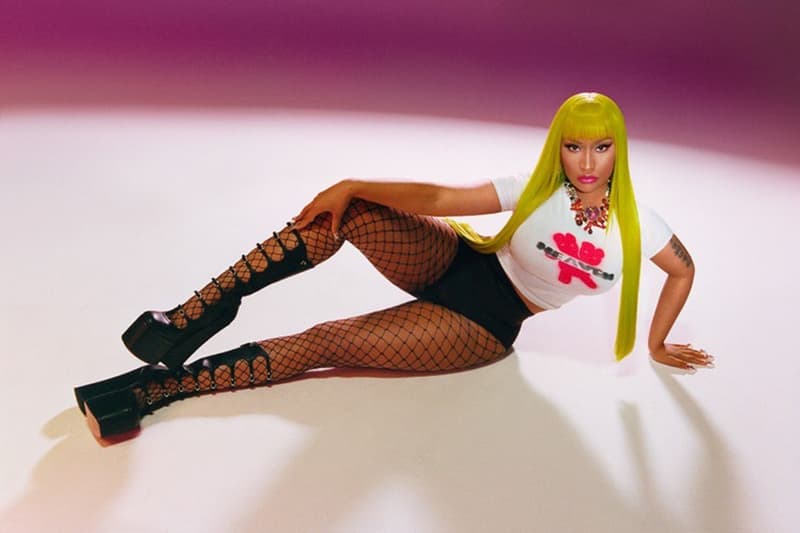 Music
Best Music of November: Nicki Minaj, Saint Levant, Drake, Karol G and More
Highlighting a mix of genres, cultures and languages.
Best Music of November: Nicki Minaj, Saint Levant, Drake, Karol G and More
Highlighting a mix of genres, cultures and languages.
Many might say November is the month of expressing gratitude and these music releases have us feeling just that. This month has been filled with many anticipated singles and albums as well as some that caught us by surprise. It's also been a time where music in different languages outside of English and Spanish has received more recognition. Keep scrolling for the best music releases of November.
Nicki Minaj, Maluma and Myriam Fares — "Tukoh Taka"
Nicki Minaj, Maluma and Myriam Fares joined forces to deliver the trilingual track "Tukoh Taka" in honor of the 2022 World Cup in Qatar. "Tukoh Taka" made history as it became the first FIFA World Cup song to be featured in English, Spanish and Arabic. Like soccer, this catchy single is bringing several cultures and languages together.
Saint Levant — "Very Few Friends"
You may not be too familiar with Saint Levant, and that's because he's a rising artist, who recently went viral on social media. Levant, born Marwan Abdelhamid, embraces his many cultures in his music, bringing a fresh, new sound and perspective to R&B. The 22-year-old's mom is half Algerian and half French and his dad is half Palestinian and half Serbian. Meanwhile, the singer was born in Jerusalem and raised in the Gaza strip before moving to Jordan and then to California. "Very Few Friends" is known for making the ladies swoon; it instantly became his breakout song, kicking off his music career. The track contains lyrics in English, Arabic and French.
Drake & 21 Savage — Her Loss

Drake and 21 Savage's Her Loss was originally supposed to drop in October, adding to the album's anticipation. The LP was postponed until November after producer Noah "40" Shebib tested positive for Covid-19. As expected, the album became a success, charting No. 1 on the Billboard 200. Additionally, it's a hit online, specifically the track "Rich Flex," which has become popular among fans who have created parody videos of the rappers.
Karol G & Ovy On The Drums — "Cairo"
Karol G teamed up with longtime collaborator Ovy On The Drums to create the pop and dance track "Cairo." Though both artists are Colombian, they pay tribute to Egypt with the single's title and music video. The lyrics for "Cairo" offer a glimpse into Karol G's optimistic point of view on allowing herself to fall in love once again.
Selena Gomez — "My Mind & Me"
Selena Gomez dropped "My Mind & Me" to go hand-in-hand with the release of her Apple TV+ documentary of the same name. In the vulnerable song, she tells the story of her challenging relationship with mental health. "My mind and me/ We don't get along sometimes/ And it gets hard to breathe/ But I wouldn't change my life," Gomez sings in the track.
Rauw Alejandro — Saturno
Rauw Alejandro released his third album, Saturno, which translates to Saturn. Of the LP, the Puerto Rico native told Apple Music, "It's fun to give a lot of options and different types of music to the people. I always want to be innovating in my music and my art." The artist entered his galactical era, which can best be heard the singles "Punto 40" and "Lejos Del Cielo."
Gorillaz — "Baby Queen"
Gorillaz dropped their third single, "Baby Queen," off of their upcoming album, Cracker Island, which is slated to release on February 24, 2023. The synth-pop track is a dreamlike ballad with soft sounds and lyrics that reflect that mood. 2-D AKA Damon Albarn sings, "You've grown up (baby queen)/ In my dreams where you've been (dreams, dreams, dreams)/ You've grown up (baby queen)." According to Albarn, the song is inspired by a stage-diving Thai princess. "The reason I've written a song about it is because I had a dream about this princess very recently; she'd grown up and we spent time in my dream together, her as a woman," he told the Los Angeles Times.
"Frío" by Nicki Nicole
Nicki Nicole's "Frío" perfectly sets the tone for the weather. The single, which translates to cold, has a futuristic element, making the track ahead of its time. "'Frío' represents a new stage for me," the Argentinian artist said in a press release. "It's a super futuristic song and video, showing a different side that I've wanted people to hear for a long time. While this song is very summery, there is always something about the cold that I'm going to like."
---
Share this article