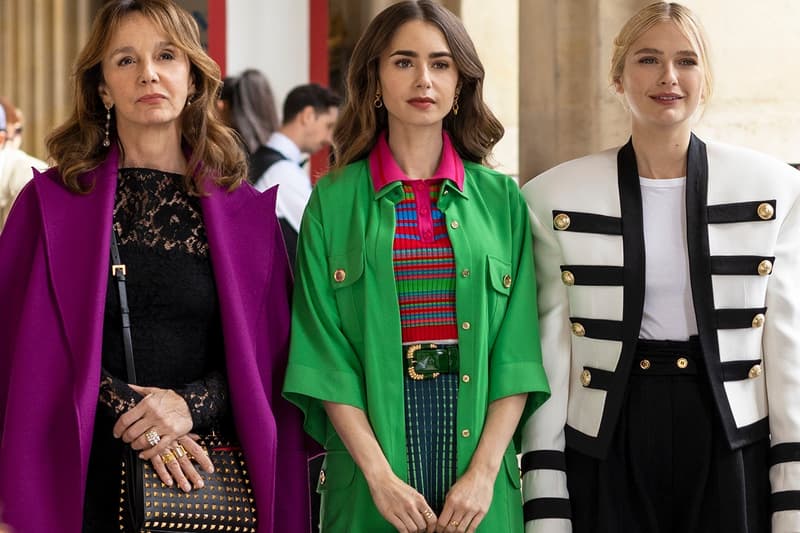 Fashion
Season 3 of 'Emily In Paris' Will Feature Thrifted Looks and Emerging Designers
According to Lucien Laviscount and William Abadie.
Season 3 of 'Emily In Paris' Will Feature Thrifted Looks and Emerging Designers
According to Lucien Laviscount and William Abadie.
Emily In Paris is returning to our screens for season 3 this week, and it appears that there'll be some pretty big changes to the fashion from past episodes.
In a new interview with Page Six, Lucien Laviscount, who plays Alfie, confirmed that the new series is "bigger, better and bolder" than the last. "I would see Lily come to set … it takes your breath away for a second," Laviscount told the publication, alluding to co-star Lily Collins' outfits in the new season.
William Abadie, who plays Antoine, added that the show's costume designer, Marylin Fitoussi, had plans to highlight emerging and up-and-coming designers for the new season, alongside vintage clothing and thrift-store finds. "We all spent quite a bit of time in those dressing rooms and [Fitoussi] made a point to include new designers this season. [It's] a sign of the times to take the high-end designers, the new designers and also go to the thrift shop and bring in antiques and vintage pieces. It helps elevate [the show] and bring diversity in the fashion," Abadie noted.
The interview also spoke to Samuel Arnold, aka Emily's blunt co-worker Julien, who added that Fitoussi's wardrobe choices helped to shape the characters more than anything. "She just understands every character and how to bring them to life through wardrobe. These characters are all so different from one another and she understands all those little worlds," Arnold said.
Patricia Field, aka costume designer from Sex and the City, also worked on the series and confirmed that she can't let the show's "fashion critics" distract her, "because I would get confused."
Emily In Paris season 3 lands on Netflix on December 21.  In the meantime, check out the latest trailer.
---
Share this article