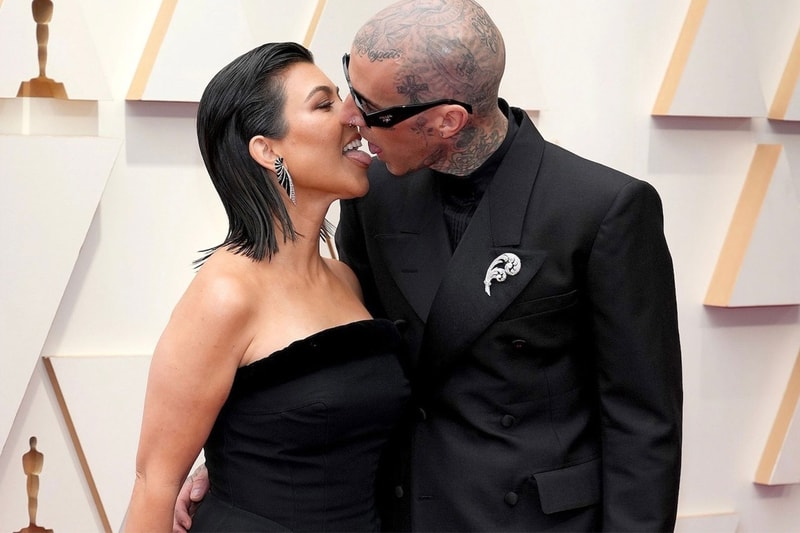 Kourtney Kardashian Reveals Travis Barker Has a Foot Fetish
No kink-shaming here.
Kourtney Kardashian and Travis Barker have never been shy about sharing their love and now, Kourtney has blown the door wide open to the most intimate moments in the bedroom.
Alongside sister Khloé, the Poosh founder took Vanity Fair's lie detector test,  hinting at Barker's kinks. Khloé asked about their sexual preferences, cut straight to the chase, "Does Travis have a foot fetish?"
"Possibly, yes," Kourtney answered. While the eldest Kardashian maintained that her sex life didn't contain anything " wildly crazy," Khloé wasn't having it and pressed her for more juicy details and possibly introducing her to something new as well.
The Good American founder brought up furries, which if you're unfamiliar, refers to dressing up as animals for sexual intercourse. Khloé explains, "[It's] where you guys dress up in characters and you guys wanna bone one another." Kourtney revealed that while they didn't have the chance to have some adult fun in their Halloween costumes this year, they did get up to know good as Christian Slater and Patricia Arquette in True Romance in 2021.
It seems all of the romance is getting to Kourtney's head as her younger sister switched up the sultry conversation to quiz her on who's who. Handing her a picture of Amazon founder Jeff Bezos, the mother of three seemed to not know who the businessman was, much to everyone's surprise.
Kourtney quickly defended herself, saying she didn't know what he looked like. If Travis Barker was our husband, we don't think we'd be looking at any other man, either.
Watch Kourtney and Travis' Vanity Fair lie detector test below.
---
Share this article