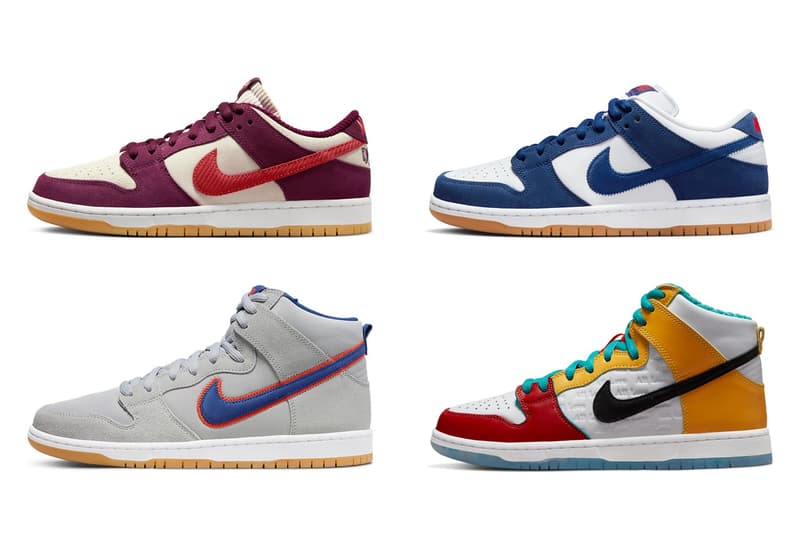 Footwear
All the Nike SB Dunks Restocking on SNKRS This Week
In celebration of the iconic sneaker's 20th anniversary.
All the Nike SB Dunks Restocking on SNKRS This Week
In celebration of the iconic sneaker's 20th anniversary.
Nike is celebrating the SB's 20th anniversary in the best way possible: with more SBs.
Adding to its already extensive list of collaborations and releases, the sneaker brand is restocking a whole host of SB Dunk Low and SB Dunk High styles that fans may have missed out on earlier in the year.
As resale continues to hit an all-time high and sneakerheads continue to take the L, it's becoming almost impossible for fans to get their hands on the silhouettes closest to their heart. Though Nike did go on record last month to confirm that their releases are being "protected" from unfair activity, many of us know that the Dunk silhouette can still be pretty hard to come by.
As a result, Nike's release platform, SNKRS, announced its selection of SB Dunks set to drop this week, and we imagine that fans of the iconic kick will be pleased. Releasing through the app's 'Exclusive Access' feature, the brand is set to target its most-dedicated community members, offering a few select fans to purchase the signature styles. At random, fans will have the opportunity to "purchase a random colorway from 2022," with the system prioritizing those who have attempted to win SB Dunk styles in the past.
While an official list has yet to be released, two teaser videos did suggest the below styles may be the first to hit.
Nike SB Dunk Low "LA Dodgers"
Nike SB Dunk Low "Bart Simpson"
Nike SB Dunk Low "Philadelphia Phillies"
froSkate x Nike SB Dunk High
Skate Like a Girl x Nike SB Dunk Low
Nike SB Dunk High "NY Mets"
Turn on your SNKRS app notifications for a chance to win, from December 20 to 22.
While you're here, take a look at our list of the best sneakers releasing this week.
---
Share this article