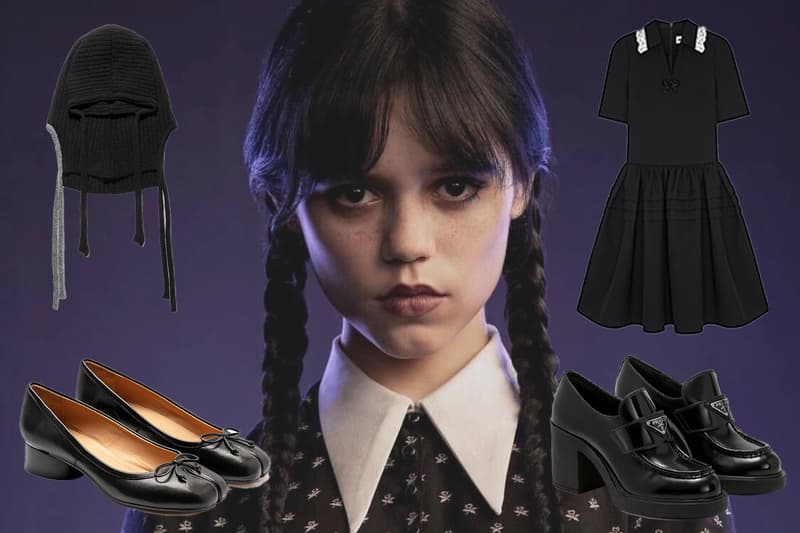 The Ultimate Wednesday Addams Style Guide
If looks could kill.
Wednesday Addams has always been that girl and the latest Netflix series proves it, from her soft goth lip color to her monochromatic style.
Originally played by Christina Ricci in the '90s, Jenna Ortega takes a modern approach to the dark-eyed, sour-faced character we all know and love. The pig-tailed rain cloud quite literally kicks (pilgrim) ass and takes names, all while keeping her custom-made black and white Nevermore uniform pristine, providing the perfect foil to her rainbow-colored werewolf roommate Enid. In the lycanthrope's defense, she did knit her a snood in her signature shades.
Notoriously allergic to color, Wednesday's wardrobe is anything but dull as she turns out look after look, even when she's running away from monsters in the woods. Although the morbid teen doesn't have time for trivial matters, like the adolescent cliches of high school, the 16 year-old understands the fashion assignment.
From her stunning lace ensemble she wore to the Rav'n dance to the striped sweater that she donned while performing a seance and "reaching into the black maw of death," Wednesday's closet is ripe with moody outfits that match her cloudy disposition. While her mother Morticia may prefer her iconic plunging gowns, Wednesday rejects the male gaze and dresses for revenge.
Wednesday Addams is not your typical emo teenager as the plucky upstart "eats Girl Scouts for breakfast." If you're hoping to tap into your gothic, dark academia side, look no further as we've created a style guide to help you channel your inner Addams.
Continue scrolling to find outfits Wednesday would dare to wear herself.
Private Policy Pockets Knit Midi Dress
Dion Lee Double Lock Corset Mini Dress
Aaizel Off Shoulder Long-Sleeved Two Tone Dress
OFF-WHITE™ Meteor Ribbed Dress
JW Anderson Cropped Cut Out Jumper
MM6 Maison Margiela Single Breasted Blazer
Prada Chocolate High-Heeled Brushed Leather Loafers
---
Share this article