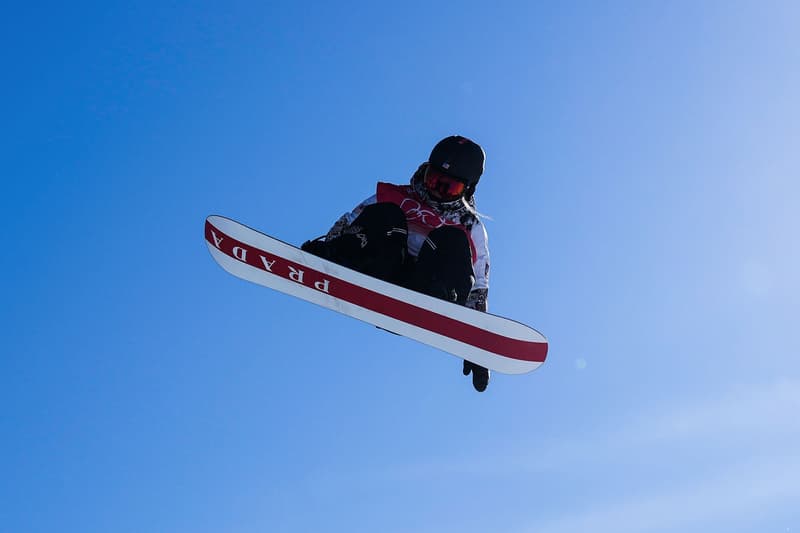 Fashion
The Top 6 Fashion Moments at the 2022 Beijing Winter Olympics
From Julia Marino's Prada-branded snowboard to Eileen Gu's big Tiffany & Co. moment.
The Top 6 Fashion Moments at the 2022 Beijing Winter Olympics
From Julia Marino's Prada-branded snowboard to Eileen Gu's big Tiffany & Co. moment.
The 2022 Beijing Winter Olympics has come to an end, with the next Games scheduled to take place in 2026 in the Italian cities of Milan and Cortina d'Ampezzo. As athletes gear up for the Paralympics, we're looking back on some of the best fashion moments spotted in the Chinese capital over the past few weeks.
Julia Marino started the Games strong, showing off her Prada-branded snowboard as she claimed silver in the Women's Slopestyle event. The International Olympic Committee (IOC) later demanded the athlete to alter her high-fashion gear using a Sharpie, leading to Marino dropping out of her next scheduled event. Meanwhile, the internet was divided over figure skater Nathan Chen's outfit designed by Vera Wang. Chloe Kim sported a pair of Nike ACG Gaiadome FlyEase Boots, which were designed for Team USA with accessibility in mind. Elsewhere, we're highlighting Eileen Gu's deal with Tiffany & Co., as well as curler Matt Hamilton's custom Nike Dunks.
Continue scrolling for a recap of the best fashion moments spotted at the 2022 Beijing Winter Olympics.
Julia Marino's Prada Linea Rossa Snowboard
Team USA's Julia Marino hit the slopes with her Prada Linea Rossa snowboard, taking the spotlight with its iconic bold red stripe. The athlete won silver for the Women's Slopestyle event, marking a highlight moment for her partnership with Prada after having starred in the brand's Linea Rossa Ski Fall/Winter 2021 campaign.
Later in the Games, Marino announced that she would pull out of one of her scheduled events following the IOC's demand to cover the Prada logo on her board using a Sharpie. This alteration led to an injury in Marino's tailbone: "I dropped into the jump to see how the tailbone felt after taking a slam the other day in practice and after my base being altered. I had no speed for the jump and wasn't able to clear it several times," she explained.
Figure Skater Nathan Chen's Vera Wang Look
Nathan Chen brought home a gold medal with his performance to an Elton John medley. The athlete finished with a score of 332.60, taking the lead ahead of Japan's Yuma Kagiyama and Yuzuru Hanyu. Chen wore a galaxy-printed top designed by Vera Wang, which received mixed reactions online. Some described that the red-and-orange top looked like "a bag of Doritos" and "2014 Tumblr galaxy prints," while others praised the designer: "Vera Wang has done such a great job," one user wrote.
Chloe Kim Claims Gold in Nike ACG
Nike designed inclusive and accessible apparel and footwear for Team USA this year. The range includes the ACG Gaiadome FlyEase Boot, which can be easily slipped on and off, just like the Nike GO FlyEase. The GORE-TEX-equipped boot comes in a pale gray design, with hits of red on the Swoosh and ACG branding throughout. After winning the Women's Snowboard Halfpipe event, Chloe Kim attended the award ceremony wearing the special-edition shoe.
Tiffany & Co. Goes Viral After Eileen Gu's Big Win
American-born Chinese skier Eileen Gu went viral in China during this year's Games, having won two gold and one silver medal. When she won her first gold, Gu broke the internet with the Tiffany & Co. jewelry she was wearing during the award ceremony. She wore a Tiffany T diamond wire ring in 18-karat rose gold, Tiffany 1837 Makers medium slice ring in 18-karat gold, Tiffany 1837 Makers signet ring in sterling silver and Elsa Peretti diamond hoop ring in rose gold. For the flag-raising ceremony, she was also seen wearing a Tiffany Knot double row hinged bangle in yellow gold with diamonds. These styles went viral on Chinese social media shortly after.
Matt Hamilton Brings Heat to the Curling Court in Nike Dunks
Team USA's curler Matt Hamilton brought heat to the ice wearing perhaps the hottest shoes on the court at the 2022 Winter Olympics. He sported a pair of custom Nike SB Dunk Low "What the Paul." The kicks were modified for curling, with a gripper and slider on the outsoles.
Shaun White Remembers Virgil Abloh With Custom Louis Vuitton Trunk
View this post on Instagram
Three-time Olympic gold medalist Shaun White unveiled a set of custom Whitespace x Louis Vuitton luggage. The collaboration, created by the late Virgil Abloh, features a snowboard case, a guitar case, a Keepall bag and a Horizon carry-on suitcase. The full set took six LV artisans over 250 hours to create.
Share this article