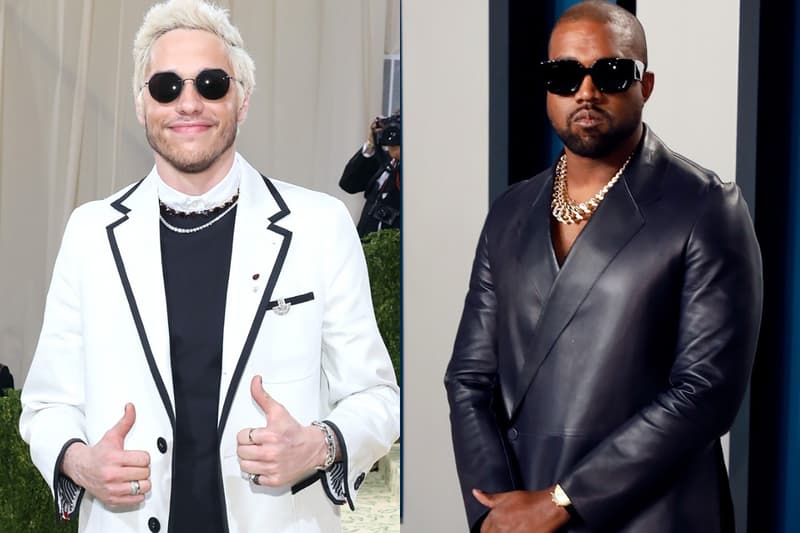 Entertainment
Pete Davidson Sends Kanye West a Selfie While Being "In Bed" With Kim Kardashian
The feud continues.
Pete Davidson Sends Kanye West a Selfie While Being "In Bed" With Kim Kardashian
The feud continues.
Kanye West and Pete Davidson's texts have been revealed by the SNL star's friend, Dave Sirus.
"Yo it's Skete. Can you please take a second and calm down," Davidson sent to Ye, referring to his rant about co-parenting with Kim Kardashian. "Kim is literally the best mother I've ever met. What she does for those kids is amazing and you are so f*cking lucky that she's your kids' mom. I've decided that I'm not gonna let you treat us this way anymore and I'm done being quiet. Grow the f*ck up," the message continued.
"Oh you using profanity. Where are you right now?," Ye replied. Pete responded, "In bed with your wife," with a selfie of him in bed. In Ye's video, which has now been deleted, the artist said: "The boyfriend texts me, antagonizing me, bragging about being in bed with my wife. I'm like, well, who's watching my children if he's texting me, bragging about being in bed with my wife?"
Earlier this month, Ye released a music video for his and The Game's collab "Eazy" featuring disturbing scenes of Davidson being kidnapped, buried alive and decapitated. After its release, Kardashian was "really upset with Kanye," according to People's source. With that being said, Davidson kept "calm and cool" about the visual but also expressed that "it's not a comfortable thing."
Share this article