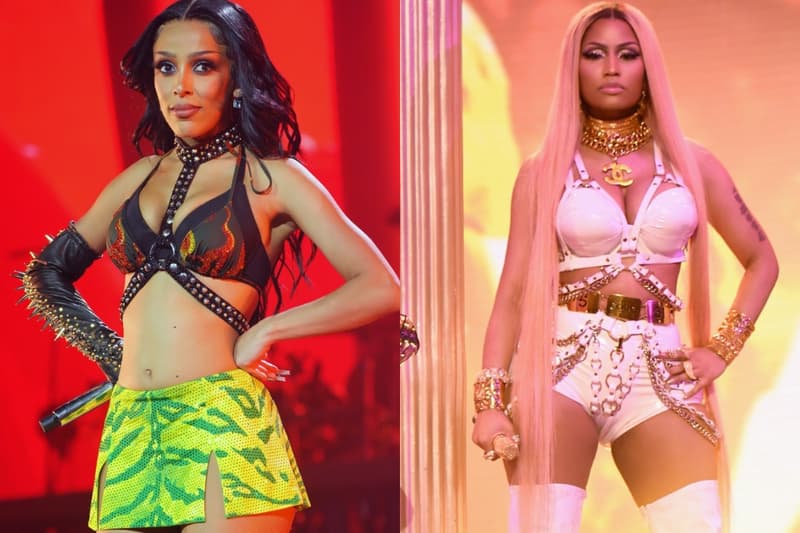 Music
Doja Cat's Coachella Performance Referenced a Very Iconic Nicki Minaj Music Video
Confirmed by her choreographer.
Doja Cat's Coachella Performance Referenced a Very Iconic Nicki Minaj Music Video
Confirmed by her choreographer.
Doja Cat paid tribute to Nicki Minaj during her Coachella performance this past weekend. The "Woman" singer recreated a portion of Minaj's "Stupid Hoe" music video, and it was iconic.
Doja's choreographer Fullout Cortland confirmed the tribute. "Did y'all peep the @nickiminaj reference in @dojacat's performance last night?" he wrote on his Instagram Story with photos of both artists in their respective moments. "If we gonna pay homage, we gonna do it right."
In the past, Doja has openly talked about how much Minaj means to her. "It's pretty obvious that I'm in love with everything Nicki Minaj has put out into the world," Doja told Billboard. "You have your Janets and your Beyoncés. I look at [other artists'] projects and performances and go, 'Wow, I hope one day I get to that point.'"
The pair were supposed to collab on Doja's latest album, Planet Her, however, it didn't end up happening due to an oversight.
"It's not that I'm too busy at all," Minaj explained on Twitter Spaces back in September. "It's just that there were, like, middle people involved in that situation so I had told her, if it was like how me and BIA were direct and we talked to each other directly, but I didn't love that song ["Get Into It"] because I didn't think I could bring anything to it. So I asked them to send me something else. I think that was the second song they sent me, I asked them to send me something else and they didn't send me anything else."
Check out Doja Cat's Coachella tribute to Nicki Minaj below.
View this post on Instagram
Share this article