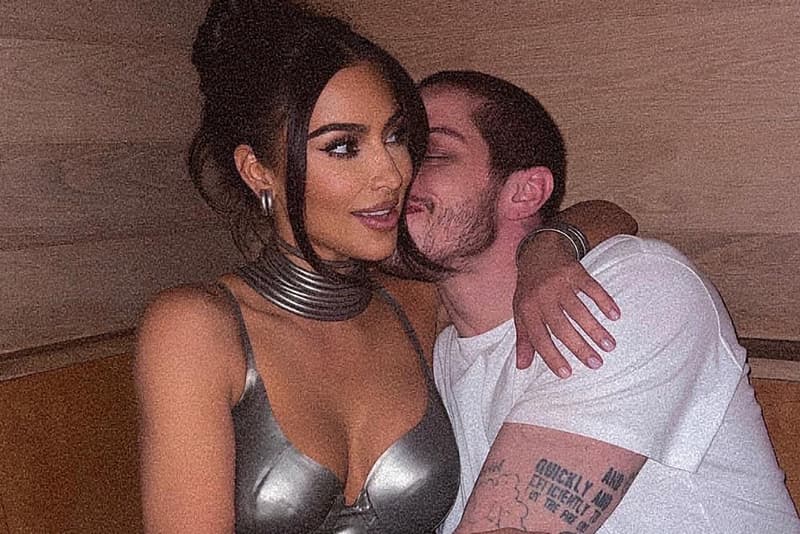 Entertainment
Kim Kardashian Comments on Pete Davidson's BDE and Their First Kiss
"When we kissed, I was just like, 'Hmm!'" says the reality star.
Kim Kardashian Comments on Pete Davidson's BDE and Their First Kiss
"When we kissed, I was just like, 'Hmm!'" says the reality star.
It looks like Kim Kardashian does kiss and tell. The reality star opened up about Pete Davidson's rumored big dick energy, sharing details on how their first smooch went.
When Dear Media's Not Skinny But Not Fat podcast host Amanda Hirsch recently asked Kardashian if she sensed the "BDE that everyone talks about" after locking lips for the first time, Kardashian replied, "When we kissed, I was just like, 'Hmm!'"
The couple, who has been going strong for nearly six months now, shared their first kiss during a skit on Saturday Night Live back in October 2021. "It was a stage kiss, but it was still a little zing," Kardashian added. "It wasn't anything like a super, crazy feeling."
That same night, the SKIMS founder hosted an after-party, which she was disappointed to find out Davidson missed. "A few days later, I was like, 'Hmm, there is some BDE action," she said. "I thought about it later. I was like, 'Damn, he's the only person who didn't come.'"
While Davidson and Kardashian were first photographed holding hands at the end of October during a rollercoaster ride at Knott's Scary Farm in California, the pair technically had their first date before then. "We just chilled, hung out," she said about "privately" spending time together at the Beverly Hills Hotel.
Additionally, the future lawyer revealed Davidson offered to give her his number at the Met Gala in September 2021. She told the comedian she was "nervous" about hosting SNL, and he wanted to give her advice.
"He had been asking around for my number a little bit. I saw him at the Met and he knew I was hosting SNL but it wasn't announced yet. He came up to me and we were talking about SNL," she revealed, adding that because of her fully-covered Balenciaga outfit, she was unable to get to her phone. "We never connected or anything until [SNL]."
Share this article