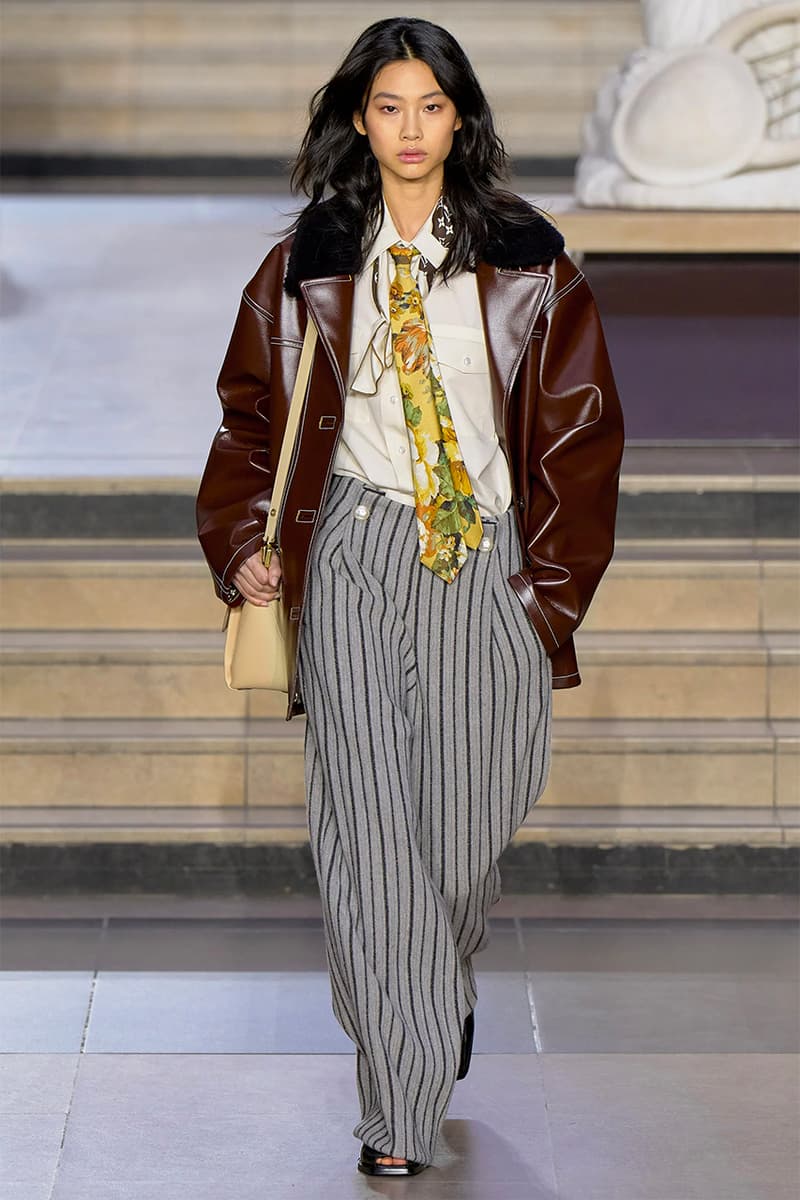 Ties Are Making a Powerful Comeback in 2022
It's the perfect accessory to tie any look together — pun intended.
Fashion
Ties Are Making a Powerful Comeback in 2022
It's the perfect accessory to tie any look together — pun intended.
Ladies, bust out your button-ups and brush up on your Windsor knot, because the necktie is officially in for Spring 2022.
In March, as Fashion Month came to a close, Louis Vuitton opened its show with what would become one of the season's most definitive accessory trends. As the proverbial curtain drew, Squid Game actor — and Nicolas Ghesquière favorite — Hoyeon Jung charged the runway wearing a cool, shirted look topped with a kitschy, floral tie. According to Vogue, the Parisian house's Fall/Winter 2022 collection was inspired by "young adulthood." The series of haphazardly styled, tie-bedecked looks that followed gave the disheveled prep of a college student rushing to class, the naive enthusiasm of a fresh graduate's first day on the job.
Off the runway, Louis Vuitton's ties have read as less collegiate — after all, a tie means business first. Musician-turned-actor Alana Haim and The Worst Person in the World star Renate Reinsve attended 2022 BAFTA and Oscar events wearing Vuitton's ties. They were a pair of looks that said "I came here to win."
Louis Vuitton wasn't the only brand to grace the red carpets with tie-d up womenswear recently. Zendaya attended Vanity Fair's Oscars afterparty in a double-breasted suit and tie pulled from Sportmax's FW22 runway. The sharply tailored look called to mind the sensual power of Marlene Dietrich, another proponent of the necktie. On the press trail for Everything Everywhere All at Once, Michelle Yeoh wore a number of tie-embellished looks in the pages of Interview magazine. With the actor already garnering Oscar buzz for her Everything performance, the look signaled that Yeoh won't be here to play come next awards season.
However, like the padded shoulder, the tie isn't only for power-suiting oneself. Within the annals of fashion, womenswear's foremost necktie-wearer is undoubtedly Annie Hall. The '70s film protagonist, played by the eternal Diane Keaton, wore hers with a bowler hat and unbuttoned men's vest, and instead exuded an eccentric charm. Over a decade later, Julia Roberts scooped a Golden Globe Award wearing an oversized wool suit and floral tie that recalled Hall's pioneering look.
Into the 21st century, the tie has become a staple of the modern garçonne. Perhaps thanks, in part, to the revival of Saint Laurent at the hands of Hedi Slimane, and now Anthony Vaccarello. With the creation of "Le Smoking" tuxedo in the 1960s, Yves Saint Laurent became one of the first designers to push the envelope of androgynous dressing, outfitting the likes of Catherine Deneuve and Bianca Jagger in menswear pieces tailored to the woman's body. Today, the French brand's insouciant legacy lives on in the likes of Charlotte Gainsbourg, who pairs her ties with Stan Smiths, and Sofia Coppola, noted Francophile, who has worn the accessory on the pages of Harper's Bazaar and French Vogue.
For Pre-Fall 2022, Maria Grazia Chiuri's Dior placed a contemporary, youthquake twist on Parisienne suit-and-tie. Inspired by schoolchildren's uniforms, the lookbook featured skinny black ties worn beneath shift dresses, tucked into pleated skirts and Bermuda shorts. The following season, show-goers including actor Gugu Mbatha-Raw, model and emerging filmmaker Amalie Gassmann and BLACKPINK's Jisoo suited (and tied) up for the house's Paris Fashion Week show.
In Vuitton's spirit of youth, the tie has also been worn as an emblem of the counterculture — or, at least, of teenage rebellion. Patti Smith's neckties were, perhaps, a tongue-in-cheek send-up of the establishment that '70s punk rock railed against. In 2002, Avril Lavigne made the tie her signature with the same intention, but to different effect.
On the other side of things, this season, Ralph Lauren continued the endeavour of re-establishing his label as an American institution. To show his FW22 collection, the designer transformed one of the MoMA's many galleries into a replica of his Upper East Side apartment, complete with sleek white couches where attendees including Lily Collins and Evan Mock sipped champagne and cocktails. Bella and Gigi Hadid walked the runway, eyeing guests on either side. It was an intimate, opulent affair, one meant to bolster Lauren's reputation as the de facto purveyor of American glamour, country club luxe and Manhattan glitz alike. As such, the designer's signatures were all on show: equestrian gear, Fair Isle sweaters, tartan coats, houndstooth blazers and ties, for men and women. Lauren, as fashion lore would have it, was the creator of Annie Hall's tie.
---
Zoë Kendall is a writer and editor specializing in fashion and culture.
Share this article