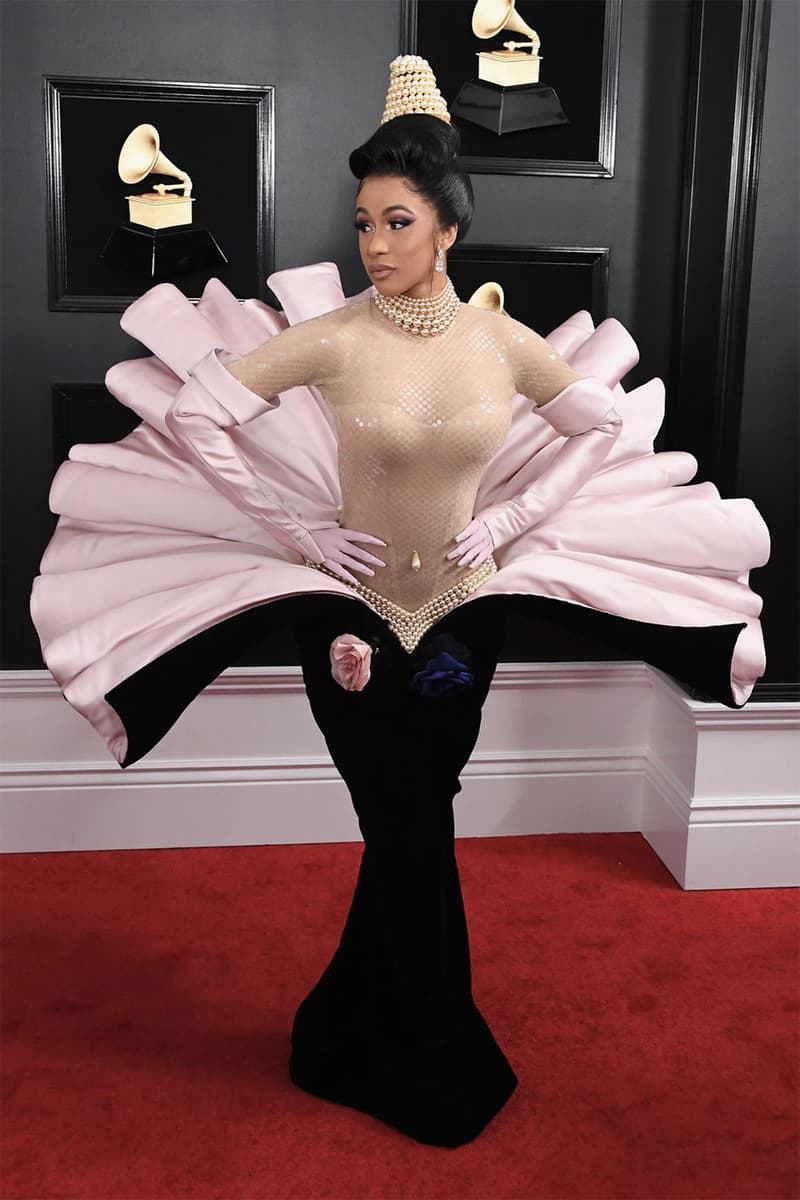 Cardi B's Style Evolution, From Stripper-esque to Mugler Mami
How the Bronx rapper continues to elevate her enticing aesthetic.
Fashion
Cardi B's Style Evolution, From Stripper-esque to Mugler Mami
How the Bronx rapper continues to elevate her enticing aesthetic.
Cardi B grabbed the media's attention in 2015 with her spicy yet hilarious Instagram content. The Bronx rapper began her career in entertainment as an exotic dancer and flash forward to today, she's secured her place as a music and fashion icon. Fans have watched her style transform from affordable Fashion Nova looks to alluring haute couture moments. Cardi's style evolution demonstrates that you can serve sexy on a budget or in head-to-toe designer — what matters is that you are authentically yourself.
The first time Cardi B made it to the big screen was when she appeared on VH1's Love & Hip Hop. She joined the cast to catapult her music career, but with loud style and a past as a stripper, she wasn't taken seriously. Before leaving the show, she made it clear that they would regret their decision to discount her — and she proved correct.
Cardi B's signature style on the hit VH1 show was cleavage galore. Her aesthetic at the time commanded attention, and was raunchy and explicit, just like her personality. Just as she revealed in one episode of the show, however, she was seeking to become a more refined and elevated version of herself. The artist was experimenting with different styles from modest-chic to overtly sexual, but she always donned a somewhat revealing look.
"Bodak Yellow" era
Around the time her single "Bodak Yellow" was released, Cardi was still experimenting with different aesthetics but she had also begun to secure a bigger budget for styling.
With her then-upcoming album Invasion of Privacy pending, she was able to paint a more detailed picture of her artistry through fashion. For example,  she fabulously raps in the "Bodak Yellow" music video, "These expensive, these is red bottoms/These is bloody shoes," as she rides a camel and kicks out her stripper-inspired Louboutins.
Couple style
Cardi's relationship with now-husband Offset has ruffled quite a few feathers over time, but one thing that's undeniable is that the two serve looks together. They joined forces after their collaboration on the 2017 single "Lick," and have been dabbling in their love language of fashion and coordinated outfits ever since.
Their first time being spotted together was at the 2017 NFL Super Bowl, and Cardi's aesthetic at that time foreshadowed her haute couture era. She wore a tweed set that resembled her 2018 courtside look where she and Offset coordinated in Chanel. The tweed look has deep ties to the rich b-tch aesthetic, a lifestyle that Cardi was beginning to lean into at the time. Like most fashion enthusiasts who love to experiment, Cardi's style ranged from extreme raunchiness to sometimes reserved looks.
As her style continues to evolve, Cardi B has returned to her raunchy roots, getting dressed with a luxury, avant-garde approach. At Paris Fashion Week in the fall of 2021, Cardi and Offset revisited the classy and rich aesthetic. The "WAP" artist wore a surrealist design from Schiaparelli's Fall/Winter 2021 collection, with grand attention to detail from the golden chrome headpiece and sunglasses to the cleverly placed breastplates and heavy chains. Meanwhile, Offset wore a sleek, black leather look that complemented Cardi's statement-making outfit.
Cardi B not only met the love of her life in 2017, but she also met fashion designer Jeremy Scott at that year's Art Basel. The following year, she worked closely with Scott to design her first Met Gala gown. The theme for the 2018 Met Gala was "Heavenly Bodies: Fashion and the Catholic Imagination," and Cardi B appeared in a majestic, bejeweled gown that's custom-made for her.
In 2020, Cardi explained to Vogue what she loves about working with Scott: "His personality matches his clothes, so he matches my energy." And if there was any doubt that they're a perfect fashion duo, the artist reminded the world, though jokingly, that Scott was her "baby daddy" when they're photographed on the Met steps. The ornate dress had a seductively placed leg slit and was dripped in rubies. It also featured a matching choker and headpiece that gave her pregnancy look a sensual, divine feel.
Haute couture
By 2020, Cardi has surely owned her high fashion aesthetic. She has worn a number of looks that she and designers like Thierry Mugler, or "Mr. Mugler," as she calls him, have collaborated on. By far, the two most memorable moments are her appearances at the "Thierry Mugler: Couturissime" exhibition photocall and the 2019 Grammy Awards.
According to Cardi's stylist, Kollin Carter, securing these looks was not the easiest, but he loved styling her audacious looks. He told WWD in 2019: "From the moment I saw it [61st Grammy look] I knew it was going to be a debatable moment, some people would love it and some people would hate it and that's everything we're about when it comes to fashion. It's meant to create a conversation."
After the birth of Cardi's second child in 2021, she was initially hesitant about making an appearance at the "Couturissime"  exhibition, but her outfit that day went on to become one of her most notable and seductive fashion moments. "It's so crazy because I was second-guessing if I should go the whole time leading up to that trip," she shared on her Instagram. "I had just given birth to my son like three weeks prior and wasn't feeling 100% like myself but something in my spirit kept saying 'GO." And it was beyond worth it. She wore a red, archived design from Mugler's Fall/Winter 1995 collection that paid homage to her love of excessive cleavage. Even during a time when she didn't feel her best, she still came through serving sex appeal. Notably, the only other time Mugler offered an archive piece to a celebrity was for Beyoncé.
Since her VH1 era, Cardi B hasn't shied away from celebrating sexuality in her music. In her noteworthy collaboration with Megan thee Stallion, Cardi embraced her stripper roots to give a glamorous and sexual performance worth tuning into. The video was laced with everything from splits to catsuits with breast cutouts, bringing the song's explicit lyrics to life.
Cardi's evolution from hood chic to Mugler mami has been amazing to witness. To be authentically yourself in a space as elite as the Met Gala, while also owning your raunchy roots, is something that many don't know how to execute. Her authenticity drew the world in and motivated everyone, from her Instagram followers to designers like Mugler, to want to tap into her aesthetic as well. She spoke her truth about wanting to become a more refined version of her already enticing self, and in six years, she's become a symbol of authenticity. Perhaps the most admirable aspect of Cardi B's fashion journey is that she does not neglect her over-the-top, sexy and spicy roots — she's simply found new ways of channeling them.
Share this article