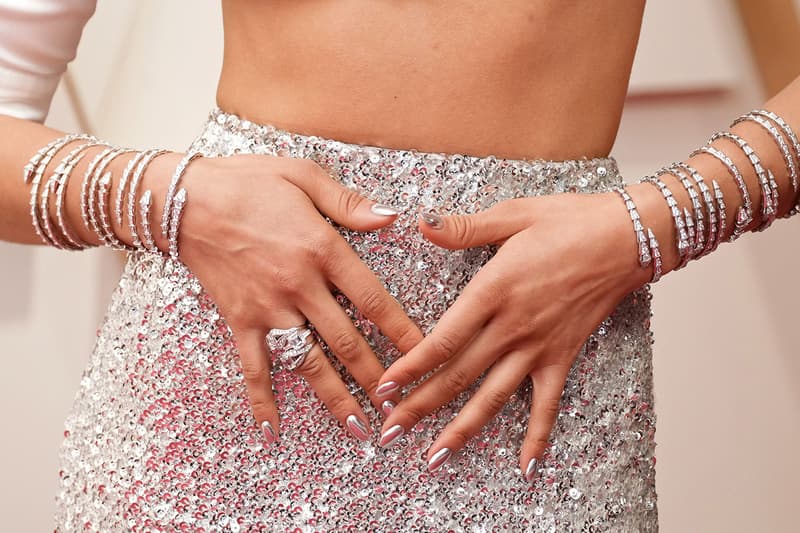 Beauty
How To Do Chrome Nails at Home Like a Pro
A step-by-step guide to achieving mirror-like nails.
How To Do Chrome Nails at Home Like a Pro
A step-by-step guide to achieving mirror-like nails.
Out of all the current nail trends, chrome nails have been at the top of our celebrity Instagram feeds, from red carpet events to off-duty sightings. They're glam enough to be on-trend but subtle enough to not take away with your day-to-day wear. If you want to do your own chrome manicure at home, keep reading as we break down everything you should know about achieving the look.
Chrome nails are a nail design or polish that use unique ingredients in chrome powder to give a metallic, reflective and mirrored finish to the nail. As seen on stars such as Beyoncé, chrome can be used in specific targeted areas or the entire nail bed as part of the design.
Preparation
Access to chrome powder, gel topcoat and a gel lamp makes the process reasonably easy for starters. It's essential to use a gel-based coat because you want to ensure the nails are protected against the heavily pigmented colors you may be using. The gel base coat is the middle man between your natural nails and the color gel. The color gel won't stick well and will crumble during curing without this.
Gel polish application
Next, you'll need a black gel polish applying three thin coats to get it fully opaque and cure in between each layer. Make sure that with each layer and curing that the nail bed is smooth, as this is important when applying chrome powder. After the gel topcoat is cured, you'll need a non-wipe topcoat gel. This is required to ensure no stickiness is left on the nails.
Chrome powder application
Once the non-wipe top coat has cured, it's time to apply the chrome powder. There are many ways to use the powder, but our preferred method is to take a cosmetic sponge, dip it into the pigment and rub it into the sponge, wiping it over the gel nail. The more you buff it into the gel on the nail the more mirror-like the chrome will become. Once buffed, flip the sponge over to a clean side to ensure all of the chrome powder has been smoothed in and pressed down.
Pro tip
Lastly, apply a non-wipe topcoat gel to preserve the chrome finish and cure one last time. You'll now be able to enjoy your very own chrome nail done in the comfort of your home. Make sure to also tag Hypebae's Beauty Instagram showing us how your attempt turned out.
View this post on Instagram
Share this article