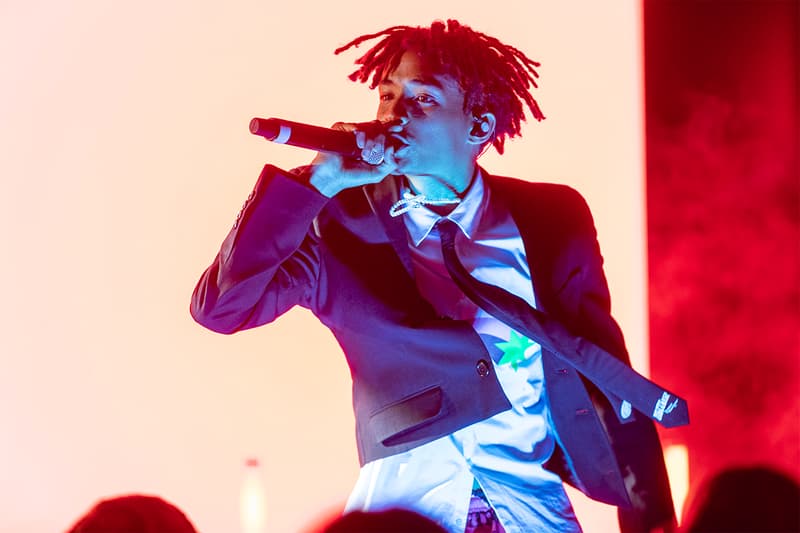 Culture
EXCLUSIVE: Jaden Smith Wants To Start a Movement
The rapper talks to Hypebae about his clothing brand MSFTSrep, inspirations and more.
EXCLUSIVE: Jaden Smith Wants To Start a Movement
The rapper talks to Hypebae about his clothing brand MSFTSrep, inspirations and more.
Jaden Smith has been his unapologetic self ever since he stepped into the public eye. Accidentally setting a trend and starting a movement when he first wore a skirt in 2015, the multi-talented creative transformed the sexist criticism he endured into a partnership with Louis Vuitton womenswear and Vogue Korea photoshoot in 2016, validating his barrier-breaking style.
Now, the 24-year-old co-owns the clothing brand MSFTSrep with his sister Willow, going beyond just the garments to create a true sense of community and togetherness amongst like-minded individuals who want to impact change. Working with Pandora as the storied jewelry brand reaffirms its commitment to inclusivity and self-expression is just another extension of the musician's dedication to authenticity. Headlining the Pandora ME festival in Ibiza this past May, Smith brought his high-octane and thoughtful artistry to the festival, where Hypebae had the opportunity to speak with him about his creative process, inspirations and what's next for MSFTSrep.
Continue scrolling to read our interview with Jaden Smith.
How have you navigated finding your own voice in the music industry? Can you share your creative process and where you find inspiration? 
It's been a bit of a wild journey trying to express myself musically and I feel like every album is me trying to find a different version of myself. Sometimes, I'll go back to older songs to update them and discover something new about myself. Sometimes, you get to a place in your research process where you genuinely like what you've made and other people do as well.
Often, it comes from things that I go through and my environment. Being in Ibiza, I want to make an EP that's full of EDM music. I really loved Deadmau5 and Calvin Harris. I get very inspired by my surroundings. During the pandemic, I made an album completely on my own because of the isolation. Anything that's happening in my personal life is what really drives my process. For example, "Summertime in Paris" came about because I was in Paris with Willow and I just asked her to get on the song — all of my music is influenced by my surroundings and experiences.
As a Black man in the spotlight who isn't afraid to experiment with fashion, where does your inspiration for style come from?
I look around at the community and kids my age, and look for the gaps of things that are missing. When it comes to fashion, it's really coming from my emotions and how I'm feeling. If I'm wearing something, it's because I feel like I can and when people notice, it opens up their minds to what they can wear and breaks down barriers. When I realized the power I had in that regard, I started to be more specific with the way I dress. Before I thought I was just doing something that no one would see, but now I realize I'm speaking for a bigger audience.
My biggest fashion moments came from me just dressing for myself and people taking candid pictures of me. The first time I wore a skirt I wasn't trying to be seen, I was actually running away from the cameras and didn't want to be noticed, but once they came out, I said, "Screw it, I'm going to do this for real now." A lot of my ideas come from just experimenting and playing around. The new Pandora necklaces I really vibe on. Anytime I work with a brand, it has to be authentic.
What issues are you most passionate about and what role does Gen Z play in shaping the future?
For me, the suppression of Black creatives has always been important to me. I love that I can be a beacon for other people of color and just demonstrate that we can do anything. We can think outside of the box when it comes to all things. My brand MSFTSrep is all about showing how we can come together, grow and change things. Raising the collective consciousness is my main goal and focus.
What's new for MSFTSrep?
We have a lot of upcoming launches and I want everything to keep their ears to the streets, especially because it's not just about the fashion — it's about the movement of consciousness. When I was in Chicago, I did a mystery school meet-up in a theater where we played documentaries for kids to watch for free, along with a discussion afterward. It's important to get kids on the same page because if schools are not going to educate us, we need to do it ourselves. We have to band together as a community and create a movement to self-educate.
---
Share this article