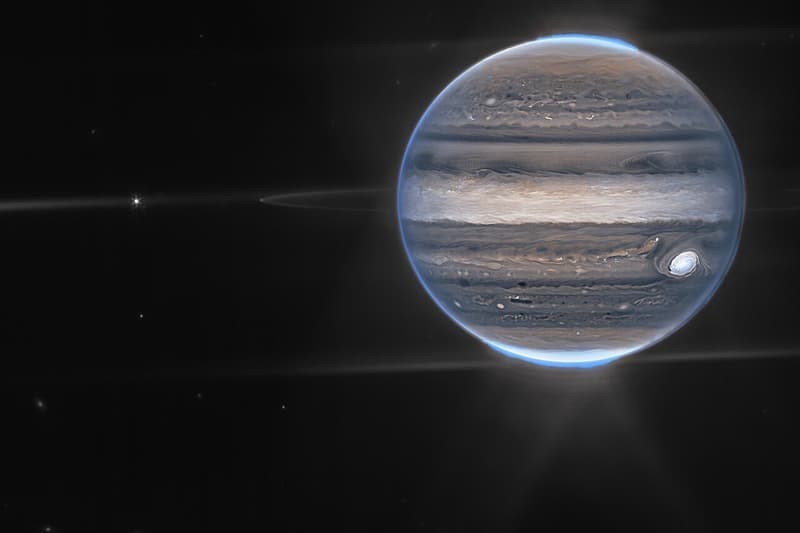 Culture
NASA's Latest Photos of Jupiter Show the Massive Planet Like You've Never Seen It Before
"Two of its moons, rings and even distant galaxies are visible."
NASA's Latest Photos of Jupiter Show the Massive Planet Like You've Never Seen It Before
"Two of its moons, rings and even distant galaxies are visible."
NASA has released new photos of Jupiter using the Webb Space Telescope, which offers a "Jovian view" of the milky way's biggest planet.
"@NASAWebb captured a new view of Jupiter in infrared light, uncovering clues to the planet's inner life in a new image," reads a caption from NASA's Instagram. "In addition to the planet's iconic Great Red Spot, two of its moons, rings, and even distant galaxies are visible. Since infrared light is invisible to humans, the light has been mapped onto the visible spectrum. Generally, the longest wavelengths appear redder and the shortest wavelengths are shown as more blue."
NASA shared two images of Jupiter, showcasing different details. One photo perfectly displays Jupiter up close in enhanced color with the Great Red Spot appearing white instead.
The second photo shows a more distant view of the massive planet. "A wide field view showcases Jupiter in the upper right quadrant," NASA added. "The planet's swirling horizontal stripes are rendered in blues, browns and cream. Electric blue auroras glow above Jupiter's north and south poles. A white glow emanates out from the auroras. Along the planet's equator, rings glow in a faint white. These rings are one million times fainter than the planet itself! At the far left edge of the rings, a moon appears as a tiny white dot. This moon is only about 12 miles (20 km) across. Slightly further to the left, another moon, about 100 miles (150 km) across, glows with tiny white diffraction spikes. The rest of the image is the blackness of space, with faintly glowing white galaxies in the distance."
Check out both photos in the post below.
View this post on Instagram
---
Share this article