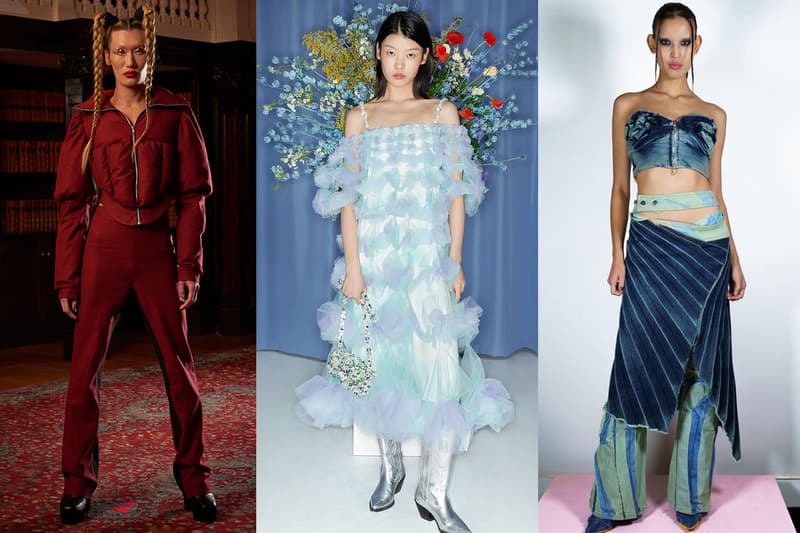 Fashion
6 Designers to Watch at London Fashion Week SS23
Introducing Masha Popova, Susan Fang and more.
6 Designers to Watch at London Fashion Week SS23
Introducing Masha Popova, Susan Fang and more.
London Fashion Week is finally upon us. Despite rumblings of cancelled shows, postponed parties and industry-wide mourning, there are still plenty of runways, brands and designers to be excited about this season, with emerging talent at the top of our list. SS23 plays host to some of the most exciting up-and-comers in and around London right now, including Fashion East's Karoline Vitto, Ukrainian designer Masha Popova and Central Saint Martins graduate Lula Laora, to name a few.
Alongside industry staples like Daniel W. Fletcher, JW Anderson and Molly Goddard, this season's showcase is set to include a number of presentations from first-time labels and NEWGEN designers. While all "non-essential" events on the British Fashion Council schedule have been cancelled or rescheduled, presentations from emerging talent are very much still on the agenda.
Read on to find out more about the six emerging designers to keep on your radar this London Fashion Week season.
Masha Popova
View this post on Instagram
Ukrainian-born, London-based Masha Popova is a designer you may well be familiar with already, especially if you're an avid follower of Dua Lipa's Instagram account. It's Popova that's responsible for that viral butterfly top that Lipa posted back in 2021, and her work has since been worn by the likes of Billie Eilish, Bella Hadid and Kendall Jenner. An ex-CSM grad, Popova honed her skills interning for Maison Margiela and Celine, before launching her namesake label in 2020. Drawing inspiration from her childhood memories of the suburban post-soviet world she grew up in, Popova's work is playful, subversive and raw – in all sense of the word.
Sinead O'Dwyer
View this post on Instagram
London-based Sinead O'Dwyer graduated from the Royal College of Art back in 2018 and has since had her designs worn by the likes of Björk, Kelsey-Lu and Arca. One of the few truly inclusive labels on the schedule, O'Dwyer's work offers an authentic representation of the female form, continually experimenting through life-casting human bodies with fibre-glass moulds.
Tolu Coker
View this post on Instagram
Featured in Forbes 30 Under 30 list for 2022, British-Nigerian designer Tolu Coker is making her London Fashion Week debut with her first-ever solo show. An advocate for social change, Coker's designs have been worn by Adwoa Aboah and Munya Chawawa – two undeniable cultural figureheads in the U.K. Rooted in community and cultural exchange, Coker's clothing encourages reflection of Black femininity, continually exploring the power and significance associated with Black hair. While Coker's show has been cancelled this LFW season, we expect to see a lot more from her.
Susan Fang
View this post on Instagram
Central Saint Martins graduate Susan Fang founded her eponymous label back in 2017. With a distinct focus on nature and sustainability, Fang's tulle-clad work is rooted in craftsmanship and seeks to reflect our own natural movements, mimicking silhouettes of bubbles, wind and butterflies. Utilizing processes like 3D printing, laser-cutting and hand-finished embroidery, Fang aims to reduce environmental impact by minimizing waste and encouraging wearers to appreciate the beauty of our surroundings.
Lula Laora
View this post on Instagram
Founded in 2018 by London-based designer Lula Laura Valesco, Lula Laora is a slow-fashion label that operates on a made-to-order basis. Acting as a "rebel against fast fashion," according to the brand's BFC biography, Lula Laora brings fantasy and fetish into reality and encourages its wearers to succumb to indulgence. Presenting unisex offerings designed for self expression, the brand centers around pieces like its "Double Leash Leotard" and "Chrome Boots."
Karoline Vitto
View this post on Instagram
Brazilian-born and London-based Karoline Vitto is one of the three designers supported by Fashion East this season. Utilizing deadstock fabrics from the LVMH showroom, Nona Source, for her debut collection this season, Vitto's work aims to showcase a unique viewpoint on gender ideals. In highlighting hidden aspects of the female form, Vitto seeks to celebrate and uplift by "Accentuating the curves and celebrating the folds," according to her Instagram bio. The designer's shape-enhancing clothing has previously been worn by the likes of Paloma Elsesser, Precious Lee and Shygirl.
---
Share this article