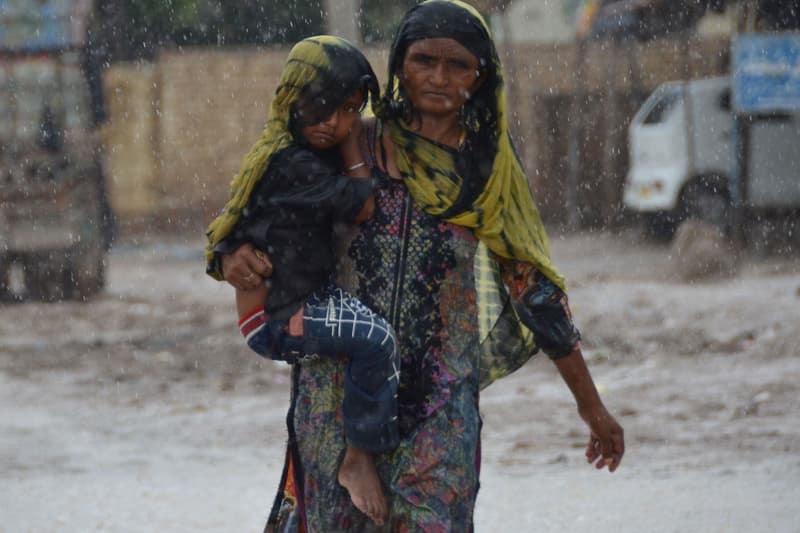 Culture
Here's Why Pakistan Is Underwater and How You Can Help
Roughly 33 million people have been affected by the severe floods.
Here's Why Pakistan Is Underwater and How You Can Help
Roughly 33 million people have been affected by the severe floods.
With one third of Pakistan underwater, its people are in desperate need of help. Torrential monsoon rains have caused devastating floods and displaced around 33 million people, 16 million of which are children. So far, more than 1,100 people, including over 350 children, have tragically died.
According to the Pakistan Meteorological Department, this year's floods have been the worst the country has experienced since records began in 1961. As a result, it's been affecting the people of Pakistan in more ways than one. The torrential monsoon rains have caused around $10 billion USD in damages when it comes to home, farms and infrastructure. It's damaged "2 million acres of crops and killed more than 794,000 heads of livestock," according to CNN.
Evidently, it's affecting Pakistan's citizen's health. Prior to the floods, 27 million people did not have access to enough food and now that number is only increasing with each passing day. Other health-related issues include "new outbreaks of diarrheal diseases, skin infections, respiratory tract infections, malaria and dengue in the aftermath of the floods, while a litany of waterborne diseases also posed health risks."
To help Pakistan, a National Flood Response and Coordination Center has been set up. Additionally, the United Nations has launched a $160 million USD emergency plan to help and the WHO (World Health Organization) has donated $10 million USD to help with the treatment of those inured, provide and deliver supplies to health facilities and more. However, the people of Pakistan need all the help they can get.
For ways to help Pakistan during this devastating time, spread the word by raising awareness and click here for a list of resources and fundraisers shared by Feminist.
For more info, check out the post below.
View this post on Instagram
---
Share this article