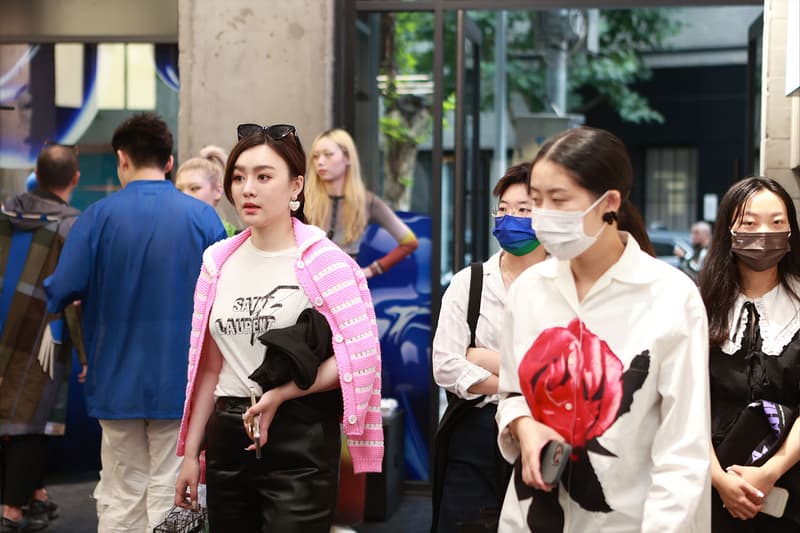 Fashion
A Locked-Down Season Later, Shanghai Fashion Week Is Back
It's finally happening, but at what cost?
A Locked-Down Season Later, Shanghai Fashion Week Is Back
It's finally happening, but at what cost?
For Shanghai and China's huge fashion and creative scenes, the industry was on an upturn unlike anywhere else. Arguably the biggest market in the world with huge spending power, coupled with a class of new creatives and an industry of experts churning the way forward, it seemed impossible to imagine things slowing down, let alone stopping completely.
Even a year ago, with a zero-COVID policy that seemed to be working wonders, China felt well on its way to dethroning other fashion capitals of the world while other countries were battling the pandemic. Brands were flocking to take advantage of China's seemingly COVID-free environment with events, shows and everything in between. Fast forward to 2022 with a world starting to move on from pandemic-related restrictions, China kept its zero-COVID policy and plunged Shanghai into a two-month, no-one-can-leave-their-home lockdown.
Originally scheduled for March and prior to the city-wide lockdown, Shanghai Fashion Week's Fall/Winter 2022 edition was then delayed to April, and then ultimately canceled due to the unending lockdown, forcing an entire fashion season to be wiped off the calendar. Companies and brands that were able to, moved online with no other feasible choice. With restrictions finally easing in June, Shanghai's bustling fashion and retail scenes took a huge hit. The industry is now picking back up with its first, physical iteration of SHFW post-lockdown, officially happening from September 22 to 30. Showrooms, runways, presentations and trade shows are all back, albeit still having to comply with ongoing restrictions.
We talked to some industry insiders about their experience with the lockdown, China's ongoing COVID-19 restrictions and policies, and how the industry as a whole is healing — and pivoting — to make sure the show goes on.
Needless to say, a full-on city-wide lockdown caused everyone from all industries to go back into emergency mode, figuring out how to still keep things going, no matter what. Much like the start of the pandemic in 2020, pivoting online proved to be necessary, but so was thinking strategically.
For Ryodan by Seiya Nakamura 2.24's Shanghai team, their mission was simple: Fashion shows can be canceled, but the showroom must happen. A leading showroom/agency representing both international and domestic brands including the likes of We11Done, Peter Do, Nanushka and more, China's zero-COVID policy posed unthinkable challenges not only to regular operations, but to the whole country's ecosystem of fashion retail. "A big part of our business is to represent different international brands and show them to buyers who then stock them at different retailers around the country," without this ecosystem, multi-label stores would have nothing to sell, affecting brands, retailers and consumers.
Showrooms are so important that for Seiya Nakamura 2.24, their FW22 showroom ended up being held last minute, digitally, in a hotel room. Given the circumstances, with sudden lockdowns (no matter whether you were home or elsewhere) and strict gathering policies, an emergency solution was necessary. "We had our whole sales team host a digital market in an extra hotel room so that at least if there was a sudden lockdown, at least there's somewhere to shower."
For brand owners and creative directors like Susan Fang, the seemingly never-ending lockdown in Shanghai was not only a nightmare logistically, but it severely hampered creativity. "During [the lockdown], I had to be peeled away from my creative passion. The mornings were about checking what food we can get and save for the month, afternoons were about checking the news and what could be done outside of Shanghai, while nights were about passing time and playing cards with my parents," says Fang. Devoid of any source of inspiration, Fang said the lockdown "[made me] feel like a dry sponge. I think I hit rock bottom emotionally at one point." She eventually found a bit of solace in online galleries, friends sending her different research from books, and even BBC's Green Planet that "tricked [herself] that [she's] back in nature."
Eventually, Fang was able to pull off a Resort show in Shanghai in July, despite ongoing restrictions including capacity limits. Two days later, Fang returned to London and "immediately visited two museums." Just recently, Fang showed her SS23 show at London Fashion Week.
For this SHFW, despite being able to go on, strict screening protocols and certain restrictions are still in place. For runway production companies like Mo Problem Today, whose shows this season include MARKGONG, fabric qorn and more, making sure venue permits, capacity limits, government approvals and backup plans became the norm. 24-hour COVID-19 test results are still required for most venues, applying to both employees and showgoers (read: daily COVID-19 testing) and in the case of even one positive case, things can be shut down immediately as quarantine measures are still in place due to the zero-COVID policy.
"This season, not as many brands are doing independent shows in Shanghai. Most brands find it safer to show with big groups like Labelhood or SHFW. Some brands even moved shows overseas or decided not to show this season at all," said Kelly Wong and Elaine Lui, co-founders of Mo Problem Today. "For us, since we prefer to work with independent designers and show production, our shows this season are less. However, we're getting more opportunities to do other brand-related activities such as showroom set designs and campaign productions."
For BOH Project, a PR and creative agency with clients including international and domestic brands such as Calvin Klein, Dries Van Noten, WINDOWSEN, Yueqi Qi and more, the comeback of SHFW marked a slew of events including store openings, showrooms and runway shows. This included MACHINE-A Shanghai's grand opening — originally scheduled to open in March — delayed until September 22 due to the lockdown.
A whole season later, it's obvious that the repercussions of China's zero-COVID policy continue to affect the country's fashion scene. However, in the face of uncertainty and continued challenges, industry players have had to pivot their strategies and it goes to show — despite everything, there are still silver linings.
"While it's been hard for us as an international company to be unable to travel, we've taken the opportunity to really connect and deepen our relationship with domestic partners and clients," says Seiya Nakamura 2.24. Maintaining connection and communication with the rest of the world in the face of continued travel restrictions goes both ways. For Mo Problem Today's Wong and Lui, the whole experience also pushed them to "do more with connecting Chinese brands with talented overseas creators."
Ultimately, it's not all bad. For Seiya Nakamura 2.24, "even though the market was undeniably affected by the pandemic restrictions, China is still a much bigger market than most of the world." The bounceback of the industry also seems to be on the horizon, "comparing our sales from March and June, there's already a huge uptick." Similarly, Fang stays optimistic. "It's going to take awhile for the economy to recover, but creativity doesn't need to die down because at its core, creativity fuels culture, innovation and technology."
---
Helena Yeung is a Shanghai-based freelance writer covering fashion and culture. Her work can be found in HYPEBEAST, Teen Vogue, W Magazine and more. Check out her work here or follow her on Twitter.
Share this article