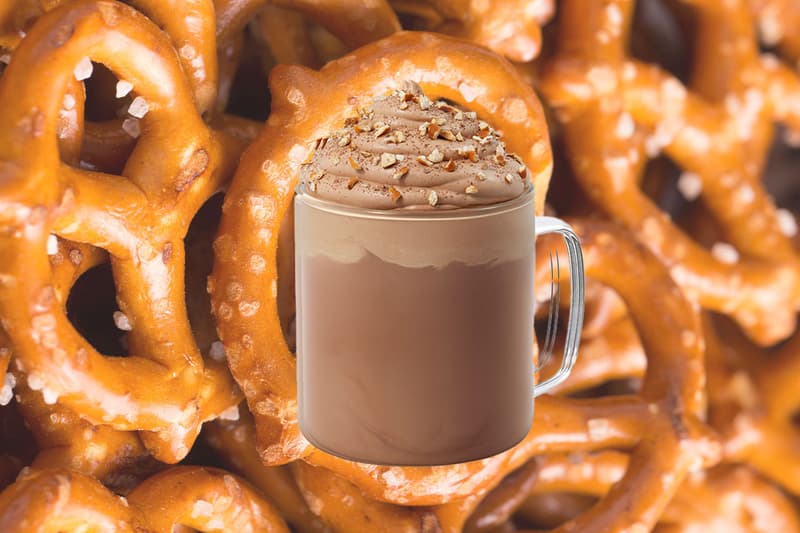 Culture
Starbucks' New Winter Menu Features a Salted Pretzel Hot Chocolate and Honey Hazelnut Latte
Who needs red cup season?
Starbucks' New Winter Menu Features a Salted Pretzel Hot Chocolate and Honey Hazelnut Latte
Who needs red cup season?
Starbucks just unveiled its brand-new Winter menu for 2023, and there's a lot to be excited about. Though red cup season may well be over for another 10 months and the time for Pumpkin Spiced Lattes is nowhere to be seen, winter is still upon us and creamy coffees and hot chocolates are still our highest priority.
The new menu sees the return of Starbucks' Oat Latte range, this time complete with a new Caramelized Macadamia Oat Latte. Developed with a darker roasted espresso, the rich coffee taste is paired with buttery macadamia and caramel notes. Next up is the Honey Hazelnut Oat Latte, another returning fan favorite. Blending delicate honey with roasted hazelnut, the new-and-improved beverage is topped with a sweet honey-flavored topping.
For those of you who aren't entirely enthralled by a coffee-based beverage, the new Salted Pretzel Hot Chocolate is one for you. Created with a smooth chocolate base and paired with a whole host of dairy-free milk options, the luxurious drink is finished with crunchy salted pretzel pieces.
As with all new Starbucks menus, the decadent drinks are accompanied by an exciting range of new food items. With a continued focus on developing and expanding its plant-based offering, Starbucks has introduced a new plant-based breakfast wrap alongside a No'Beef and Red Onion Focaccia. Elsewhere, the food menu features sweet treats like the new plant-based Raspberry and Almond Mini Loaf and Banana Caramel Muffin.
The new Winter menu is available from all Starbucks U.K. locations alongside apps like Deliveroo and UberEats.
In preparation for this year's holiday season, check out Starbucks' full range of festive drinks.
---
Share this article