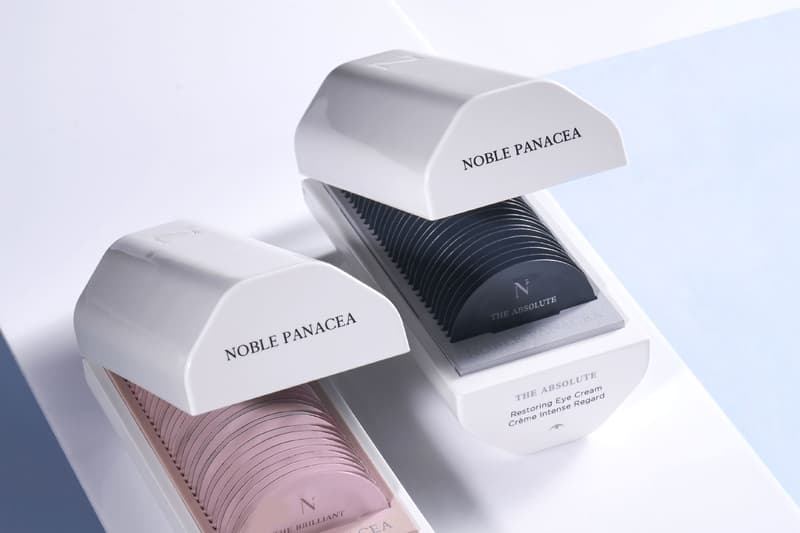 Beauty
This Serum & Moisturizer Duo Made My Face Look Like a Perfectly Boiled Egg
A review of Noble Pancea's $775 USD, cult-status holy grails.
This Serum & Moisturizer Duo Made My Face Look Like a Perfectly Boiled Egg
A review of Noble Pancea's $775 USD, cult-status holy grails.
Jodie Comer's social media accounts aren't that active but when she does post the occasional selfie, there is a recurrent stream of thought that always runs through my mind: wow, her skin looks like a perfectly boiled egg, is she even wearing makeup, I want her skin. Without diving into what has the absolute potential to be a very longwinded rant on how I inadvertently discovered Noble Panacea through my love of Killing Eve and why it is the greatest show of all time (well, the first three seasons anyway), the key morsel of information I'm offering here is that although my interest was first piqued because of Villanelle, it soon became apparent to me that this was no ordinary beauty brand. As I learned more about Noble Panacea, I began to peel back its many layers, discovering how an infusion of chemistry and technology sparked a beauty revolution.
Noble Panacea is founded by Sir Fraser Stoddart, who won the Nobel Prize in Chemistry in 2016. Dedicating decades of research to organic chemistry, Sir Fraser's monumental discovery of Organic Super Molecular Vessel™ Technology has become the cornerstone of Noble Panacea. In addition to its commitment to Green Chemistry, the future-thinking brand also utilizes sustainable packaging with the planet in mind. Every product highlights a unique Active Daily Dose administration method, meaning that all of its products are "precisely packaged for the optimal dosage and formula purity, potency, and freshness protection," according to the brand's website. Each Active Daily Dose "medallion" is 100-percent recyclable, housed within a renewable starch-based box, and all packaged within a recyclable metal inset.
Every single element within the ethos of Noble Panacea has been carefully (and responsibly) planned so that it becomes part of a holistic pursuit to transform skin health. The entire roster of products is cruelty-free, gluten-free and fragrance-free. Every single detail has been meticulously planned and curated so that each product pays homage to discovering an authentic beauty of self. Read on to find my review of Noble Panacea's famed Intense Renewal Serum and Active Replenishing Moisturizer from its award-winning Absolute Collection.
Intense Renewal Serum
The Intense Renewal Serum is part of Noble Panacea's acclaimed Absolute collection – formulated to repair, restore and regenerate skin. The Absolute lineup is known for its transformational efficacy in skin regeneration, firming and nourishment, all while targeting wrinkles, hyperpigmentation and moisture loss. This product is a high-active concentrate that does all the yummy things that a serum should: boost collagen (and thus, improve elasticity and bounce in one's complexion), stimulate cellular activity, exfoliate to support cell turnover and minimize pores. In general, I find that serums are often a hit or miss. There's rarely a serum that yields mediocre results – it either makes my skin radiant, or it does nothing at all. Thankfully, the Intense Renewal Serum can be categorized as the former.
To start, this serum is one of the quickest to absorb that I've ever tried. In less time than it takes for me to say "good morning" to my cats, the serum has already absorbed. It is also the first time that I've tried a product that is administered in controlled doses. As someone who appreciates structured regimens, I enjoyed the methodical process of removing a "medallion" from the sleek, polished storage box (it's giving Dexter Morgan with his blood slide trophies), opening the package on the perforated line, and applying serum on my face until the packet is empty.
The consistency of the serum itself is incredible. It's not too thick, not too thin. Once applied on the skin, it feels velvety smooth – there is no tackiness and zero residual stickiness. Working it into the face in circular motions, the product applies evenly with an almost gel-like ease. With continued use for two weeks, I saw a luminosity in my complexion that paid no mind to the dry, winter weather. Providing ample moisture to my complexion, I did not experience the uncomfortable tautness of skin that often comes with colder weather changes. My mug felt restored, supple and bouncy – a dewy boiled egg, indeed.
The Intense Renewal Serum is definitely a premium product (clocking in with a price tag of $420 USD on the brand's web store or at Lane Crawford), but the product does exactly what it promises if your wallet can handle it.
Active Replenishing Moisturizer
The Active Replenishing Moisturizer is intended for daytime use, which instilled a tint of skepticism in me at first because the texture of the cream is quite rich – pillowy would probably be the best way to describe it. However, all skeptic feelings were soon dispersed when I massaged the moisturizer into my face. Akin to the Intense Renewal Serum, the moisturizer absorbs surprisingly quick. Again applied in upward, circular motions, the resulting effect is a dewy complexion that is not greasy at all, despite the richness of the cream.
In terms of functionality, I appreciate that the moisturizer is designed to form an invisible protective shield, with the brand describing the cream as having a second-skin effect. The moisturizer creates a layer that fortifies the skin against environmental stressors and fatigue, to prevent signs of aging caused by oxidation stress. Thanks to the trademarked chemistry of the cream, cellular regeneration is at the core of its potency, which over time allows a transformation of the skin at a cellular level.
As for immediate results,  the moisturizer's Microalgae ingredient promotes an instantaneous skin-tightening, "ultra-contouring" effect, as described by the brand. Although the description sounds far more drastic than what I actually observed, my skin did look very supple and bouncy immediately after use. Let's just say, I radiated with the luminosity of an eight-hour sleep cycle (when in reality, it was definitely far less). Because my complexion looked so refreshed, I did opt out of using tinted moisturizer several times (usually a daily essential for me) after using the Active Replenishing Moisturizer – which to be honest, is very much the pinnacle of what I would hope good skincare is able to do: empower you to use less (or even no) makeup.
You can shop the Noble Panacea Active Replenishing Moisturizer on the brand's web store or at Lane Crawford, where it retails for $355 USD.
---
Share this article