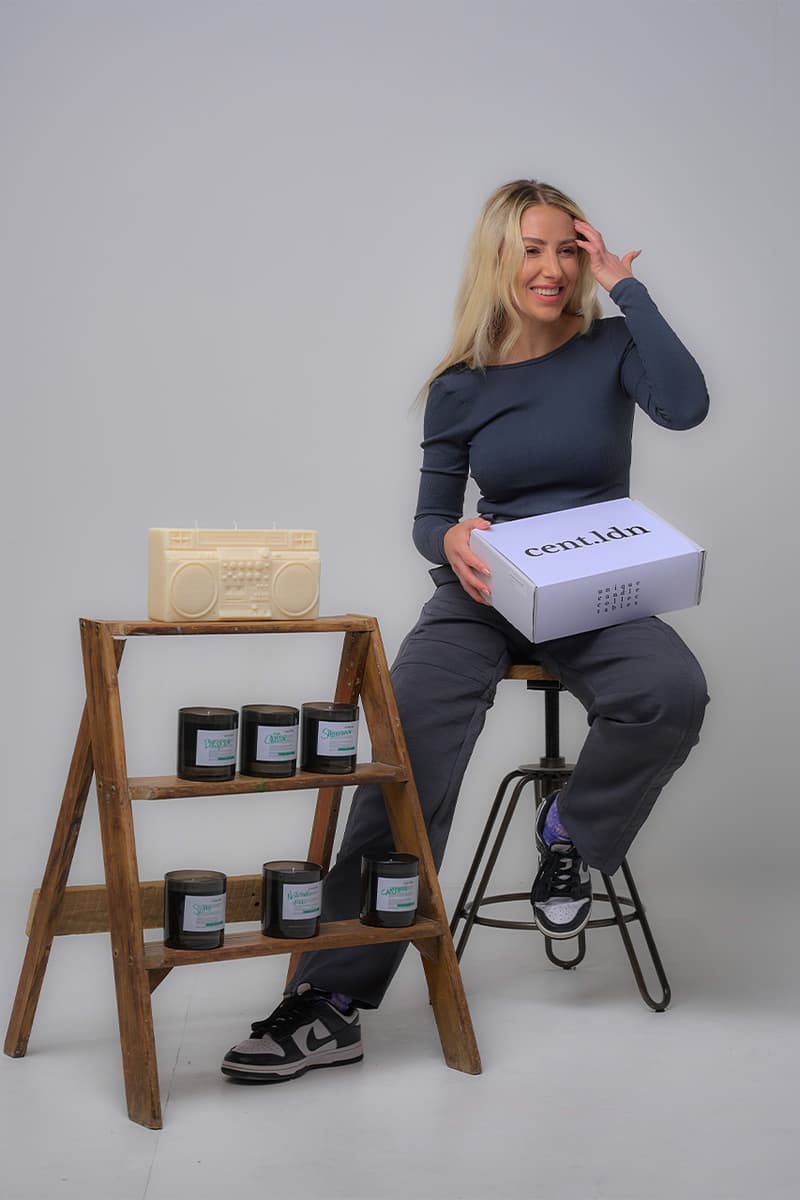 INTERVIEW: Hayley Mack on Going From a Woman in Business to Businesswoman With cent.ldn
Hypebae speaks to the Founder and CEO of pop culture's favorite candle brand.
Art & Design
INTERVIEW: Hayley Mack on Going From a Woman in Business to Businesswoman With cent.ldn
Hypebae speaks to the Founder and CEO of pop culture's favorite candle brand.
Female-owned candle label cent.ldn has made the headlines multiple times for its unique approach to burning wax works. From mimicking a Size 3 professional basketball and a JVC RC M90 Boombox to recently unveiling candles inspired by adidas' best-known footballers, it is fair to say no one is changing the game like cent.ldn is.
Whether you need an exclusive, custom collectible for a special occasion or a delicate candle to help you unwind, cent.ldn holds no limitations on design and creativity. The label's high-quality, hand-poured products are crafted using natural, vegan waxes made from Soy and Coconut, creating the perfect balance between luxury and sustainability.
Many things make cent.ldn one of the coolest brands out there, such as their attention to detail in both the physical product and storytelling or their original take on sports, fashion, music, entertainment and popular culture. Yet, it's the label's founder Hayley Mack that deserves equal, if not more, recognition.
Upon becoming redundant from her job in branding in 2020, Mack decided to venture into the art of candle making and what started as a hobby turned into a cult-loved brand. To celebrate International Women's Day, Hypebae spoke with Mack to get to know her story, her experience as a female entrepreneur and what makes cent.ldn's candles so special.
We would like to begin by learning a bit more about you, your career and what you're truly passionate about.
I've always been a creative individual and for as long as I can remember, working with my hands has been my favorite medium to create. My career prior to cent.ldn took me through an incredible journey in brand marketing, working alongside some of the most well-known global franchises. I worked across music, entertainment and sport, and after delivering projects for over 12 years, I knew that one day I wanted to build something of my own — a special venture revolving around a community of like-minded individuals and that spanned further than the offered product or service.
The story of cent.ldn is very closely linked to the year we were all forced into hibernation. Looking back, how would you describe your 2020?
As for most people, 2020 for me was tough. I remember being in Barcelona shooting a campaign with an amazing creative team just before lockdown. We left the shoot on such a high and I traveled back to London itching for the next project, but unfortunately, it wasn't meant to be. Naturally, as my work was so heavily tied into sports, music and entertainment, my role ended up becoming redundant. Yet, when I look back at 2020 now, I realize that this is also when I found solace in my creative side and without the adversity of this year, cent.ldn may never have existed.
View this post on Instagram
What was it like dealing with being redundant from your job while also going through an isolating, global lockdown?
I've always felt that uncertainty is one of the hardest feelings to process, and this time was no different. Not knowing what lay ahead with ever-changing information about the situation we were in was difficult. However, without the pandemic and the challenges it brought (and exhausting the list of banana bread recipes online), I may have never discovered my love for candle-making. I'm grateful for the opportunity of self-discovery and personal growth lockdown presented. It allowed me to tap into my creative potential and turn my passion into a successful business venture.
Were candles your way of brightening your days a little bit? When did this passion start?
Candles were just part of my routine at that point. I would light one every morning and evening! But it wasn't until I tried pouring my first candle into a glass that I actually found a passion for it. I don't think there was a specific reason why I tried it, and my first attempt was terrible, but I loved the process and became hooked. Candles became a tangible way to focus on creating something beautiful I could hold in my hands. Being able to see a finished product was incredibly fulfilling and gave me a sense of accomplishment during a time when everything else felt uncertain. So yes, they definitely helped to brighten up my days!
All of your candles deliver such a strong element of storytelling. They also are crafted with purpose and exquisite attention to detail. What do you want your consumers to experience through them?
Our candles are more than just a source of light and fragrance. I want our community to feel like they have invested in a piece of art when they purchase a candle and something they can tie their own story to. In fact, this is why all of our candles tunnel burn so that the outer shell can always be kept as a reminder of what once was. Each piece takes almost a day to craft, and the intricate designs of cent.ldn candles are truly unique and unlike anything else on the market. We work almost six months in advance for any design going live, with various experts involved to ensure we achieve every element of what a cent.ldn candle should be.
What makes cent.ldn candles so special?
The candle industry, in its current form, is outdated. Most established brands still use harmful kinds of paraffin in production, and most consumers are unaware of this. We ensure 100% natural ingredients across all our product range and a zero-waste, sustainable production process. Beyond that, cent.ldn candles are truly unique in design. Each candle is handcrafted with care and fine attention to detail in our studio in London. Besides, everything (from perfume to packaging) is developed from scratch by our expert team to evoke a particular mood or emotion. Our candles offer a unique combination of artistry, craftsmanship and sensory experience that sets them apart from any other candles.
View this post on Instagram
We like to think of candles as a self-care ritual. Do you have any special stories about your candles shared by your audience?
So many clients of cent.ldn are incredible women with inspiring stories and I'm proud to call many of them friends. Some buy our candles to remind them of specific moments in their life and others buy them to create new moments ahead. In either case, our candles serve as a tool to transport people to somewhere that they feel comfort in being. The soft glow, combined with an intoxicating scent, creates the perfect atmosphere to achieve this. Hearing these stories serves as a constant reminder of why I do what I do.
You are considered an innovator in the candles market for your unique perspective on exclusive and personalized creations. What was it like starting a start-up as a female entrepreneur?
Launching a brand, especially as a female entrepreneur, was an exciting and challenging experience, yet one that I encourage everyone with an idea and a passion to pursue. When starting the business in October 2020, I was reluctant to position myself publicly as the founder. Coming from a working environment heavily dominated by male stakeholders, I naively felt that consumers would perceive the brand better if it was led by a male. Once I began finding confidence in my craft and building expertise in my field, I realized there was no one better than me at presenting the brand. Being a female entrepreneur requires perseverance, resilience and a willingness to learn and adapt. It can also be a rewarding and empowering journey, as you have the opportunity to create something meaningful and impactful while overcoming obstacles and achieving success.
When would you say you feel empowered as a woman the most?
Honestly, it's when I talk about cent.ldn. It's a representation of my transition from a woman in business to a businesswoman. A reminder of the obstacles I overcame and the determination I possessed to get to where I am now. It's also a reminder of how far I still have to go, yet knowing I can go there.
Who are some of the most inspiring women in your life? How have they influenced you?
There's a group of women I call my "Dream Team." A group of peers that have helped me throughout my career. They have been integral to my growth in business and personal life. They are my go-to's, my mentors and my inspirations. I truly believe that the fastest way to learn is to surround yourself with people who have already achieved what you want to do or are more experienced than you. Go and find your "Dream Team!"
View this post on Instagram
Why do you think it's important to celebrate International Women's Day?
International Women's Day is a day where we celebrate the resilience, strength and achievements of women all around the world. It's a day to come together as a community, to inspire and support each other, and to make our voices heard. Through my own experiences, I have encountered challenges such as gender bias, unequal pay, and the pressure to conform to certain expectations. However, I have also had the opportunity to work alongside incredibly talented and inspiring women who have supported and encouraged me every step of the way. International Women's Day inspires us to continue working towards a world where every woman and girl has the opportunity to achieve her dreams, regardless of her background or circumstances.
Lastly, what does the future hold for cent.ldn? 
We promise to keep bringing you never been seen before collectible candles, that's for sure! We don't hold any limitations on creativity. Our next 3D collab, which releases at the end of April, is with one of the biggest superstars in the world (pinch me!). We will always remain a hand-crafted product with all products made from our London-based studio. We are an independent brand with big dreams and are always looking for new collaborators to join us.
View this post on Instagram
---
Share this article