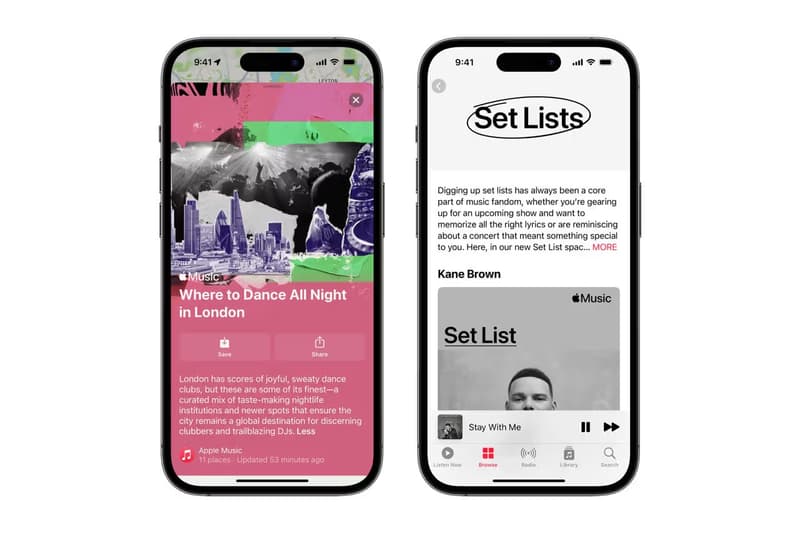 Tech
Apple Launches 'Set Lists' To Help Users Discover and Attend Concerts
A new feature using Apple Music and Apple Maps.
Apple Launches 'Set Lists' To Help Users Discover and Attend Concerts
A new feature using Apple Music and Apple Maps.
Apple is trying to make it easier for you to discover and attend concerts through Set Lists — a new feature part of Apple Music and Apple Maps.
"On Maps, more than 40 new Guides, each expertly curated by Apple Music editors, highlight the best venues to experience live music in some of the world's leading culture hubs," Apple stated. Meanwhile, for Apple Music, "the brand-new Set Lists space shines a light on a selection of major tours, letting fans listen to set lists and read about the productions. For the first time on the app, fans will also be able to browse artists' upcoming shows in their area by launching Shazam's concert discovery module."
The following cities are featured in Apple Maps under Set Lists: Chicago, Detroit, Los Angeles, Nashville, New York City, and San Francisco in North America; Berlin, London, Paris, and Vienna in Europe; Tokyo, Melbourne, and Sydney in the Asia-Pacific region; and Mexico City in Latin America.
For more on Apple Music's setlist, click here.
---
Share this article