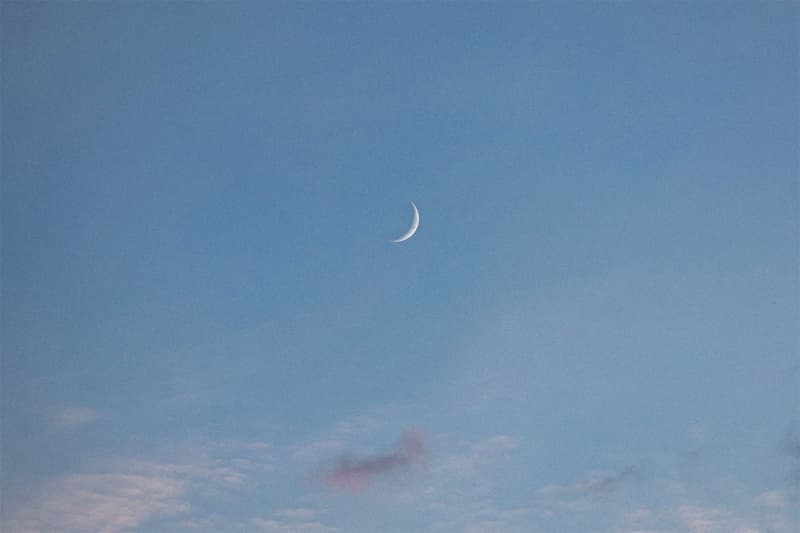 Culture
May's Taurus New Moon Reminds You to Stop and Smell The Roses
Slow and steady wins the race.
May's Taurus New Moon Reminds You to Stop and Smell The Roses
Slow and steady wins the race.
Friday, May 19 brings us stargazers a fresh start as a new moon in Taurus opens a blank cosmic chapter.
The only new moon in the earth sign this year, the start of la luna's cycle in Taurus ushers in a much-needed wave of grounding energy, redirecting our attention to the priorities that need it most. Associated with sensuality, financial abundance, discipline and loyalty, the Taurus new moon will encourage you to buckle down, roll up your sleeves and commit to your goals in order to experience the long-term rewards. The effects of a new moon typically lasts six months, so now is the time to plant the seeds you want to see sprout by October's full moon and lunar eclipse.
We're coming off the back of a few soul-rocking eclipses on the Scorpio-Taurus axis, not to mention, Mercury just finished its dreaded reversal in the bull's corner on Sunday, but don't worry as the universe is setting you up for success. On May 16, Taurus entered Jupiter for the first time in 12 years, where it will remain until May 25, 2024. Jupiter is a planet of major luck and abundance. When paired with a sign that values hard work and the steady, sustainable climb, pure magic happens.
Because Taurus is ruled by Venus, which represents plentifulness and pleasure, the next six months will inspire you to slow down enough to enjoy the fruits of your labor.
As you exit your season, the new moon in Taurus takes up space in your second house of income, teaching you how to budget and manage your money without sacrificing fun. Hot girl summer is coming up and it's tempting to want to go to every happy hour, dinner and after party, but try and scale back your social outing to save for a bigger expense later down the line. The goal is to be frugal, while still having a good time.
Consider the new moon your personal new year. Shining a light in your first house of self, schedule a solo date with yourself on Friday to reflect on the goals you'd like to accomplish over the next six months and visualize the person you'd like to see yourself become.
Falling in your 12th house of spirituality and healing, the Taurus new moon is begging you to press pause, so you can tend to what matters most — your soul's well-being. As we approach your favorite season, the summer, it's easy to get caught up in your busy schedule. Take some time on Friday to write a stream of consciousness and explore any pent-up feelings, so you can walk into the next few months with a clear mind and heart.
It might be time to break out of your shell as the new moon is in your 11th house of networking. Finding community activities that bring you joy or a sense of fulfillment will replenish your cup, while allowing you to meet like-minded individuals. Staying open-minded and leading with curiosity without oversharing will help you align with the tribe that's right for you.
The Taurus new moon is fueling the fire in your tenth house of career as you may be feeling inspired to flex that business savvy of yours. Remember — the theme of the new moon is slow and steady, so creating a detailed plan with failsafes may not be a bad idea. The path towards success is a marathon, not a sprint.
Being out in the tropics may be the only thing on your mind as Friday's new moon in Taurus is sparking some wanderlust in your ninth house of travel and adventure. If there's a beautiful far off place you've been dying to visit, now may be the time. However, if you're unable to travel right now, making a mood board will help jumpstart future travel.
Resting in your eighth house of legacy and transformation, the Taurus new moon is inviting you to invest in you. True inner change isn't a quick fix — it takes consistency and true dedication. Take a cue for the celestial planet and take stock of what you have right now and think critically about how you can optimize your current circumstances.
The Taurus new moon is in your seventh house of partnership, nudging you to take that serious step in your relationships. Whether it be personal or professional, don't be afraid to weed out any connections that aren't serving you. If you're particularly serious with a certain someone, join intellectual and emotional forces to think about how you can further strengthen your bond.
Focusing on your health and well-being is the name of the game as the new moon falls in your sixth house. Imitate the practical spirit of the Taurus and say no to fad diets or unhealthy short-term promises. True health is a matter of building beneficial and sustainable habits over time and sticking to them.
If love is on the brain, you're in luck as the Taurus new moon is in your fifth house of romance and creativity.  Taurus is ruled by Venus, the planet of love,  so break out the rose quartz and jazz to channel its rose-colored energy. Even if a birth or proposal isn't in your future, think about how you might bring your creative ideas to fruition and into this world.
With the cozy Taurus new moon in your fourth house of domesticity, a home makeover may be in order for your Friday night plans. Seeking out the company of those who make you feel safe and secure or indulging in self-care will also help you feel more balanced and rooted, so be sure to spend some time with a loved one .
Being vocal is priority number one as the new moon in Taurus is in your third house of communication. Whether its penning your thoughts and sharing them on social media or finally having that difficult conversation, clearing your mind by speaking it will allow you to walk into Taurus season with your head held high.
---
Share this article