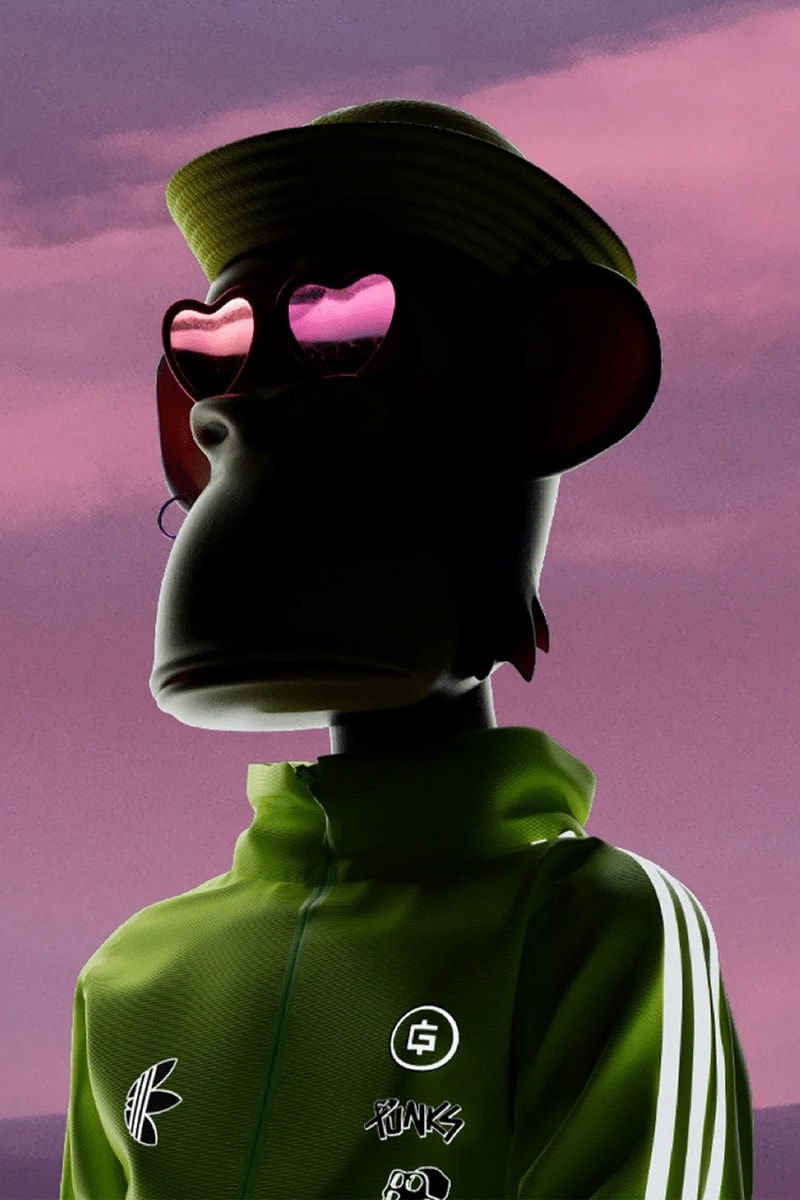 Diving Into Digital: Our Favorite Fashion NFT and Web3 Projects of April 2023
From R3N3GADES and DRESSX's internet nostalgia collaboration, to Gucci's ongoing partnership with Yuga Labs
Art & Design
Diving Into Digital: Our Favorite Fashion NFT and Web3 Projects of April 2023
From R3N3GADES and DRESSX's internet nostalgia collaboration, to Gucci's ongoing partnership with Yuga Labs
This month brought a thrilling convergence of fashion, art and technology resulting in a fresh approach to artistic expression that offers audiences a new reality to dive into. In the art realm, OONA's impromptu auction of "BUTTER: I can't believe it's not made by a man" caught attendees by surprise, while Nina Chanel Abney joined forces with Avant Arte to offer collectors exclusive prints for the Super Cool World Community.
The fashion industry continued to explore phygital avenues, as exemplified by Gucci's ongoing collaboration with Yuga Labs. At the intersection of these industries, RTFKT and Nike tapped Takashi Murakami for a sneaker collaboration, while Clinique des Champs-Élysées partnered with RLTY to host a virtual open day in the metaverse promoting women's intimate health.
With brands finding the sweet spot in merging physical and digital experiences, we are left wondering what appeals most to consumers — the benefits or the visual innovation. However, for the art world, it's a given that audiences are increasingly turning towards virtual experiences and new ways to breathe and appreciate art, with exhibitions often exploring the future of human identity.
Continue scrolling to see our favorite cyber collections and Web3 initiatives this April.
Somerset House's Channel presented new work Morphogenic Angels by Keiken.
Keiken, an interdisciplinary art collective that specializes in various forms of art, such as film, installation, VR, AR, performance and gaming engines, has recently unveiled a new short film on Somerset House's Channel entitled "Morphogenic Angels". The futuristic transhuman love story was inspired by Keiken's new prototype role-playing game, set in a reimagined future a millennium from now. The RPG simulation delves into a future where people have organic morphic upgrades that allow them to have transhuman abilities. The film is the most recent manifestation of Keiken's artistic endeavor to investigate the impact of technology on consciousness, using online worlds and augmented realities to experiment with new ways of existing and testing potential futures.
OONA sold butter for 333 ETH.
At the Proof of People event hosted by Vertical Crypto Art and Refraction, OONA surprised attendees with an impromptu auction of their latest artwork, "BUTTER: I can't believe it's not made by a man." The piece was sold for 333 ETH, or $706,000 USD, to a single buyer, which is extremely significant as it confronts the issue of sexism in the art world, where only 16% of NFTs in the market are created by female artists. OONA's mission is to raise the value of non-male artists by demanding higher prices for their artwork. As she told Hypebae, "My practice uses performance art and social engineering to question the ways in which we value women's artwork and influence in Web3. The spotlight on this particular piece forces a viewer to ask themselves: Are female artists just like butter, accessories to the main dish; art made by men?"
Miami Design District debuted "Beyond Belief" campaign.
Miami Design District (MDD) launched a new animation campaign called "Beyond Belief," which portrays the neighborhood's visual style as a dynamic world. The campaign features hand-drawn illustrations modeled after iconic landmarks and captures the unique way luxury is woven into a landscape of cultural energy and tropical greenery. The film follows the story of a female avatar who serves as a conduit to experience a world of creativity and inspiration. The MDD was transformed into a creative laboratory by Craig Robins and in collaboration with design studio Made Thought and Argentine animators 2Veinte. The campaign's name, "Beyond Belief," evokes Robins' futuristic vision of the MDD another 100 years later.
Nina Chanel Abney partnered with Avant Arte to offer collectors unique prints for Super Cool World Community.
Avant Arte collaborated with Nina Chanel Abney and GODA to release the next chapter in her "Super Cool World" NFT project, a collection of 5,080 NFTs to interact with fans and collectors. The PFP-based project was constructed with hand-crafted elements and possessed similar features seen in Nina's traditional art, like cartoonish figures, flat planes of bold colors, overlapping shapes, scattered numbers, letters and symbolic objects. The collaboration with Avant Arte marked an exciting new chapter in the project by allowing collectors to commission a unique physical print of each of their NFTs to have in their own homes. Each print is set to arrive with the NFT's title, a unique stamp designed by the artist and a QR code on the reverse of the print, which serves as its authentication.
Vellum LA hosted "IPSEITY: Speculative Narratives of Identity In a Re-imagined World," an Enrique Agudo solo exhibition
Vellum LA announced "Ipseity," the first solo exhibition of new media artist Enrique Agudo, curated by Sinziana Velicescu. The exhibition featured eight stunning works from Agudo's "Ipseity" series, along with supporting digital costume renderings on Vellum's state-of-the-art LED Luma Canvas displays. These one-of-a-kind artworks explored contemporary notions of identity through the depiction of new deities and their environments, presenting allegorical scenes about the human self and our relationship to technology. Inspired by the Pre-Raphaelites, Agudo's works merge traditional painting with cutting-edge technology to create striking visualizations of our digital realities.
Nostalgia met futurism in R3N3GADES and DRESSX's Web3 fashion collaboration.
R3N3GADES, a platform championing sustainable consciousness and women's leadership, teamed up with DRESSX to further its mission of creating a more inclusive space in Web3. Their joint collection's designs evoked a sense of nostalgia for the 2000s Web2 era while reflecting the emergence of the second wave of tech and Web3. "Genesis" included nine pieces, such as headphones, glasses, heels, jewelry, and separates, with a color palette inspired by spiritual and futuristic elements. The range prominently featured the color purple, which symbolizes spiritual awakening and higher consciousness through the crown chakra, along with silver to convey a sense of futuristic power and armor, which perfectly suited the theme of humanoid robotic women.
Coach and ZERO10 introduced the future of retail.
Coach partnered with fashion AR try-on company, ZERO10, to introduce their immersive retail innovation for the global Tabby Bag campaign. Starting May 5 to June 2, the Soho New York store will offer customers the chance to experience the fashion technology for themselves. With the help of ZERO10's in-store AR Mirror and AR Storefront, digital versions of the Tabby Bag can be virtually tried on. Customers worldwide can also access the digital Tabby collection and try them on for free via the ZERO10 app.
Gucci and Yuga Labs unveiled the first product of their partnership, the KodaPendant.
Gucci and Bored Ape Yacht Club creators, Yuga Labs, recently announced their long-term collaboration to create an innovative metaverse experience that fuses the virtual and real worlds. Shortly after the news, the partners have unveiled their first joint venture, the KodaPendant, a striking Gucci-branded pendant that builds on the rich tapestry of the Otherside and Legends of the Mara. This exclusive and limited-edition piece act as both an NFT upgrade with exclusive features for holders in Otherside and physical token.
adidas revealed the third and final phase of its "Into the Metaverse" initiative.
adidas unveiled the third and final phase of its "Into the Metaverse" initiative, which promised to bring holders to a new level of digital identity. As part of the series, the sportswear label introduced ALTS NFTs, which can be obtained by burning Phase 1 and 2 NFTs, and symbolize the holder's identity and PFP, paving the way for an interactive story that will end with a big reveal. Its inaugural NFT collection, "Into The Metaverse," brought in a staggering $23 million in December 2021, providing holders with exclusive merch drops.
RTFKT x Nike released exclusive Air Force 1 collection in collaboration with Takashi Murakami.
RTFKT and Nike have collaborated with Takashi Murakami to create a collection of ten limited edition RTFKT x Nike Air Force 1 sneakers, inspired by RTFKT's Clone X anime-inspired avatar project. Each shoe in the collection features never-before-seen materials and finishes, merging the digital and physical worlds through the sale of the sneakers as digital collectibles (NFTs). The sneakers also come with an RTFKT WM Chip for authentication and to link the NFT to the NFC. Crafted with premium materials, the sneakers showcase the exceptional craftsmanship and attention to detail of the imprints, with limited quantities available for each design.
Clinique des Champs-Élysées partnered with RLTY to host a virtual open-day in the metaverse to promote women's intimate health.
The Clinique des Champs-Élysées, a leading provider of surgery and aesthetic medicine, organized a virtual open day on April 20th in the Metaverse to break taboos and spark conversations around women's intimate health. A team of experts in gynecology, sexology, and surgery presented solutions to treat and restore intimate parts. The event was led by Professor Barbara Hersant, a plastic surgery professor at the Henri Mondor Hospital, and streamed live in RLTY WORLD, allowing participants to interact with doctors and explore the clinic's custom-built metaverse. The event concluded with a presentation of the clinic's innovative solutions.
---
Share this article