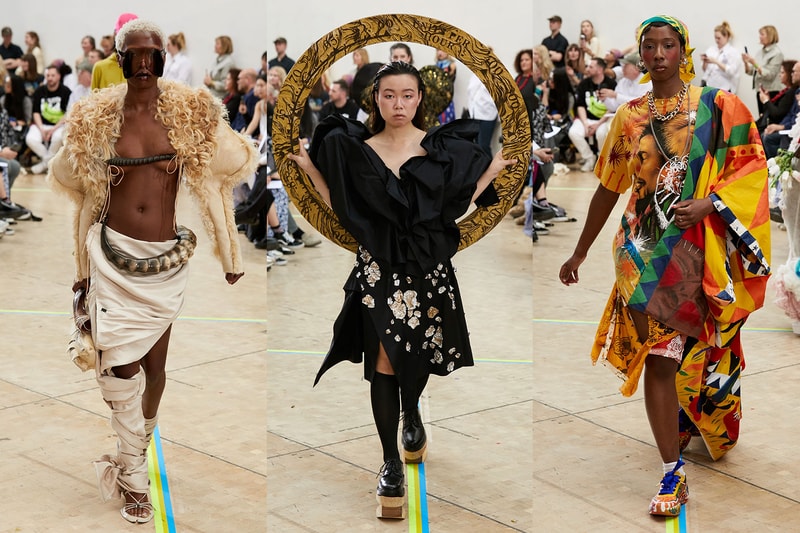 Fashion
5 Designers to Watch From Central Saint Martins' 2023 BA Show
Here's who deserves to be on your radar this season.
5 Designers to Watch From Central Saint Martins' 2023 BA Show
Here's who deserves to be on your radar this season.
Central Saint Martins, aka London's buzzy talent incubator, recently held its 2023 BA showcase and as always, what we're left with is a slew of insanely talented young creatives that are more than worth paying attention to. Offering us a masterclass in creativity, resourcefulness and innovation, the 134-designer showcase ranged from womenswear to menswear and everything in between, featuring vibrant collections across knitwear, print and ready-to-wear.
As with all major fashion shows, more often than not, there are a number of looks that stand out and this season's offering was no different. While CSM paid tribute to its 2023 award winners: Ivan Delogu, Alba Matamoros and Eden Tan, we noticed a few additional designers that deserved to be (and stay) on your radar.
First up was Faye Simister, whose illusion-inspired pieces aim to challenge the archaic processes surrounding modern-day knitwear, merging surrealism and space-age aesthetics with classic silhouettes. Next, Catherine Meyong's intentionally discomfort-inducing collection took cues from colonial uniforms and saw the designer exploring the dehumanization of Black people.
Elsewhere, print designer Clover Nash took the audience on a joyful journey through childlike wonder and acceptance, exploring themes of family and support. Next, upcycling mastermind Tilda Fuller utilized donated patchwork fabrics and vintage tablecloths to create seemingly Alice In Wonderland-inspired corsets and accordion skirts, "painstakingly and lovingly sewn by my Mum Laura with input from my Grandmother Carol."
Finally, Hong Kong-born designer Yeut Ting Ng used the chocolate-covered, hard toffee brand Almond Roca as her source of inspiration, exploring the process behind cooking chocolate.
Take a closer look at our favorite Central Saint Martins' Bachelor of Arts 2023 designers below.
Faye Simister
View this post on Instagram
Catherine Meyong
View this post on Instagram
Clover Nash
View this post on Instagram
Tilda Fuller
View this post on Instagram
Yeut Ting Ng
View this post on Instagram
---
Share this article