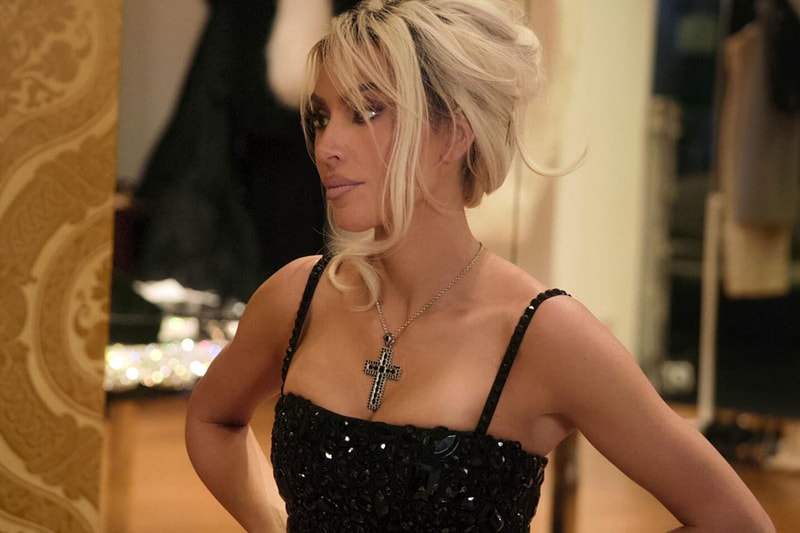 Entertainment
Kourtney Kardashian Says Kim Copied Her Wedding for "the Dollar Signs"
"Who cares? It's business."
Kourtney Kardashian Says Kim Copied Her Wedding for "the Dollar Signs"
"Who cares? It's business."
This week's episode of The Kardashians takes viewers on a journey through the recent feud between Kim and Kourtney Kardashian, stemming from Kim's partnership with Dolce & Gabbana, which came (too) quickly after Kourtney's lavish wedding.
The wedding, which took place in May 2022, saw Kourtney and Travis Barker working with D&G to dress the entire wedding party alongside themselves, sporting a classic Gothic wedding theme that captured their personalities. Four months later, Kim collaborated with the brand for their Milan Fashion Week show, acting as a pseudo-creative director. The unfortunate timing of the partnership sparked a feud between the sisters, despite the fact that Kim claimed she "wanted to be respectful of Kourtney and her journey."
During the third season of The Kardashians, both sisters have alluded to their feelings about the situation and in this instalment, we get a closer look at what went wrong. Kourtney described the "business deal" as copying her wedding, stating that "There's an abundance of opportunities. It's not about business and there's so much, it takes precedence over hurting your sister. It's legit copying my wedding," in the show. She continued, saying "It's never enough [for Kim]" when it comes to work, stating that Kim never turns things down and that mom Kris Jenner "never mentioned" the partnership.
Kourtney also accused Kim of only doing it for the money, saying "She sees everything that I had there and takes it for her own and she doesn't even see it, she sees it for the dollar signs. If I did it to Kim, she would freak out. To me, it was more personal, I think that's why it hurts my feelings because it was my actual wedding — the year your sister got married, you then made a deal to do this fashion show. Don't do it the same year that comes out four months later. It's not like I did their campaign, and then she did the campaign right after. Like, who cares? It's business, it's my actual wedding and that wasn't a business deal for me. I did it because it felt really personal."
To which, Kim responds, "This is the first time I heard Kourtney is upset about us doing the Dolce show — like, I couldn't have been more mindful, I said don't do the Madonna Collection, don't do the Lace Collection, don't do anything that Kourtney wore to her wedding. She doesn't know that I have the email string begging them to push it a year."
Stay tuned for more details as The Kardashians continues on Hulu and Disney+.
In related news, is Kendall Jenner actually pregnant?
---
Share this article