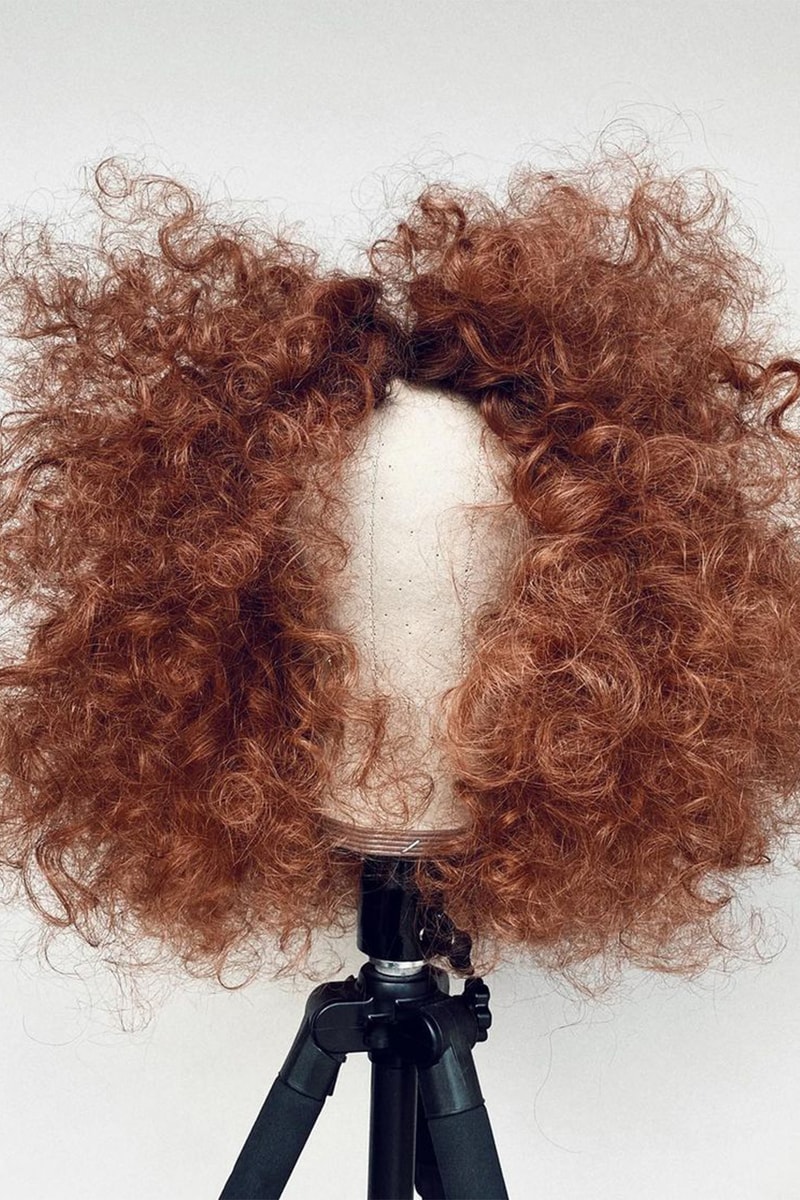 Contrary to Popular Belief, Frizz *Is* Fabulous — Experts Weigh In on How To Embrace "Halo Hair"
You've won the battle of accepting fuzzy hair — now it's time to win the war.
Beauty
Contrary to Popular Belief, Frizz *Is* Fabulous — Experts Weigh In on How To Embrace "Halo Hair"
You've won the battle of accepting fuzzy hair — now it's time to win the war.
Growing up in a Black, Southern household, taking care of your hair was an important part of the culture. It was essential to never be seen with unkempt hair, and I was introduced to the "press-n-curl" at an early age in the "kitchen" salon, where my fine curls were pressed into a sleek body of art every Sunday before church. And as I got older, I learned how to style the women in my family's hair in a similar way. Within my community, frizz was not a word to be said nor tolerated, but, looking back, I now realize that we were so conditioned to European beauty standards that we forgot that frizz was a natural occurrence.
When I became aware of celebrity women from Tracee Ellis Ross, Kelis, Solange, Zendaya and SZA, a light bulb began to buzz within my head. These girls were always seen bouncing from red carpet to carpet and the hottest fashion shows of the season with a halo of fabulous fluff and not a fuss was made. It was embraced and accepted in its total entirety. In fact, when Solange dropped her album "Sol-Angel and the Hadley St. Dreams" in 2008, I was obsessed with her display of voluminous, never-ending fuzzy hair. How her hair blossomed between the spaces of the curls sent me into an intensely satisfying visual oblivion.
Seeing cultural forces such as Tracee Ellis Ross on the hit show Girlfriends in 2007 with her curly glory was indicative to me years later that we were at a shifting point of the ideal American girl beauty standard. For centuries, Black and Brown people had been taught that it was undesirable if our hair didn't meet the Westernized gaze. However, thanks to the natural hair movement that has taken our community by storm, hot combs are optional and no longer necessary to be deemed "acceptable" in white-centered spaces.
It has been beautiful to see people from all backgrounds allowing their precious tresses to be itself naturally. But there still needs to be more learning and education around textured hair and its workings. The Hypebae Beauty team has tapped a few experts to help you learn how to style your curls at any texture and move on to embracing your hair.
Tight and Coily Curl Pattern
To properly hydrate tight curls, hairstylist Eldridge Mullenhof  recommends using a generous amount of Balmain Moisturizing Shampoo and Conditioner. Post-rinsing, he advises using the Leave-In Conditioner Spray followed by a small quantity of Volume Mousse Strong.
"I subsequently embark on the finger coiling technique, a wonderful way to style tight curls and accentuate their natural curl pattern. This method encompasses taking diminutive hair sections, one strand at a time, and curling it around my finger to yield a defined, bouncy curl," Mullenhof says. "Next, I defuse; when 80% dry, I instruct the client to tip their head upside down, allowing me to dry it further with a touch of cold air to maximize volume. Upon drying, I tease out the strands to increase the volume even further. To finish, if deemed necessary, I add a hint of Balmain Session Spray Medium."
For a more straightforward approach, JVN Hair founder Jonathan Van Ness says: "For tighter curls, I recommend adding some Instant Recovery Serum to prime and balance the hair before adding Air Dry Cream for defined soft kinks and coils." To ensure healthy hair is a priority, Van Ness advises using the Pre-Wash Scalp Oil at the scalp to ends of the hair to provide a balanced and nourished scalp with the healthiest hair possible.
Loose Curl Pattern
Mullenhof says a thorough cleanse is key. Following the wash, comb through the hair and mist with Balmain Hair Couture's Leave-In Conditioner. "For the styling phase, a small dollop of Volume Mousse is massaged into the damp hair. Like the method used for tight curls, I then embark on finger coiling," Mullenhof advises. "This involves working on one strand at a time, then defusing. Once the hair is dry, I tease the curls, strand by strand." Though the curls are looser, for added volume, the stylist says to add a dash of Volume Mousse before allowing the hair to dry to have expanded curls.
Pro Styling Tips
Nassim Belhaq, Director of Innovation at Coco & Eve, knows that caring for textured tresses requires a little more TLC — but the right use of products will make things a bit easier. Booking in regular trims, gently detangling knots, protecting hair while you sleep and using super nourishing haircare products should keep most curly locks loveable," Belhaq says. "Coco & Eve's Super Hydrating Shampoo and Conditioner is packed with avocado oil to seal cuticles, coconut to seal split ends and hyaluronic acid power blend, ResistHyal™ Technology, to replenish hydration for instant smoothness. For a deeper treatment, the Sweet Repair Hair Mask restores tresses in as little as 5 minutes! A little tip: condition before shampooing and scrunch with hands before diffusing. Finish with Miracle Hair Elixir and it is safe to say you'll stop the show."
---
Share this article